Event Information
Location
LOCATIONS INDICATED ON FLIER
Australia
Description
3 WORKSHOPS TO GIVE YOU AN EDGE WITH YOUR INTERNSHIP AND CAREER OPTIONS
YOU MUST REGISTER FOR EACH WORKSHOP SEPERATELY ($10 for each workshop for IEEE Members and $20 for each workshop for non IEEE members)
GET IEEE CERTIFICATION UPON COMPLETION!
---------------------------------------------------------------------------------------------------------------
WORKSHOP 1 - MR CHRIS SMITH (6th September 5:30 -8:30 PM)
Level 20, 360 Collins St, La Trobe University
Chris Smith, Telstra's Networks Graduate Program Manager.
Chris is an accomplished recruitment professional with demonstrated skills in managing end to end graduate programs, recruitment teams, in-house recruitment of temporary and permanent staff and the utilisation of assessment centre methodology. Chris is passionate about sourcing strategies, career management practices and coaching graduates through their graduate life cycle. Chris has proven experience across telecommunications, industrial, banking and finance and call centre industries following nearly 20 years in industry.
Chris worked at GE, one of the world's giants where he led the Graduate recruitment and program management in Australia and New Zealand.
Recently Chris joined Telstra as graduate program manager within their Networks business focused on graduates that will drive Telstra's strategies over the next decade.
Chris has seen a significant shift in recruitment methodology and what companies are really looking for in their graduates and is happy to share some tips that might just help you get through that first recruitment stage.
-------------------------------------------------------------------------------------------
WORKSHOP 2 - A.PROF ELSPETH MCKAY (9th September 5:30 -8:30 PM)
Building 80, Level 9, Room 12, RMIT University (455 Swanston Street)
Elspeth McKay, PhD, Fellow ACS is Associate Professor at RMIT University, is the workshop-2 facilitator. She is an assiduous researcher in the field of human-computer interaction (HCI).Her interest to improve the human-dimension of HCI has led to work on cognitive performance measurement for assessing work-readiness for people wishing to return to study/retraining that breaks new ground. Her extensive industry experience, combined with over a decade in higher education, provides an ideal context from which to offer advice on how to develop and maintain an appropriately skilled workforce.
In this workshop Elspeth will highlight essential job seeking skills and show how to prepare an outstanding resume that attracts employers in a competitive job market.
This is an opportunity to learn how to develop your self-promotion skills; create an outstanding impression of your individual talents and focus your content to match job requirements.
This Workshop will also show how well written cover letters are also an integral part of job applications today.
----------------------------------------------------------------------------------------
WORKSHOP 3 - MR SUNIL ABRAHAM (12th September 5:30 -8:30 PM)
Richard Newton Room, Level 5, EEE Building, University of Melbourne
The Speaker Sunil Abraham has over Six years of Overseas experience as an Electrical Engineer in Oil & Gas industry. He is a Bachelor Degree holder in Electrical & Electronics Engineering from National Institute of Technology(NIT), Calicut, India. He is experienced in Captive Power Plant operations, electrical maintenance and projects in Oil & Gas Industry in India. He will be sharing his knowledge and experience in ethical corporate behaviour and beginning of an industrial career. When a student graduates and faces industry, there is a huge gap to be bridged. For bridging this gap, certain behavioural changes are to be implemented for a successful corporate career. This Workshop will focus on differentiating the student life and Corporate life. There will also be a special focus on the Professional Values a beginner should have when starting a Corporate life. Sunil will also share his experiences in performing in the initial days of a person's career.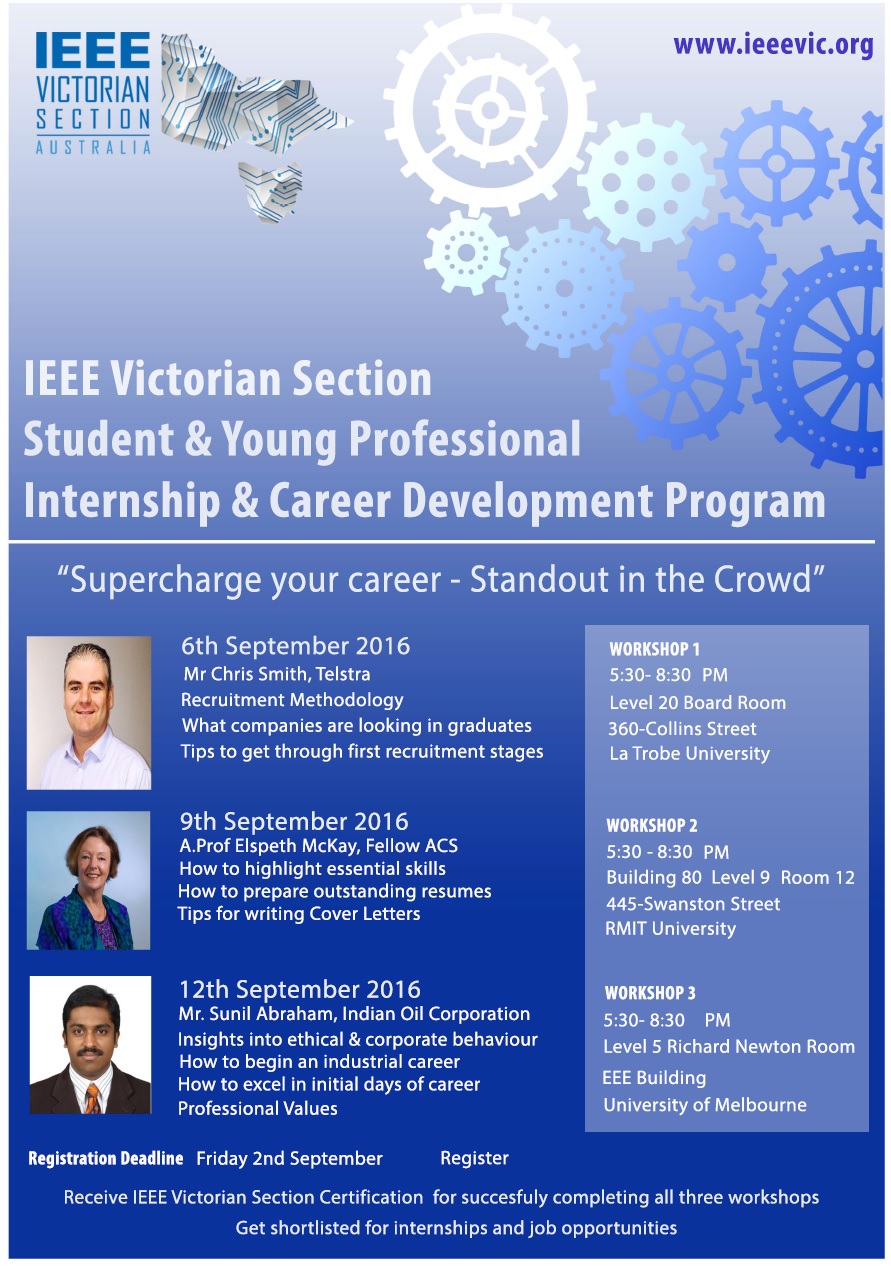 Location
LOCATIONS INDICATED ON FLIER
Australia