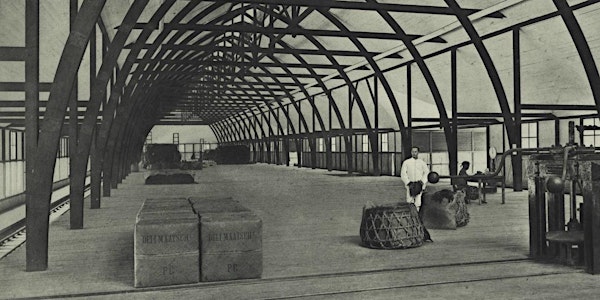 ICOMOS International Day on Monuments and Sites: Forgotten Heritage
Location
Japanese Room
Melbourne School of Design
Masson Road
Parkville, VIC 3010
Australia
Description
FORGOTTEN HERITAGE: THE ARCHITECTURE OF COLONIAL AGRICULTURAL INDUSTRY IN NINETEENTH CENTURY INDONESIA
To celebrate the 2017 ICOMOS International Day on Monuments and Sites, Dr Amanda Achmadi of the Australian Centre for Architectural History, Urban and Cultural Heritage (ACAHUCH) will present a free lunchtime lecture around this year's theme of 'cultural heritage and sustainable tourism'.
Forgotten Heritage

Historiography of colonial architecture in Southeast Asia predominantly features accounts of key colonial port settlements, urban civic and military architectural structures, as well as the works of European architects in the colonies. In this field monumental and architecturally designed colonial buildings are typically analysed as a form of material embodiment of power relations and racial politics associated with colonialism, ranging from the imposition of the ruling status of the European subject, practices of racial segregation, and orientalist depiction of cultural otherness. Largely understudied, however, is the built legacy of the core rational of colonialism: intensive cultivations of natural resources in the fertile hinterland of the colonies to be traded across the world. Away from the cosmopolitan port settlements, the cultivations of sugar, coffee, tea, tobacco, rubber and timber, as well as the mining of coal, tin, and other valued minerals were put in place by force diversely impacting and opening up the regions, linking them to a global trading network and labour movement.
This seminar will explore the architecture of Cultuurstelsel, the exploitative cultivation system implemented in Indonesia (formerly Dutch East Indies) between 1830-1870, and the ensuing industrialisation of agricultural production in the colony with a focus on tobacco productions in Northeast Sumatra. It will reflect on the complex interface between cultivation of natural resources, formation of cosmopolitan built landscape and the emergence of tourism industry in Sumatra and broader Asia Pacific region.
About Amanda Achmadi
Dr Amanda Achmadi is a lecturer in architectural design (Asian architecture and urbanism) at the Faculty of Architecture, Building and Planning of the University of Melbourne, Australia. She obtained a bachelour degree in architecture from Parahyangan University of Bandung, Indonesia and completed her doctorate studies in architecture and Asian studies at the University of Melbourne.

Image source: KITLV digital database, photographed by C. Kleingrothe