Looks like this event has already ended.
Check out upcoming events by this organizer, or organize your very own event.
I Am Woman : The Workshop

Sunday, September 8, 2013 from 1:00 PM to 6:00 PM (AWST)
Event Details

I Am Woman : The Workshop

Providing you with the Knowledge and the Tools to help you
live an Empowered, Passionate and Sexy Life
Do you know how your Sexual Body works?
Have you ever questioned whether or not what you are experiencing is normal?

Have you had amazing intimacy one week and almost no connection the next?

Do you know how your thoughts and behaviours affect how your body responds to sexual touch and intimacy.

Have you and your partner tried everything you know to try and get the spark back into your sex life but nothing seems to work.

Has your libido left the building?

Had his libido left the building?


Would you like to know how to create more intimacy and sexual pleasure with your partner?

Are you exhausted at night and you have zero desire for sex?

Has your partner ever leaned over to give you a hug and you felt your body withdraw wishing he would walk away? Feeling like you have nothing to give?


Do you find it hard to shut your thoughts off and just be there in the bed, in your body?

Do you and your partner have mismatched libidos?

This workshop will provide you with:
The 8 key elements that Every Woman needs to know about her Sexual Body

The Libido Formula - Simple, practical easy steps to help you switch your mind off and your body back on.

The opportunity to have your questions answered by a 

Sexual Health Expert

.
FYI this workshop isn't just about SEX
As you know when issues arise in our sex lives they affect much more than just our sexual experiences.
When things don't match how we expect them to be or how someone else expects them to be we can be left feeling heart broken, ashamed, embarrassed, confused, scared that your relationship might end, scared that your family will fall apart,  scared that the connection, love and intimacy that you crave is lost forever.
We can feel unloved, unattractive, ugly, fat, undesirable, lonely, sad, depressed, anxious, vulnerable, alone.  
It affects how we feel when we are alone, at work, with our friends, with our family. Sex might be a private experience but it has the capacity to affect every aspect of our lives.
Sex can be super powerful and it can fill us up with ecstasy or it can break us down.
It makes no sense to me that we don't place our sexual lives on a pedestal and give it our conscious attention given the pain, heartache and devastation it can cause us.
For some people the "I Am Woman" workshop is viewed as a preventative
First Aid workshop for sexual relationships.
Find out what you need to know NOW in case
you ever need to resuscitate it.
This event has been developed with every woman in mind by one of WA's leading Sex Therapists

Fai Shuster Kur

, who runs a busy Relationships and

Sex Therapy Practice

in North Perth. Fai has presented to thousands of people around Australia, we know that you will love this event. Fai wants every woman to celebrate their unique sexual essence and inner beauty, however, she believes that our emerging holistic health model is ignoring one of our greatest gifts and core human needs - our sexual being.

Learn more about the presenter here

.
We can talk about health, nutrition, exercise, mental health and well-being all we like, but we we are excluding our Sexual Health, sexual compatibility, sexual communication, sexual relationships and sexual satisfaction, then we are dismissing and discounting a huge chunk of what needs to be included in a holistic model of health and well-being.
This workshop will give you the opportunity to understand yourself better and ways of thinking about your sexual self in a way that nourishes you and gets you excited about exploring the possabilities.
This workshop also gives you the opportunity to meet others who are ahead of the pack, who know the value of being able to talk about sex  openly, freely and respectfully because they know value of exploring this topic.
Only 30 Seats Available. Get your seat early.
We are only running one I Am Woman Workshop this year
When:  Sunday September 8th, 2013
Time:   1pm - 6pm
Venue: North Perth
Arrive from 12.30pm for a 1pm start. Bonus invitation to the after party from 6pm. 
Afternoon tea will be provided.
The venue address will be confirmed closer to the event as location will be based on ticket sales.
Bonuses: Girls Only Event
Invite to our amazing after party from 7pm, includes snacks and drinks


You will receive links to past recordings and research.

Access to our newly formed secrete and private Facebook page so that you can share your experiences and be supported by our community.

You get to hang out with me and my team! Trust me, they are fabulous.

Product stand filled with the latest Tools for Pleasure.
The value is insane. It's less than a two hr private session with Fai.
Remember the information is life enhancing. Bring your friends.
Content:
We will share with you what you need to know to develop a strong foundation for Happy Sexy Loven.


How the Human Body is wired for Connection and Pleasure
The Sexual Scripts that exist within us and how they affect what we experience
What stops us from experiencing desire
What is it?
How do I have one?
How can I make it more intense? All will be revealed.
and how it affects our physiology and pleasure
Whats it all about? Where is it? DO I have one?
We will illuminate this mystery for you.
Is it real?
Did I just wee on my man?
Ask loads of questions and benefit from Fai's wisdom and expertise in the much needed but somewhat hidden field of health enhancing knowledge.



Still not sure?
Leave your contact details with us here and we will send you additional
links to our Q & A Page.
Check out our website page at www.sexualfocus.com.au
This is a very special event, with wonderful women who are here to support each other. We hope that you will join us. If you have any questions please contact us.
Connect with your inner power, 
book your workshop ticket today.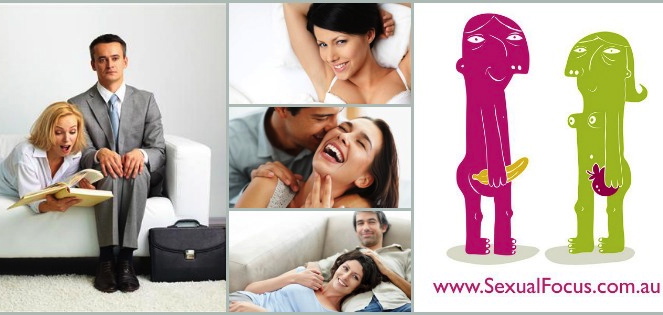 When & Where

North Perth

Perth, Western Australia
Australia

Sunday, September 8, 2013 from 1:00 PM to 6:00 PM (AWST)
Add to my calendar
Organizer
Sexual Focus
This event has been developed with every woman in mind by one of WA's leading Sex Therapists Fai Shuster-Kur. Fai runs Sexual Focus which is a busy Relationship and Sex Therapy Practice in North Perth.
A Note From Fai
I am someone who is passionate about many things especially our sexual health. I truly believe that our happiness and well-being includes our capacity to engage in healthy pleasurable sexual interactions on our own and with others.
I have loved presenting at countless workshops and presentations around Australia for wonderful organisations.
I created my own Sex Toy Workshop Company called VMP Events that ran out of my old premises in NorthBridge. That's where this workshop evolved. Back then we ran it every other month.
Over the years I have talked to thousands of people and I have seen patterns come up over and over again. I know that everyone is different but some of our stuff is the same, we just express it differently.
I want people to know that people like me exist.
Google is not enough. Cosmo is not enough.
We need to know how to language our needs and you don't get that from just reading.
I have an amazing team of girls who support my passion for changing people's lives through talking about sex. I can't wait for you to meet them.
We look forward to meeting you,
Fai.