Description
Have you longed for a space where you can connect with other women who you soulfully align to?

Have you longed for a space where you can be seen and heard and not afraid to speak your truth?

Have you longed for a space where you can connect with your divine feminine energy and come back to creating a connection with your higher self?
Are you looking for a space that allows you to rediscover who you are?
---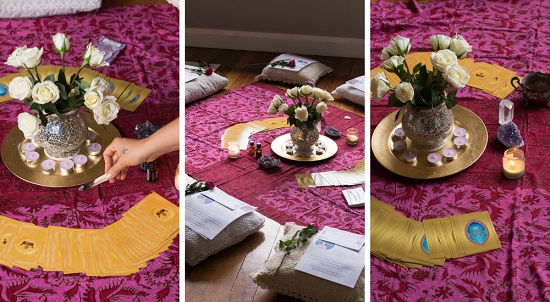 As women we long for connection, we long for security, and we long to be seen. We long to be seen at a deep soul level. We long to be free of the fear that keeps us small, of past conditioning's that have kept us stuck in this world. We crave to know who we are and what lights us up in this world.
Too many times in my coaching practice, in the women I connected with in circle, and women in my life, such as friends and family, I would hear that they didn't know who they were. They didn't know who they were besides being a mother, a lover, a friend, a sister, and it made me think...

WHEN DID WE LOSE THE CONNECTION TO OURSELVES AND TO OUR BODY?

WHEN DID WE GET SO LOST AND CAUGHT UP IN WHAT OTHERS WANTED US TO BE AND STOPPED LIVING THIS LIFE FOR WHAT WE WANTED OR NEEDED TO BE?

WHEN DID WE LET GO OF THE WILD WOMAN WITHIN US AND BECOME TOO AFRAID TO SPEAK OUR TRUTH?
---
HOW THIS CIRCLE WORKS & WHAT YOU CAN EXPECT.....
- We gather in circle on the full moon to release the past and anything that you need to shed to move forward fearlessly.

- We begin with a gentle meditation to ground you into the energy of the night and open up to your higher consciousness.
- We then choose a theme for the night and each woman will have the opportunity to introduce themselves, to be seen, and share how the theme relates to them and their present life.
- We then close the circle through connecting our body through the movement of raw dance.

WHEN
Friday 6.30pm QLD time at Recover Wellbeing studio in Currumbin
WHAT TO BRING AND WEAR
All you need to bring is yourself and to dress in something feminine and flowing that you feel comfortable in
Note: There will be no refunds once tickets are purchased and the space will be strictly limited so book early to avoid missing out.
---
Carly Hicks is a Women's Intuitive Empowerment Coach with the Beautiful You Coaching Academy and facilitates women's circles. It is her mission to help women journey back home within and guide them through coaching and through sitting in circle to feeling whole within themselves.


You can connect with her through her social media links and dive deeper into her work here.....
Facebook
https://www.facebook.com/carlyhicks11/

Instagram
https://www.instagram.com/carly__hicks/

Website
http://carlyhicks.com/