Description
Hybrid Universities in East Asia: Concepts, Dynamics & Outcomes
Due to the prevalence of the globalising force and neoliberalism, many universities have gone through major transformations in terms of missions, governance and institutional practices. Moreover, greater internationalisation might have resulted in further homogenisation among universities since international or "Western" standards are adopted by East Asian countries.
There is, however, an alternative argument that traditional Asian values or Confucius ideas have played a key role in enhancing and raising institutional performance/competitiveness. Traditional East Asian values are characterised by collective well-being, authoritarian leadership and management, respect for seniority, and emphasis on interpersonal relationships while the "Western" standards relatively tend to stress differences. Of interest is the exploration as to what extent higher education institutions in this region have changed their value orientations over the past two decades. This talk explores the hybridity in East Asian higher education, questioning whether East Asian universities are different to those in Western countries, if they are, what the differences are and why these differences exist.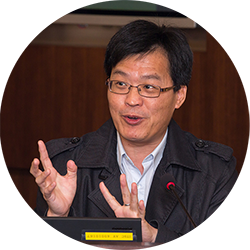 Professor Sheng-Ju Chan,
National Chung Cheng University, Taiwan
Professor Sheng-Ju Chan is Deputy Dean for Research and Development and Professor of Higher Education at the National Chung Cheng University, Taiwan and a higher education policy advisor to the Ministry of Education in Taiwan. He is also the associate editor of the international journal Asian Education and Development Studies published by Emerald, co-editor of book series, Higher Education in Asia, by Springer and convener of the research group on hybridity in East Asia Universities for the Asia Pacific Higher Education Research Partnership.
Professor Chan is substantially involved with the comparative education studies community and is the former Secretary-General of the Chinese Taipei Comparative Education Society in Taiwan receiving the Society's research award in 2011. Professor Chan specialises in higher education policy in East Asia, comparative education and higher education management. He has authored publications in Chinese and English in journals including Higher Education Policy and the Journal of Higher Education Policy and Management, with his most recent articles focusing on governance, cross-border education and internationalisation in Asia