Hume Renewable Energy Roadmap Launch - Renewable energy coach tour
Description
Dear Renewable Energy friends, leaders, advocates and industry,
You are invited to a local renewable energy coach tour of the Hume region's existing and emerging renewable energy industry. This tour is part of the Hume Renewable Energy Roadmap project.
This coach tour is running the following day after the Securing Hume's Renewable Energy Leadership dinner.  
Through the coach trip you will experience firsthand both our existing renewable energy heritage and new renewable energy investments in the Hume region. While travelling between sites you will hear from today's local renewable energy leaders and have the opportunity to network and make meaningful connections.
Renewable energy coach tour details:
Venue: Via charter bus departing from and returning to Quality Hotel Wangaratta Gateway
Time and date: 8:00am - 4:30pm, on the 2nd August 2019
Tour itinerary
A number of sites will form the itinerary for the regional tour, including:
Shepparton bio-gas power station – 1.1MW
GVW and Diamond Energy partnered in 2007 to build two bio-gas power stations, at their Shepparton and Tatura waste water treatment plants.
You will visit the Shepparton power station capable of powering 3000MWh per year, which is enough electricity to power 600 homes.
Numurkah Solar Farm – 100MW
The first large scale solar farm to be built in the Hume region, 100MW being built by Neon Australia.
Will produce enough electricity for 42,000 homes.
Part of the farms renewable energy output will off-set the greenhouse gas emissions from the Yarra Trams fleet, and the rest will power a Laverton based steel works through a 15 year power purchase agreement.

Yarrawonga Hydroelectric Power station – 9.5MW
Built in 1994 the 'run of the river' hydroelectric power station is located at the Lake Mulwala weir.
Yarrawonga hydroelectric power station is operated by AGL and provides enough electricity to power 9,000 homes.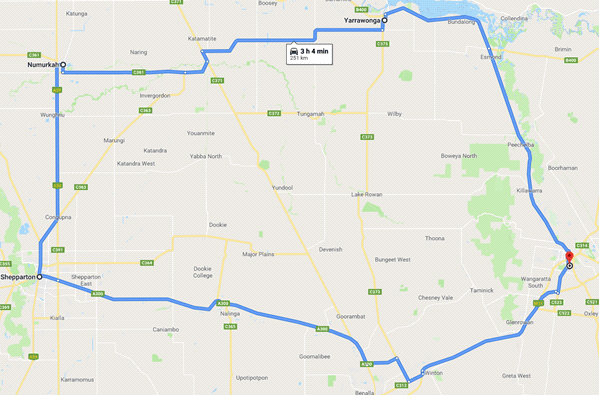 Map 1: Renewable energy coach tour map