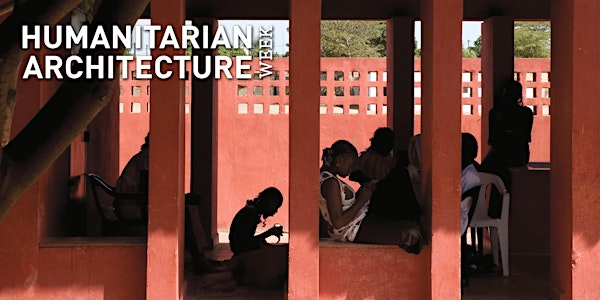 Humanitarian Architecture Week 2019: Design For a Fragile Planet - Lecture
Location
RMIT Design Hub
Building 100, 136 Victoria Street
Level 3, Lecture Theatre 100.03.001
Carlton, VIC 3000
Australia
Description
HUMANITARIAN ARCHITECTURE WEEK 2019 - MoDDD PUBLIC LECTURE
DESIGN FOR A FRAGILE PLANET
Join us to hear three humanitarian architects explore divergent pathways and projects in designing for marginalized communities.
_
Bryan Bell (USA)
Bell is the founder of Design Corps, founder of the Public Interest Design Institute, and a co-founder of Social, Economic and Environmental Design (SEED) Network, USA. He is also an Associate Professor, NC State University.
Bell has lectured at numerous leading schools in the USA including the Rural Studio with Samuel Mockbee. Bell has supervised the 'Structures for Inclusion' lecture series for ten years which presents best practices in community-based design He has received an AIA National Honor Award in Collaborative Practice. His work has been exhibited in the Venice Biennale and the Cooper Hewitt Museum Triennial. He was a Harvard Loeb Fellow in 2010-11 and a co-recipient of the 2011 AIA Latrobe Prize which is focused on public interest design.
Saija Hollmén (Finland)
Hollmén is a Director of Hollmén Reuter Sandman Architects, Founder of WiTLAB and Vice Dean for Art and Creative Practices at Aalto University Finland.
Saija Hollmén's research interests concentrate around architecture as a socio-cultural construction, as well as interdisciplinary university pedagogy. She is also a founding member of Ukumbi NGO together with Jenni Reuter and Helena Sandman Their work aims at empowering disadvantaged communities. Saija is a lecturer at the Aalto Department of Architecture, and Vice Dean of Aalto ARTS for Art and Creative Practices.
Kirtee Shah (India)
Kirtee Shah is founding President of India Habitat Forum (INHAF), founder chairman of Home Losers' Service Association of Ahmedabad (HOLSAA), president of Banglore based Institute for Cultural Research and Action (ICRA). He is also the Chairman of Ksa Design Planning Services Pvt Ltd., an Ahmedabad based firm of practicing architects.
Kirtee is an Architect whose 50 year-long professional career traverses six parallel and overlapping streams that include architecture practice, grass roots work through NGO's, policy advocacy, disaster reconstruction, institution development and project consultancy. His areas of specialisation include Urbanization, Cities, Slums, Affordable Housing, Urban Poverty, Disaster Reconstruction, Civil Society and Relevance of Professional Education.
Image: KWIECO Shelter House, Moshi, Tanzania, 2001 Hollmen Reuter Sandman - Image: Helena Sandman
ACCESSIBLITY AND PARKING
The event will be held at the RMIT Design Hub Lecture Theatre. Access via corner Swanston Street and Victoria Street.
There are wheelchair spaces available.
Limited on street parking is available on Swanston and Victoria Streets
RMIT Design Hub is well serviced by public transport including trams along Swanston Street. It is also located in close proximity to Melbourne Central Station.
CONTACT
Please let us know if you have any questions and/or accessibility requirements. Answer in the text box when registering through eventbrite or contact ryan.moroney2@rmit.edu.au or call 0476 151 703
NOTE: This public lecture will be photographed and filmed. Your recorded image may be used by RMIT in printed and electronic publications for promotional and educational purposes. By attending this event you are agreeing to RMIT using your image for these purposes.