About this Event
At Dymocks Tutoring we want to help you succeed in your HSC, so we're opening our hub up for last-minute study sessions ahead of the HSC exams with study guidance and planning from our High Achieving Tutors.
Get some friends together and book time to study at our state of the art Parramatta Learning Hub with our high achieving tutors there to help you out and make sure you're on the right track.
For a single $15 access fee, you get access for the whole day to
Study diagnosis and support provided at the session to help you pick what you should be focusing your study session on. If required our tutors will also supply worksheets and guides to help direct your session.
Wandering tutor support across a range of HSC subjects to help with your study questions during your session.
Free wifi access
Study facilities and small group spaces to study with friends
Tea and coffee facilities
About our tutors
Get the support you need to max your marks with our team of high achievers and all-rounders available to support your study and give you a strong study plan to work through. All our tutors earned a Band 6 in the subject they tutor and a minimum ATAR of 96.
Our tutors are a great resource, with many completing the new HSC Syllabus in the 2019 HSC.
Make sure you're smashing your study sessions with Dymocks Tutoring!
Wandering Tutor Support Available
TUESDAY AM: Maths, Physics, Biology, English, Chemistry, Business Studies
TUESDAY PM: Maths, Physics, Biology, English, Chemistry, Business Studies
WEDNESDAY AM: Maths, Business Studies
WEDNESDAY PM: English, Maths
THURSDAY AM: English, Economics, Maths, Chemistry
THURSDAY PM: Maths, Chemistry, Business Studies, English
FRIDAY AM: Business Studies, Economics, English, Physics, Maths
FRIDAY PM: Economics, English, Physics, Maths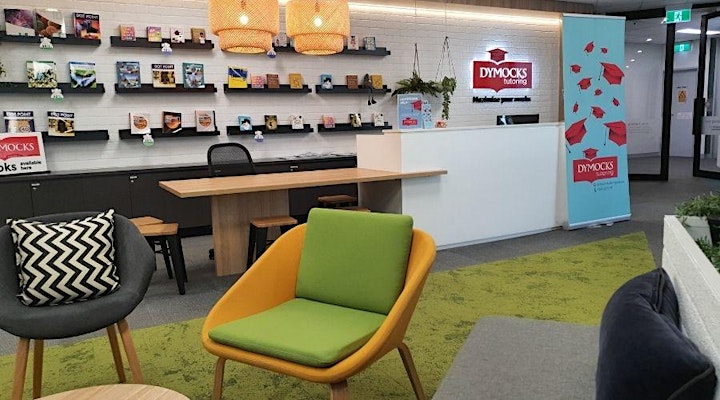 Dymocks Tutoring is a COVID Safe business.
Study spaces are limited to make sure we can abide by 4m2 physical distancing requirements.
Temperatures will be taken on arrival, and you are required to sanitise your hands.