To all Year 11 Australian students currently studying Physics and Chemistry, we are providing free online classes and paid revision classes.
About this event
Free Seminar and Revision Seminar
2 days of free trial classes on 23 and 24 September,
5 days of paid intensive classes on 27 September to 1 October.
Free Trial Classes
Year 11
NSW/VIC time zone
We will be covering Electricity and Magnetism
Chemistry (12 noon - 2 pm)
We will cover drivers of reaction.
This is a two-day trial class featuring two hours of lectures per day for each subject, for a total of four hours per subject. Everything is supplied on the day, and you have the option of continuing with the revision classes and the paid weekly classes when school resumes.
Paid Revision Classes
In addition to our free trial classes, we are also running an intensive revision classes commencing on 27 September to 1 October. This will cover most of the Year 11 topics that is taught in school. It is the best time to recap the concepts and prepare for the school examinations.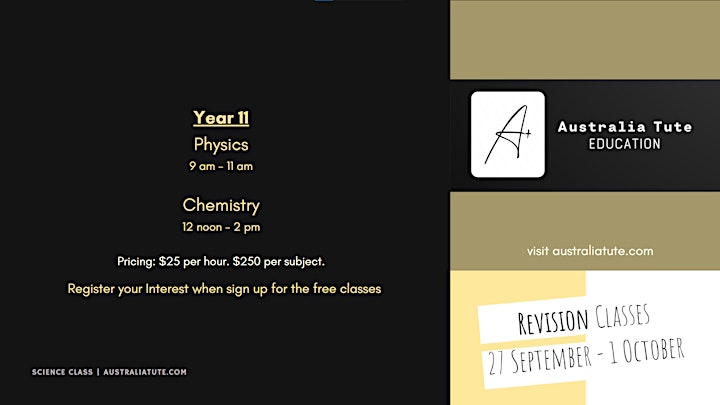 Why Us?
We have proven excellent academic track record for our students and have consistently been able to improve our student's grades. We keep up to date with our notes.
Requirements
The student have to be in the year 11 to be eligible to apply.
The student's application for the free online course will be rejected if a valid student's email address provided by the school is not provided.
Application(s) must be completed. Incomplete application(s) will be rejected.
Details of the online classes will be provided in due course
Australia Tute
australiatute.com
Organizer of HSC Physics and HSC Chemistry, Year 11