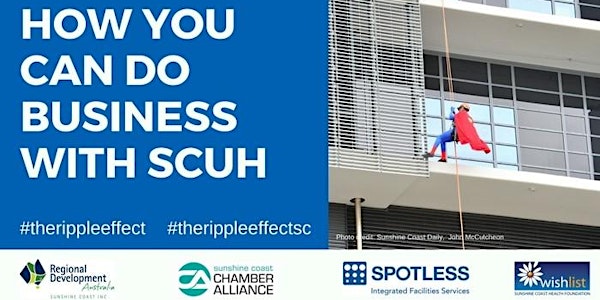 How YOU can do business with SCUH
Event Information
Location
Sunshine Coast Health Institute (SCHI) Auditorium
6 Doherty Street
Birtinya, QLD 4575
Australia
Description
Opportunities for Everyone - How YOU can do business with SCUH
As a local business owner have you thought about the opportunities that may exist for your business with the new hospital?
Do you have a business that you believe can offer a service to the hospital but are not sure where to start or understand what is required?
Many small to medium local businesses have already begun working with the hospital via Spotless, who are the Facilities Manager. Spotless has identified opportunities, outside of the provision of health services, they believe can be filled by some of the many local businesses already operating here on the Sunshine Coast.
To ensure every local business understands the opportunities that exist and how they can access these opportunities an information evening has been organised.
Spotless will explain what the ongoing opportunities are, how to connect with them – and what opportunities may exist with Spotless Group beyond the hospital.

You will also hear from WishlistConnect about how to connect with the new pool of health staff who are new to the Coast who are keen to hear from local businesses.

Local business Alltech Industrial Abseilers will talk about what winning a contract with Spotless has meant for their business in terms of revenue growth and business expansion opportunities.

You will also have an opportunity to have your questions answered by Spotless, Wishlist, and Alltech Industrial Abseilers in the Q&A session, and during post-event networking.
This information evening has been organised by Regional Development Australia Sunshine Coast, Sunshine Coast Chamber Alliance, Spotless, and Wishlist.
Register now to attend this free event and find out how you can do business with SCUH!
#rippleeffectsc #therippleeffect
The Sunshine Coast Health Institute is located opposite the main entrance to the Sunshine Coast University Hospital.

Car Parking

3 Bright Place, Birtinya
Entry via Eccles Boulevard (Maximum Height 2.20m)
Photo of Alltech Industrial Abseilers courtesy of Sunshine Coast Daily [Photographer: John McCutcheon]
Date and time
Location
Sunshine Coast Health Institute (SCHI) Auditorium
6 Doherty Street
Birtinya, QLD 4575
Australia