Sales Have Ended
Registrations are closed
This lunch and learn is BYO so please grab a snack on the way
Sales Have Ended
Registrations are closed
This lunch and learn is BYO so please grab a snack on the way
Coinciding with Women's Health Week WIMARQ is hosting an in-house and online seminar with specialists from women's health clinic Eve Health
About this event
Coinciding with Women's Health Week, WIMARQ is delighted to host this in-person and online seminar with specialists from Brisbane women's health clinic Eve Health.
Gynaecology, obstetrics and fertility specialists Dr Julie Buchanan and Dr Matt Smith will present on the importance of staying in tune with your body, and proactive ways for women to manage their health and wellbeing.
They will also field questions from in person and online attendees about any women's health issues on the day.
About Eve Health
Eve Health is a complete women's health clinic in Brisbane and has proudly provided excellence in women's healthcare since 2007.
Eve Health has a respected team of specialists, midwives, and nurses, along with a supportive network of affiliated allied health practitioners, many of whom have trained internationally in leading hospitals and are involved in clinical research and training.
Dr Julie Buchanan BNURS MBBS FRANZCOGDr Julie Buchanan is passionate about women's health and wellbeing and offers the complete range of services at Eve Health as a gynaecologist, obstetrician, and fertility specialist. She is a member of the Australasian Gynaecological Endoscopy and Surgery Society and The Australian and New Zealand Vulvovaginal Society. Read more about Dr Buchanan here.
Dr Matt Smith BSc MBBS FRANZCOGDr Matt Smith's wide set of skills, includes obstetrics, gynaecology and fertility. He has a special interest in how endometriosis affects women's lives from pain to fertility. He is a senior lecturer in obstetrics and gynaecology at the University of Queensland, a RANZCOG Training Supervisor and the Lead Consultant for Education at RBWH. Read more about Dr Smith here.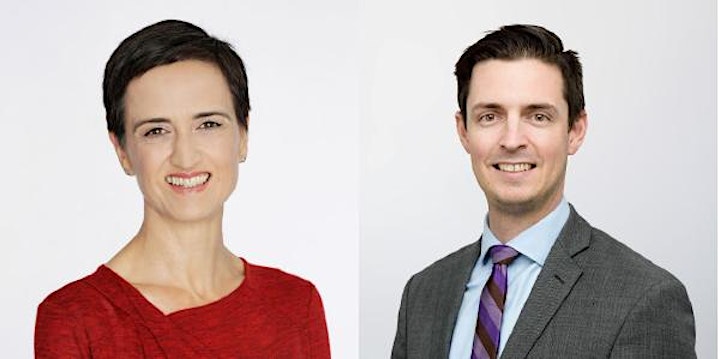 Dr Julie Buchanan, left and Dr Matt Smith will present to WIMARQ members on women's health
Organiser of How Women Can Proactively Manage Their Health - Online
WIMARQ is a group of volunteers who organise opportunities for the mentoring, support and encouragement to women who are working in, studying for or taking a break from the minerals and energy sectors. WIMARQ recognises companies and individuals who champion gender diversity and make available information to inform our members about gender diversity issues, strategies and statistics through the annual Resources Awards for Women. Women and men from all sections of the sector are warmly welcomed to attend our events, which are held in Brisbane and regional locations. Check out our Facebook and LinkedIn groups to keep up to date. If you're interested in hosting a WIMARQ event or getting a group going in your area, please contact us for assistance. Women in Mining and Resources Queensland (WIMARQ) is a reference group to the Queensland Resources Council.