Description
[NATIONAL TOUR---->WOW YOUR CUSTOMERS]

BRISBANE IM BACK FOR YOU!

Would you like to save time and money when it comes to looking after your customers, and generate more repeat and referral business?

It simply comes down to giving your customers a wow experience. But are you doing that?

Learn how to wow your customers (and prospects) - so that you can have an ongoing funnel of leads, repeat business and never have to worry about losing a customer ever again.


I know you are on this page for a reason and that is to find out how to do that, and I would love to teach you in my half day workshop.
 
These are the most common problems I hear from business owners:

> I'm sick of losing customers
> I'm overwhelmed and don't know where to start with customer care
> I'm time poor and lack the resources to maintain customer relationships (even though I know I need to do it!) > I just want a system to automate it for me so I don't have to worry about it

That's why I created my half day workshop, because your customers need YOU! So give them a reason to keep doing business with you, over and over again.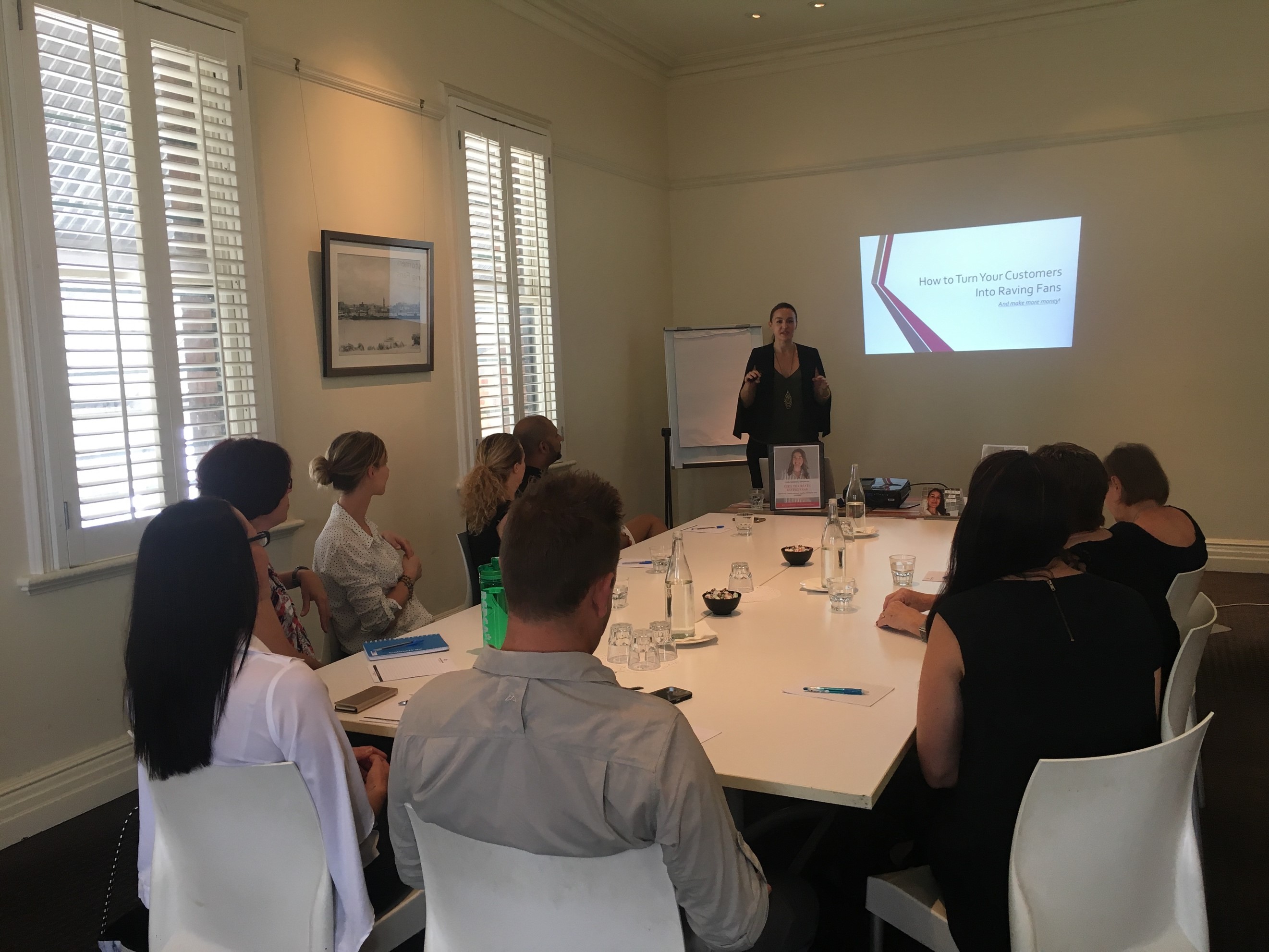 I'M GOING TO SHOW YOU HOW TO:

> get your clients to love you and become raving fans for life
> stand out and be top of mind with customers (and prospects!)
> supercharge your referrals
> save time and money by automating your customer care
> increase your profits and cut marketing spend


You will walk out with:
1. A UNIQUE STRATEGY TO CREATE LOYAL CUSTOMERS

Learn how to turn your customers into loyal raving fans who will be glued to your business for life and become your silent sales partner. At the end of the day you want to do business with customers you love, and that love you back because who wants to deal with unpleasant customers in their business?


2. THREE STEPS TO GET YOUR CLIENTS TO LOVE YOU AND ALWAYS REFER YOU

Find out the secret to getting more referrals and repeat business from the easiest group of people to sell to! Wouldn't it be nice to know you have an on going funnel of leads – and how to nurture those leads so that you are top of mind when they need to make a purchasing decision?

3. AUTOMATED WAY TO WOW YOUR CLIENTS

Save time and money on automated ways to impress your customers and create a customer experience that they will never forget. Why is this important? Because the only thing your customer cares about is themselves – so let me show you how to save time and implement a simple system to wow them and never lose a client again.


This workshop is for small business owners in the service based industry who:

> value their customers and understand how much they are worth to them as a business
> know they need to keep in touch with their customers
> want to stay top of mind with their prospects
> are lacking time and resources to focus on the above

We have already had raving feedback from our workshop attendees, here's what they had to say..

"Great for anyone needing direction, clarity and proven tools to increase customer loyalty"

"Fun, valuable tips, and information to expand your business"

"Eye opening and awakening of a new strategy to create WOW, memorable and authentic touchpoints"

Can you really afford to be losing customers and potential business by missing this workshop? Normally valued at $97 - at a discounted price of $47 you will learn how to create loyal customers and boost repeat and referral business – which will pay itself off.


When: Thursday 22nd June 2017, 9:30am – 1:30pm
Where: Venue TBC
Investment: $47
Book in for my workshop today and start creating your own raving fans!


I can't wait to meet you.


Janja Bojanic
The Connection Queen