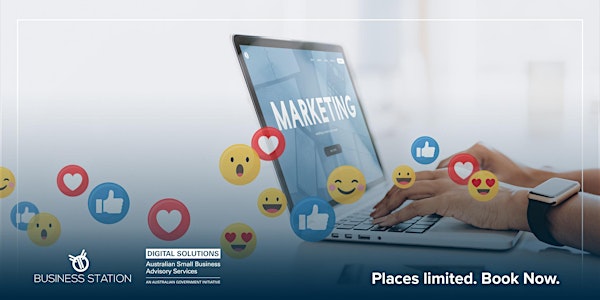 How to Use LinkedIn for Your Small Business Marketing by Neda [1OW]
Sales Have Ended
Registrations are closed
Thank you for your registration to our ASBAS Digital Solutions Event.
Sales Have Ended
Registrations are closed
Thank you for your registration to our ASBAS Digital Solutions Event.
LinkedIn Marketing - A powerful tool for Small Business
About this event
PLEASE NOTE: To register for this event you must be a business (0-19 employees)  and provide your ABN. 
This session will be recorded and sent to everyone who has registered. Register now!
Level : Intermediate
Date/Time:
Thursday, 10 February 2022
WA: 12:00 PM to 1:00 PM (AWST)
NT: 1:30 PM to 2:30 PM (ACST)
QLD: 2:00 PM to 3:00 PM (AEST)
Understanding the features and functionality of LinkedIn will set your business up for success, giving you a solid foundation to attract followers and drive engagement.
Learn how to build a successful LinkedIn strategy and organic following. Create an Ad Campaign that will build a brand and attract customers.
In this workshop we will discuss;
1. The LinkedIn Profile and Company Page basics to set you up for success
2. Driving Leads and Engagement On LinkedIn
3. What to Post On LinkedIn
4. LinkedIn Advertising Overview
5. Live Q&A
This workshop is brought to you by Business Station and AusIndustry under the Digital Solutions Program.
ABOUT PRESENTER
Neda has 20 years of extensive experience in business and entrepreneurship, sales and marketing, growth strategy, operations management, project management, team leadership, asset management in Public-Private Partnership contracts, and customer service.
She built and sold 2 businesses of her own and worked with small, medium, and large businesses in different industries.
In her business journey, she has had a lot of successes and experienced a lot of mistakes along the way. This is the reason she's passionate about helping businesses to make sure they don't repeat the mistakes other leaders and herself made.
Neda helps businesses with:
• Marketing and Advertising Strategy (online and off-line)
• Facebook, Instagram and LinkedIn Advertising
• Business and Personal Branding
• Customer Journey Mapping
• Sales and Marketing Funnel
• Lead Generation
• Creating Offers
• Sales and Conversion process
• Lead and Client Nurturing
• Business and Leadership Coaching
• Squarespace website design and development
#linkedinmarketingforsmallbusiness #linkedinmarketingtips #learnlinkedinmarketing
About Digital Solutions - Australian Small Business Advisory Services
Digital Solutions is one of the most generously supported digital transformation programs for small business by the Commonwealth Government. This iteration of the program has been run by Business Station in QLD, WA and NT for three years and has had a significant positive impact on the small business community.
This event will give you the chance to learn about the details of the program, what's on offer and who can access the free or highly subsidised support, training and resources! Perhaps you will find them beneficial for yourselves, your network or your clients.
To better understand what's on offer, we will encourage each attendee to register themselves to the program before the event, or otherwise by attending this workshop, you will be registered.
Important – Participating businesses must be aware that this information will be provided to the Commonwealth Department of Industry, Science, Energy and Resources for program evaluation and reporting purposes; and businesses may be approached by a representative from the Department to complete a survey on the services provided.