How To Sustain An Entrepreneurial Mindset and Ultimately Success in Busines...
Description
Welcome to VICTORIA ICG Coach and Connect for NOVEMBER 21ST 2017
We are delighted to announce we have the amazing Matt Joy joining us for our NOVEMBER 2017 Coach and Connect. Matt is a true mover and shaker in the world of Sustainable Entrepreneurialism.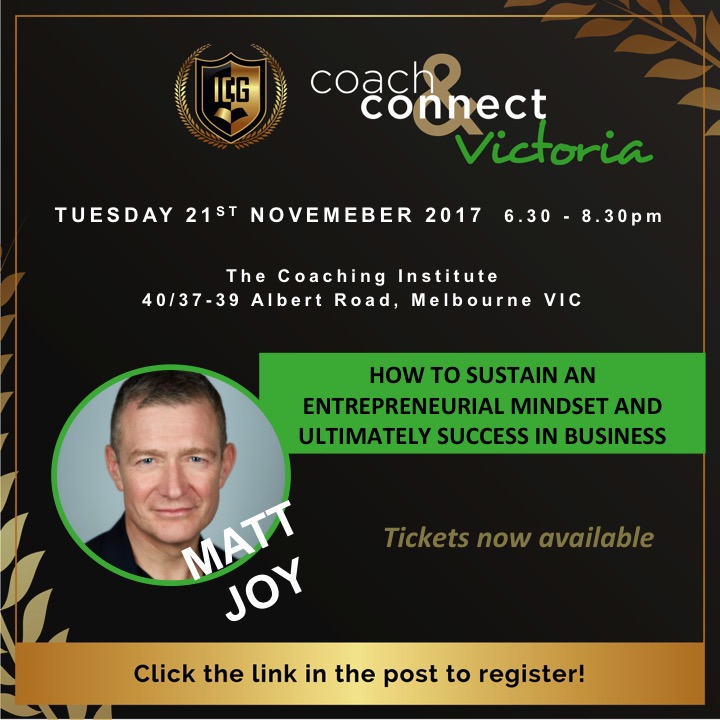 The ICG has a fantastic calendar of presenters for you in 2017/2018 and we are continuing to ramp up the value for you with our theme for this year "MOVERS & SHAKERS". These events provide a fantastic opportunity to get in the room with like-minded individuals and phenomenal speakers.
Introducing MATT JOY
Matt Joy is an elite mentor and coach and who runs a business accelerator for entrepreneurs individually or via master classes on www.authenticentrepreneur.com.au.
He has worked on three continents over 30 years, creating teams and multiple businesses contributing to the creation of over $1 billion in value. His experience is particularly valuable in opportunity creation, deal making and getting businesses investor and exit-ready.
He often works with two types of people: those like himself who have taken the leap out of corporate to launch a business, or those who have the seeds of a business that they are soon to germinate.
In his corporate career, he has been the architect behind five businesses in Australia and the UK, including taking one to $100million in net assets and another to achieve a successful multi-million dollar exit. He has also known first hand the pain of taking one of his businesses from start up to liquidation.
He is an entrepreneur, leadership specialist, an executive mentor and coach, an owner of multiple businesses, an investor, and a specialist in strategy, business development and swift project execution.
Matt's mission is to enable conscious entrepreneurs to ignite and maintain their passion to deliver business value at scale, whilst creating a life premised on mindful principles and values rich in joy and contribution.
What most people don't know about Matt is that he was once a champion roller skater, and he actually has a secret yearning to be a DJ.
Matt will be sharing with us:
His purpose and values he lives by that shape his success.

How to sustain your motivation, courage and passion over the long haul in business.

How to create a life premised on mindful principles and values rich in joy and contribution.
---
When: Tuesday 21st November 2017
Time: Registration 6.30pm for a 7pm start
Where: TCI HQ, 40/37-39 Albert Road, Melbourne VIC 3004
Tickets: To grab your early bird tickets NOW at $20 (plus $2.08 fee) or $25 cash at the door.
---
To make sure you never miss an upcoming event and check out everything ICG head over and join in the conversation by CLICKING RIGHT HERE

And remember, all ICG Coach and Connect events are open to you sharing amongst your networks with anyone you believe will gain value from being in the room.

See you there. Bookings open now.



Jane Cann
Victorian ICG Coach and Connect Leader
Are you a member of the ICG yet?

http://www.internationalcoachguild.com/