Sales Have Ended
Ticket sales have ended
Thank you for registering for the full day 'How To Stop Patterns of Sabotage' immersive workshop. I look forward to seeing you in the upstairs studio at Movement Remedies on the 1st of May, 2021. A pre-workshop questionnaire will be sent to you to get started and ensure you get the most out of the day. Any questions, please don't hesitate to email me on info@bronwynboyle.com
Sales Have Ended
Ticket sales have ended
Thank you for registering for the full day 'How To Stop Patterns of Sabotage' immersive workshop. I look forward to seeing you in the upstairs studio at Movement Remedies on the 1st of May, 2021. A pre-workshop questionnaire will be sent to you to get started and ensure you get the most out of the day. Any questions, please don't hesitate to email me on info@bronwynboyle.com
Whether it's in your work, your relationships, your finances, or your health, you know that feeling when you've sabotaged yourself.
About this event
How To Stop Patterns Of Sabotage
Exposing sabotage and how it plays out in your life. The Saboteur in all of us is a constant companion.
Whether it's in your work, your relationships, your finances, or your health, you all know that feeling when you know you've sabotaged yourself.
How many times have you said, "won't be doing that again!" or maybe it's more like "I will never put myself in that position again!" only to find yourself back there again.
Well isn't that a kicker, those 'never' statements can end up feeling like sabotage too.
Sabotage is a constant source of chaos in your lives. Without understanding your patterns, they will repeat and you will struggle with self-empowerment.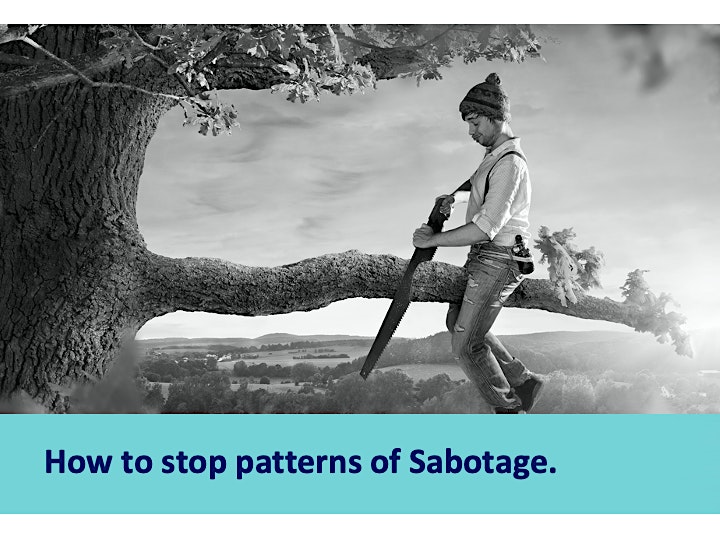 So, what can you do about it? Come along to my full day immersive workshop and let's dive in.
So let's leave judgement at the door and join me for what is never a dull evening.
The Saboteur in you shows up at decision points, big and little, in your daily life.
Understanding your saboteurial patterns is essential for the empowerment of yourself and others. This workshop focuses on the choices you make, and what's possible from a more empowered you.
The Saboteur is in all of us.
Explore your patterns with:
Money

Health, 

Relationships

Work/Career
Archetypes are all 'Patterns of Power'. Are your choices working 'for' you or 'against' you?
Assess how you respond or react in stressful, joyous and everyday situations. I hope you will join me on a delicious, brave journey of self-revelation on why you do what you do and how to safely make change in your life.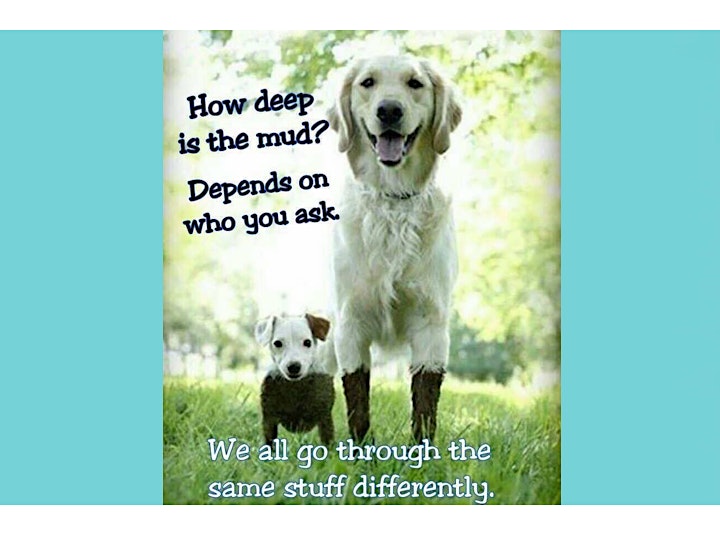 Organiser of How To Stop Patterns Of Sabotage Full Day
Bronwyn Boyle is by far one of the finest and most gifted Archetype Consultants I have ever had the pleasure of teaching. In addition to having gained a superb knowledge of archetypes, Bronwyn has an education in Family Constallation dynamics. As a practitioner, Bronwyn engages with her clients with the intention to further an individual's personal growth and understanding of who they are, what their life path is, and what is required for healing and clear decision-making. Every person Bronwyn works with is transformed by her caring and dedicated insights. I cannot recommend Bronwyn enough, as I know her to be a dedicated to her work and to her clients."-
Caroline Myss - Author of Sacred Contracts - Founder CMED Institute
.........................................................................................................................................................
Bronwyn Boyle graduated with a degree in journalism and wrote for Western Australian Newspapers before working in the justice system, where she was rapidly promoted through a series of managerial positions for the WA Department of Justice. She began studying human behaviour and personal development while working in the justice system, gaining multiple qualifications. She studied with and apprenticed to Caroline Myss for over ten years. She now runs her own business as an Archetypal consultant and teaches workshops to private and corporate groups throughout Australia. 
This hybrid blend of corporate and personal development expertise was founded when as a young girl, Bronwyn, like so many, was fascinated by 'why people do what they do' and once entering the workforce started her global journey of experience, travelling the world with her experience, tenacity & bringing her to where she is today. 
In Bronwyn's journalism days, her passion for writing feature stories on an individual's triumphs and challenges, truly embedded her desire to delve further into the sense of the hero's journey.  She also revelled in her stories on compassionate communities as well as the 'seen and not heard' hidden stories of grittiness within human behaviour – all loved by her avid readers and followers.  These experiences in turn, attracted & catapulted Bronwyn into many years ahead of studying these numerous human behaviours and modalities & right into the rich complexities of the Australian Justice System. 
Here Bronwyn witnessed people, their families and friends under tremendous stress and most certainly not at their best. From basic driving offenses to sexual assault, murder, fraud - the whole spectrum, Bronwyn was accordingly challenged by her own judgments, prejudices and compassion.  She worked with and was mentored by people with amazing insight and skills, whilst some in positions of authority showed some of the shadier sides of what people do when they're in charge of others' lives – again leading Bronwyn to further exploration & understanding of human behaviour.
Whilst always dabbling around the edges of self development, working in Justice and with 'real' people, this environment necessitated that Bronwyn also be responsible for herself,  'walk the talk', use the tools she was learning and show how incredible these new tools could be both personally and professionally. 
This was the beginning, an unravelling of what Bronwyn knew she should be doing and the revealing of her archetypal adventure.  The unravelling of her own life, lead her to archetypes, how they are a catalyst in defining who 'you' show up as and understanding her own unconscious motivations & behaviours. 
Renown and Leading world expert on Archetypes - Caroline Myss, became Bronwyn's mentor whilst learning and mastering this incredibly powerful tool – one that can be so effective on the surface, whilst intrinsically, deeply trans-formative. 
Bronwyn began spending much of her time in the US, with regular trips to the UK and working with people all over the world.  She worked with small businesses on team building, recruitment, succession planning & conflict resolution to name a few.  
More and more business owners were open to and asking questions about their lives from an archetypal perspective when they recognised that what was happening in their business was imitating other areas of their lives.
Bronwyn again unravels the void between understanding for example who you present as when you go for a job interview, why you get along with someone yet clash constantly with another, why you are attracted to a certain career ..... as all of these behaviours have an archetypal answer ensuring a much more complete picture of how you respond or react under different stresses, joys & everyday situations on both personal and professional levels.