Description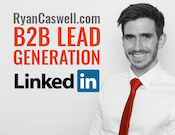 TOPIC: How to start valuable lead generating conversations with your ideal clients on LinkedIn
SPEAKER: Ryan Caswell (pictured)

Ryan is a B2B lead generation specialist who helps companies grow exponentially by helping define their message and starting valuable, lead generating conversations with their ideal clients on LinkedIn. During the session Ryan will cover the bare essentials you need to focus on when it comes to generating high quality leads on LinkedIn.
In the talk he will cover…
His background and story (from mining coal to a BNB in the Brazilian mountains through to web dev and finally digital marketing, specialising in LinkedIn)
Common LinkedIn marketing mistakes
Why LinkedIn is king for generating B2B leads
How to start using LinkedIn to generate new B2B leads

today

Optimising your profile
Defining and finding your ideal clients en masse
How to start lead generating conversations with complete strangers
Building your daily processes to manage leads and conversations
This is one of our regular series of business and networking-focused meetings where you'll have an opportunity to meet other business people and current members of Wynnum Business and find out what Wynnum Business is all about, plus hear from an invited speaker in a short (15-25min) talk on an aspect of business/information/technology. There's a lot more information about Wynnum Business here - wynnumbusiness.org.