How to product innovate 10X faster at a tenth of the cost post COVID-19
About this Event
MONTHLY LUNCH SERIES OVERVIEW
No one knows what the future holds, but while we are in the midst of this enormous societal change it's time to consider what the world might look like after this pandemic and we're free to move again.
Product Developers once imagined a future with a market of cashed-up buyers, but overnight the world changed. Global markets are unstable, and most people are working from home and may continue to do so in the foreseeable future.
What does this mean for product developers now?
In this series, you'll discover innovative minds to collaborate with and help you bring your ideas to life: you will connect with people who can assist you in your current and future enterprises.
Each month we will introduce you to subject matter specialists who will be keeping you abreast of the latest trends and changes. Learn more.
MAY 2020 PRESENTATION SYNOPSIS
To launch the series, our guest presenter Craig Rispin will be showcasing current and emerging trends affecting product innovators and developers locally and globally.
In particular he will focus on the exponentially rapid growth of AI tools to optimise human intelligence, creativity and productivity - and how that offers exciting opportunities for product development and innovation in the future.
Over lunch you will get to discuss and explore these ideas with Craig in an open-ended Q and A - which he is happy to go past 1.30 if the audience wants.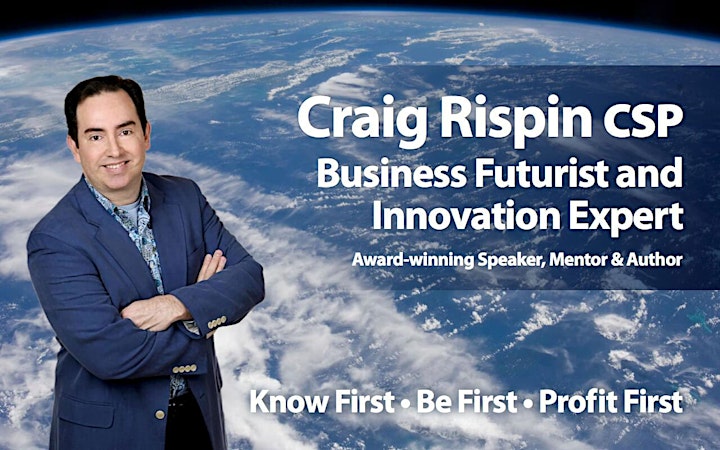 ABOUT CRAIG RISPIN
Craig Rispin is a Business Futurist and Innovation Expert with expertise in emerging business, people and technology trends – and how companies can profit from them. Craig has over 20 years' experience working where the future has been created – with some of the most innovative companies in the world in the IT, consumer electronics, internet and broadcasting industries.
He is an award-winning speaker and has addressed audiences as large as 16,000 people on five continents and has consulted with CEOs of leading organizations worldwide such as the Young Presidents' Organization (YPO), Toyota, IBM, Canon, Kimberley-Clark and hundreds of professional industry associations.
WHO SHOULD ATTEND?
Product-developers, designers or inventors
Small business owners
Entrepreneurs
Engineering firms / Manufacturers developing new products or optimising existing ones
Corporate innovation team-members
WHY ATTEND?
Now is the time to develop a pet idea you've been nursing for years and for courageous innovators to get started.
Over the next 12 months we will encourage you to share and explore your challenges and needs as we provide global and local experts to help you navigate these turbulent times.
You will have the opportunity to engage with them and ask questions.
Come along each month and share your challenges and we will share ours, including case-studies of product-developers and inventors we know.