Sales Have Ended
Registrations are closed
The event is now over but you can stay in touch with my FREE 12-month newsletter is created to help you gain the insight you need in order to rise to the occasion and act as a transformational leader who can enact real change. During this experience, you can expect to learn all about building confidence, taking risks, establishing goals, developing an all-star team, finding your voice, and so much more! Sign up here! https://chloelim.leadingthebest.com/JMTN0001
Sales Have Ended
Registrations are closed
The event is now over but you can stay in touch with my FREE 12-month newsletter is created to help you gain the insight you need in order to rise to the occasion and act as a transformational leader who can enact real change. During this experience, you can expect to learn all about building confidence, taking risks, establishing goals, developing an all-star team, finding your voice, and so much more! Sign up here! https://chloelim.leadingthebest.com/JMTN0001
Learn strategies to help you thrive even when life is uncertain and challenging in this FREE webinar on navigating change!
About this event
"The only constant in life is change"
Heraclitus
In our ever-changing COVID-affected world, where uncertainty abounds, we are faced with challenges that can impact our lives in ways that we are not prepared for.
How we view and respond to the challenges we face can lead to either a more positive outcome or it could spiral into further negativity.
So how can we manage the changes and challenges in our life so that we are better for it?
How can we turn the bad experiences into good?
Join me in my free webinar, hosted by Spendless Academy, called "How to Navigate Change so You Thrive in Uncertain Times" as I share strategies on how we can use changes in our life to not only survive but thrive in an uncertain world.
I will be sharing insights from one of the top leadership experts in the world, John Maxwell, with practical steps that can you apply straight away in your life.
WHAT YOU WILL LEARN FROM THIS WEBINAR
✅ Learn how to view change
✅ Learn how to manage painful experiences
✅ Learn how to get out of your comfort zone
Spendless Academy rewards learning so upon attending this webinar, you will be awarded USD10 credit in your user account.
(Please ensure that you rate the trainer from your end after the webinar to claim the credit)
Please do share with your networks so they too can learn how to make the most of the changes and challenges in their life.
Join me and learn how to thrive during times of change and uncertainty.
Register here as spots are limited!
https://spendlessacademy.com/webinar/how-to-navigate-change-so-you-thrive-in-uncertain-times/
IMPORTANT NOTE: Please register in the Spendless Academy website to get the access link for the webinar on the day.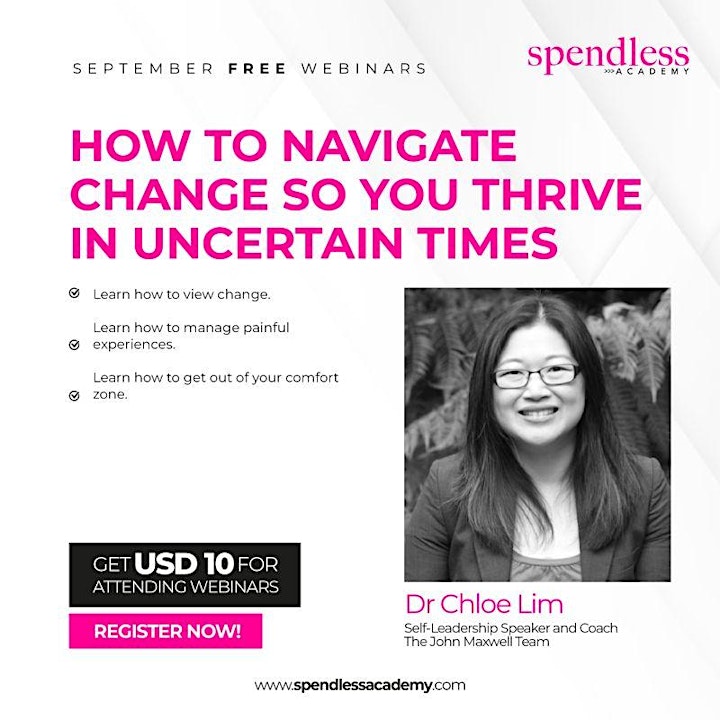 Organiser of How To Navigate Change So You Thrive In Uncertain Times - Webinar
Dr Chloe Lim is passionate about helping women take responsibility for what they want in life by taking charge and leading themselves to live a life of meaning and significance.
As a John Maxwell Team Certified Speaker and Coach, Chloe has special access to resources by John Maxwell, one of the top leadership experts in the world. His world-class and proven leadership, communication and personal growth strategies and programs are highly sought-after by Fortune 500 companies, presidents of nations, and many of the world's top business leaders.
She shares his expertise and insights through his best-selling books so that you too can learn from one of the top leaders in the world. She speaks and coach on developing self-leadership skills as before you can lead others well, you have to first lead yourself well. She is passionate about helping others grow their self-leadership skills so they can reach their full potential.