How to make money trading the Currency (FX) Markets - FREE SEMINAR

Wednesday, 24 July 2013 from 6:00 pm to 8:00 pm (ACST)
Event Details
The Currency (FX) market is the biggest and most traded market on the planet - it trades 24 hours a day with daily turnover that is more than the total value of the Australian sharemarket! 

It has previously only been available to trade by large banks and institutions, but now retail traders like you and I can also trade currencies - all you need is a computer and an internet connection AND a good understanding of how this market works, and some reliable trading strategies.

During the seminar I will personally teach you to understand what the currency market is, how it works, show you how to open an account to trade, and how you too can regularly make money trading FX - just like the professional traders do in just half an hour a day!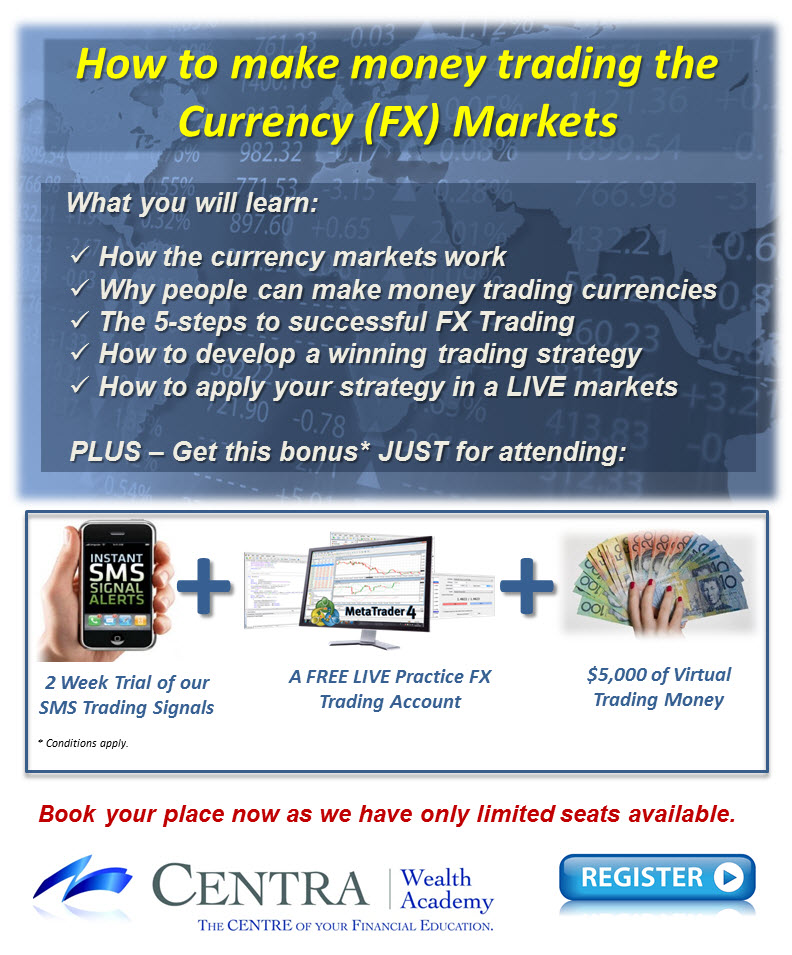 SEMINAR DETAILS
WHEN:    Wednesday July 24th 2013
WHERE: Education Development Centre
                Milner Street, Hindmarsh
TIME:      6pm to 8pm
RSVP:     ASAP - We have only limited seating. Book your place now by 
As a special bonus for attending, we will give you a FREE 2-week Trial to our SMS Trading Signals PLUS a FREE Live Practice Trading Account PLUS $5,000 of Virtual Trading money with which you can learn to trade in a real market situation.
Places are limited - so book your place NOW
 DISCLAIMER
CENTRA WEALTH Pty Ltd (ABN 39 158 802 450), trading as CENTRA PRIVATE WEALTH, CENTRA SECURITIES and CENTRA WEALTH ACADEMY (and collectively known as "The CENTRA WEALTH Group"), holds an Australian Financial Services Licence (#422704) issued to it by ASIC.
The Centra Wealth Group provides a range of financial services including Financial Planning, Investment Advice and Education services. Please consult our FSG on our website at www.centrawealth.com.au to determine if these are suitable for you.
This email may refer to a presentation that may contain General Financial Advice that will be provided for educational purposes only. Trading carries a high degree of risk, particularly if leverage is involved, such as when trading currencies or other securities on margin. As a result, you could lose more than you initial investment.  Therefore we recommend you do not trade with real money until you have a proven trading methodology that is backed up by strong money management and risk management methods.  In providing this general advice, we will not have considered your financial situation. Please consult your financial adviser before deciding to follow any of the strategies or investments that will be presented at the Seminar. You should, before acting on any such advice, consider the appropriateness of the advice, having regard to your objectives, financial situation and needs.  
This communication is intended only for use of the addressee and as such may contain legally privileged and confidential information. If you are not the addressee or intended recipient, you are notified that any dissemination, copying or use of any of the information is unauthorised and you must not disclose or use in any way the information in the e-mail.  If you have received this e-mail by mistake, please notify the sender immediately by reply e-mail and delete this e-mail and destroy any printed copy. This email may be a private communication, and if so, the views expressed are the views of the sender only and not necessarily those of the The CENTRA WEALTH Group. This email must not to be distributed to retail investors outside of Australia. There is also no warranty that this email is error or virus free. 
The CENTRA WEALTH Group complies with the terms and conditions of the SPAM Act 2003.  Should you wish to alter your communications with The CENTRA WEALTH Group then you MUST respond to this email. If you do not reply to this email, we will assume you are satisfied with your email communications from The CENTRA WEALTH Group.  If at any point you no longer wish to receive these messages, simply reply to this email with the subject "UNSUBSCRIBE" requesting to be unsubscribed from future communications.
When & Where

Education Development Centre
4 Milner St
Hindmarsh, SA 5007
Australia

Wednesday, 24 July 2013 from 6:00 pm to 8:00 pm (ACST)
Add to my calendar
Organiser
The Centra Wealth Group - The CENTRE of your Financial Wellbeing.
The CENTRA WEALTH Group is a financial services business that provides financial planning, investment advice and also loan and finance arranging services.
We provide a complete range of specialist financial services including:

FINANCIAL PLANNING
Personal Advice for Investing in: 

Shares

Fixed Deposits 

Managed Investments 

Property 

Portfolio Management

 

Superannuation Advice

Self Managed Super Funds

Personal Insurance

Tax Planning

Portfolio Reporting and 

Administration services

INVESTMENT ADVICE

General Investment and Trading Advice for: 

Shares

Options

Contracts for Difference (CFDs)

Fixed Deposits

Debentures

Initial Public Offerings (IPOs)

Property

Managed Investments

Full-Service Advice and Trade Execution

Trading Platforms

One-off Share Sales

Personal Budgeting and Money Management

EDUCATION & TRADING SUPPORT SERVICES

Education Programs  

Short Courses

Individual Coaching and Mentoring services 

Market Insights Webinars

Trading & Investment Reports featuring our Model Trading and Investment Portfolios  

Short & Medium Term SMS Trading Signals 

Live Trading Workshops

Market Analysis Software

Financial Market Data

LOAN & FINANCE SERVICES

Home Loans

Car Loans

Investment Loans

Construction Loans

Plant & Equipment Finance

Debt Refinancing

Personal Budgeting

Please feel free to contact us
Phone: 08-8231 4709 or
Email  info@centrawealth.com.au
www.centrawealth.com.au
How to make money trading the Currency (FX) Markets - FREE SEMINAR