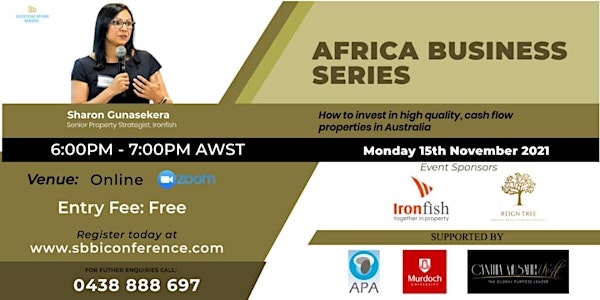 How to invest in high quality, cash flow positive properties in Australia
APA Investment Club educational session on how to invest in high quality, cash flow positive properties in Australia
About this event
This webinar will provide an opportunity for our members and the public on how to:
(1) Understand the demand and supply fundamentals driving the Australian property market;
(2) Learn how aspiring and experienced property investors can identify and purchase high quality, cash flow positive properties in Australia; and
(3) Become aware of the imminent property investment opportunities that are available
This webinar will be delivered to you by Australia's largest property investment education firm, Ironfish, in collaboration with the APA Investment Club and Reign Tree, an emerging property ecosystem provider.
Organiser of How to invest in high quality, cash flow positive properties in Australia
The African Professionals of Australia (Limited by Guarantee) is a not-for-profit organisation whose purpose is to empower people of African origin to reach their full potential in their respective professions, careers and goals, while integrating into the diverse Australian society. APA continues to provide a platform for both Africans, Australian's as well as non-African Australians to pursue and achieve continued professional relevance and impact to the Cultural And Linguistically Diverse community, and thus all our events have a significant relevance to all attendees, be it professional or not.