Event Information
Refund policy
Contact the organiser to request a refund.
Eventbrite's fee is nonrefundable.
No More Crickets! When you want the team's ideas and suggestions and there's nothing, silence, use any of these 10 powerful techniques.
About this event
Buy your ticket via Eventbrite and you'll receive your login details to access the live session approx. 24 hours prior to the event.
Running online meetings and workshops can be hard.
And when you ask questions or seek input, ideas and contributions ...
Silence can be common.
*Crickets*
Meeting Fatigue
People are meeting fatigued, weary (and wary) of another session seeking their ideas or contributions and participation. Engagement needs to be earned and participation and contribution can't be assumed just because you're holding a meeting.
The Same Voices
It can be hard to engage and inspire people or bring new voices in to a topic, particularly when the same voices or 'the usual suspects' answer swiftly, respond frequently or provide the bulk of the content.
Why is this happening? And what can you do about it?
Is it me... or them?
Many people wonder what they could do differently to change the vibe, mood and participation rate in meetings and workshops.
They ask questions, run activities and seek ideas and input, but still ... silence, or reluctant contributions.
What's going on - and what can you do to increase participation in the meeting and contribution to the process and outcomes?
The need for better collaboration and greater co-creation is increasing. Working with colleagues, clients, customers and stakeholders is a must and doing this online means we need to bring some potentially new and different ways of leading, facilitating and designing our sessions.
No More Crickets
In this Masterclass, we'll work through 10 techniques to :
ESTABLISH a safe meeting and workshop environment
GENERATE participation and contributions, and
CURATE and collect the varying ideas, voices and thoughts from the attendees in your sessions.
It may just change the way you plan, lead and facilitate meetings and workshops.
AND it's a practical session; you'll experience the tools and techniques and see how they help you participate and contribute.
This Masterclass has limited/small group numbers for personalised support and attention throughout the process.
ALSO AVAILABLE FOR INHOUSE TEAMS and GROUPS
This session is available for inhouse teams, conference events and leadership teams - contact Lynne Cazaly for more information.
Buy your ticket via Eventbrite and you'll receive your login details to access the live session approx. 24 hours prior to the event.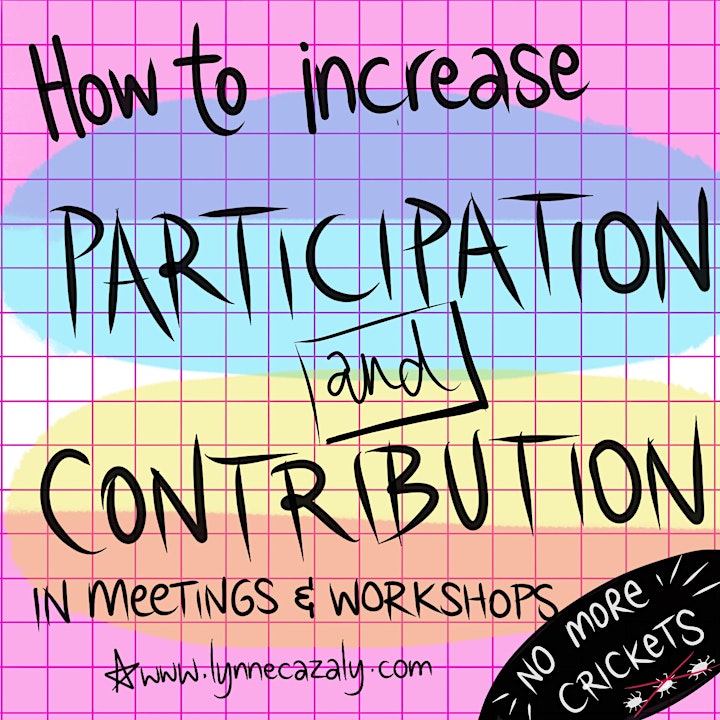 What people say
"I am constantly inspired by Lynne's ability to help other people shift into the best version of themselves, whether by leading from the front of the room as a master facilitator, devising strategies for hacking productivity or by highlighting the contributions of others and teasing out the gold. We are absolutely blessed to have such an incredible force for good in this tribe."
- Col Fink, Thought Leaders Global
"Thanks for your generosity and make it happen attitude to life. This has been exceedingly helpful."
- John Drury
"I love how you make something so potentially 'ugh', so humane, relateable, and doable. Thanks!"
- Cathy Burke
"Lynne's presentations are amazing. There is so much in there. Not a word is wasted."
- Annie Collins
"Ok y'all that was a great talk from Lynne Cazaly with no slides, very animated and interactive working the chat posts - best remote sesh I have been in so far."
- Michelle Playfair
"Awesome session with Lynne Cazaly. So much insight in 1 hour! Thank you for your wisdom and energy!"
- Rowena Millward
"My session with Lynne supported me to join-the-dots between my business activities. Her ability to both visually capture thoughts, mentor and guide with a strategic mindset was both creative and constructive. Clear next-steps with supporting resources have provided the clarity and deliberate action-points needed to take it to the next level. Thank you!!"
- Mary Anne Murphy
"Lynne, I'm am constantly blown away with how on the nose you are with offering what folks need when they need it. So thankful to have met you."
- Emma Prentice
"I was in the Friday workshop with Lynne Cazaly - highly recommend with loads of practical tips, was able to put into action with 2 hrs!"
- Andrew Huffer
"Thank you for the extraordinary session today, I am still on such a high, it was an incredible session so practical and full of ideas, I loved every minute! I am looking forward to booking in future courses with you, your facilitation is simply world class."
- Monique Richardson
"Thank you so much again for today's session. I learned so much!! It's the basic tools turned into something clever. It takes the fear out of it."
- Mary Butler
"Thank you so much for the engaging session on Friday. It was so insightful and I am impressed by your ability to run a 90 minute session so smoothly! Kim, Michelle and I really enjoyed it."
- Balsam Al-Dabbagh
"Thankyou very much for your insightful, engaging and generous facilitation today. I've got some important hindsight as a result, some new tools in my pocket, and a stronger commitment to keep improving my communication options and methods.... Thankyou. It's no simple gig to meet the needs of such a diverse set of sectors in one sesson and you did so today with relevance and respect."
- Sal Dennis
"I loved acquiring a bunch of models, techniques, templates, responses - all which are practical and helpful to me. I loved your 'meta' approach to demonstrate the techniques."
- Jeanne Armstrong
"Great insights into mix and match of elements - very powerful to create a wide variety of tools from it."
- Bhakti Chaubey
"Thank you for the great session on Friday. You inspired me so much, that I went home and re-thought how we would approach the extended leadership team offsite yesterday ... we got fantastic feedback from the participants about the increased impact that this had, and how engaging the session was. So thanks again! "
- Adele Keating
Date and time
Location
Refund policy
Contact the organiser to request a refund.
Eventbrite's fee is nonrefundable.
Organiser of How to increase participation and engagement in meetings and workshops
Lynne Cazaly helps individuals, teams and businesses transition to better ways of thinking and working. Lynne is an international keynote speaker, multi-award winning author and a master facilitator.
She is the author of 8 books including: 
- Argh! Too much information, not enough brain : A Practical Guide to Outsmarting Overwhelm
- Better Ways of Thinking and Working: How Changing the Way You Do Things, Changes What You Can Do
- ish: The Problem with our Pursuit for Perfection and the Life-Changing Practice of Good Enough
- Agile-ish: How to Create a Culture of Agility
- Leader as Facilitator: How to Engage, Inspire and Get Work Done
- Making Sense: A Handbook for the Future of Work 
- Create Change: How to Apply Innovation in an Era of Uncertainty
- Visual Mojo: How to Capture Thinking, Convey Information and Collaborate Using Visuals.       
Lynne is an experienced radio broadcaster, presenter and producer having presented more than 10000 hours on-air. Her background is as a communication specialist, having lectured in under-graduate and post-graduate programs in several of Australia's Universities and consulting to different industries and sectors on change and transformation.
Lynne can help you think better, make sense of information and handle the realities of workplace overwhelm and information overload with her clever hacks and ingenious processes, tools and methods.
Lynne is an experienced board director and chair and an #avgeek, loving everything aviation, helicopters and air traffic control. 
See more at www.lynnecazaly.com