Description
*** NOTE: THIS IS AN ONLINE EVENT - HOSTED ON BLAB. The join link will be shared with you by email after registration. ***
Foundr Magazine went from 0-200k instagram followers in under 8 months. (They even hit 20k in just 30 days).
Join us on this exclusive interview with Foundr magazine creator Nathan Chan as we lift the lid on how you too can grow an instagram following like he did.
About Nathan Chan
Nathan is the Publisher & Editor of Foundr Magazine, a digital magazine for young entrepreneurs on the App Store & Google Play store. Nathan launched Foundr in March 2013 from his bedroom and in a small period of time it has become a top 10 ranked 'Business & Investing Magazine' on the app store. As publisher of Foundr Nathan was a finalist for Publisher of the Year for 2014 in the Digital Magazine awards. He has had the pleasure of interviewing some of the most accomplished entrepreneurs around the world namely Sir Richard Branson & Arianna Huffington and much more.
This event is a part of #HubBlastOff – a Hub initiative to help you and your business blast off throughout Jan and Feb 2016. View related events.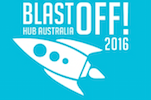 By registering for this event you will also receive our monthly HubDate newsletter with news, upcoming events, and
special offers
at Hub. You can opt out at any time.