Description
Learn how to turn your employees into profit engines for your business with our half-day VIP workshop.
Designing and implementing an effective and self funding employee incentive plan is one of the key strategic initiatives business owners can employ to better engage employees and improve performance.
According to the latest academic research, Employee Share Ownership Plans (ESOPs) appear to increase sales, employment and sales per employee, and ESOP companies that combine employee ownership with a participative management style grow 8-11 % faster per annum.
Business owners and advisers alike know that staying on top of industry best practice is critical to long term growth and success.
Don't miss this opportunity to learn the latest about ESOPs for your business and your clients. Join Succession Plus, Australia's leading exit planning advisory firm, for a workshop session that offers an overview of Employee Share Ownership Plans and explains how various types of ESOPs are used to increase productivity, improve employee engagement, growth and profitability.
The workshop will also include a breakdown of Succession Plus's unique 21 step process in Business Succession and Exit Planning and a detailed analysis of key ESOP issues:
Learn what an ESOP is and the key design factors.
Identify various types of ESOPs and when and where to use them.
Understand potential business benefits of using ESOPs.
Explore client case studies of employee share ownership plans in action.
Craig West will walk business owners and advisers through the various types of ESOPs and outline why an ESOP might be the ultimate tool for both succession and value enhancement.
Our Speaker: Craig West
Craig West, our Founder & CEO, is currently working on doctoral studies on utilising Employee Share Ownership Plans (ESOPs) as a Business Succession and Exit Planning Tool. Craig's proprietary structure - a Peak Performance Trust - has won the Australia wide award for the Employee Share Ownership Plan of the year twice in four years.
Build It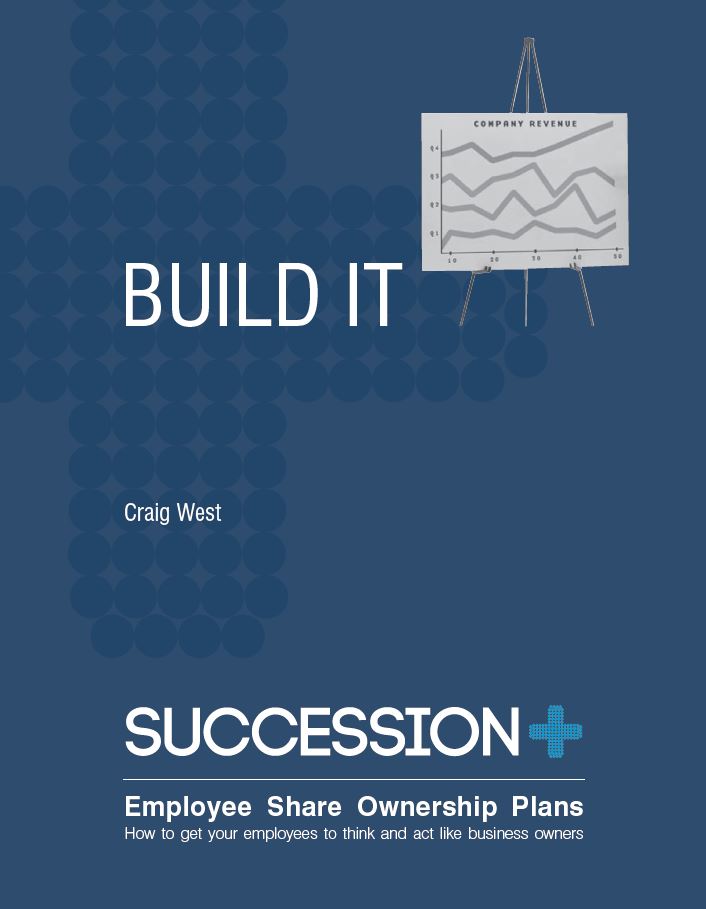 Craig's critically acclaimed book, Build It, educates the readers on how to use an ESOP to drive business performance, profit and productivity. Click here to download your free copy.
Here's PROOF that the information we teach WORKS...
Both financial services and property management referrals from employees participating in this scheme increased at a higher level than before. I put this down to their seeing value in contributing to the company's bottom line because they will share in the profit."
Wayne Dowling, Licensee - LJ Hooker Commercial Central Coast
Since kicking off our Ownership Thinking program in May this year [2012], absenteeism has already dropped by at least one third! Overall, productivity is higher and our employees are taking more interest in the financial wellbeing of the business.'.
Bob Cameron, Managing Director - NPG Mining