About this Event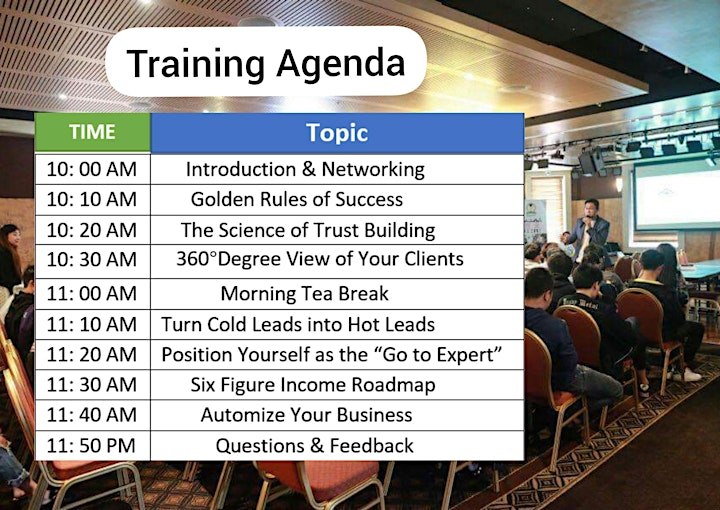 Did you know 70% of new business owners, coaches, speakers, and consultants are going to fail miserably and end up leaving doing what they love?
Here is the real problem you face: You don't have consistent paying clients who can contribute consistent cash flow to your business which means
☹️You are constantly struggling with financial pressure;
☹️You are constantly worrying about who will be your next paid client;
☹️You'll never get a chance to do what you love;
The reason for that is
❌Not because you are unqualified for doing what you do.
❌Not because you are bad at selling
❌Not because you are lack of experience
❌Not because you are lack of money
❌Not because you are lack of luck
The underlying reason for that is: You don't have consistent leads flowing in your business on a regular basis. That's it.
Would you agree that if you got new leads constantly flowing in your business every day, your business would be in a totally different position today?
So, how to do that?
Luckily for you, there's now a solution. Let me introduce you to our upcoming exclusive 2-hour training, How To "Consistently" Get 20 New Leads To Your Business Every Single Week Without Spending Money On Paid Advertisements
You are going to learn:
✔️How to position yourself as an expert so you will be seen as the go-to Expert.
✔️How to attract leads organically so you don't need to waste money on paid ads.
✔️How to build trust with your leads so your prospects will come to you instead of you chasing them.
✔️How to convert cold leads into hot leads so you don't need to make the hard sale. Every time they come to you, you know they are ready to buy.
✔️How to outsource some of your daily tasks so you will have more time doing what you are good at
✔️ A clear road map of getting someone who doesn't know you to someone who wants to work with you.
✔️ A clear Six-figure revenue calculation so that you will know how many paid clients you need and how much you should charge them for.
The presenter of this training, Lin Energy, is a communication expert and business strategist. He has helped hundreds of people achieve what they want financially through his techniques.
But, don't just take our word for it. Take a look at this:
👉Scott Harris, Tony Robbins' #1 trainer, said: "Lin Energy has the markings of a rock star speaker".
👉Joseph Macri, Founder of Rise Up Property and Author of THINK LIKE A BURGLAR said: "I did Lin's speaking program, which is outstanding. He inspires me to own my strengths and capabilities. Not only that but He gave me so much support so much insight and so much success with my selling and public speaking skills".
👉Julia Legian,Author of THE UGLY DAUGHTER, said: "I really enjoy Lin's teaching and learned so much from him. His content is so unique. If you value your money for exchanging excellent content to grow your business, get in touch with him, I promise you that he won't let you down".
Reserve Your Free Ticket Today To Get 20 New Leads To Your Business Next Week