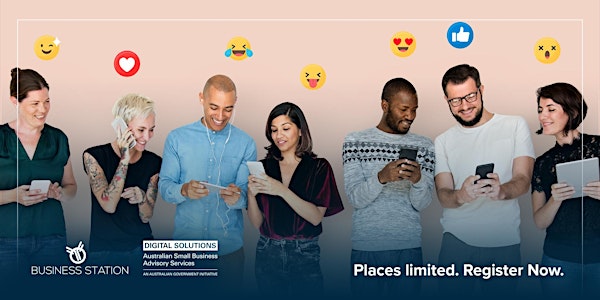 How to create video content without filming by Rhonwyn [WEB]
Sales Have Ended
Registrations are closed
Thank you for your registration to our ASBAS Digital Solutions Event.
Sales Have Ended
Registrations are closed
Thank you for your registration to our ASBAS Digital Solutions Event.
For start ups looking to add video content without getting in front of the camera.
About this event
PLEASE NOTE: To register for this event you must be a business (0-19 employees)  and provide your ABN. 
This session will be recorded and sent to everyone who has registered. Register now!
Level : Beginner
Date/Time:
Wednesday, December 8, 2021
WA: 01:30 PM to 02:30 PM (AWST)
NT: 03:00 PM to 04:00 PM (ACST)
QLD: 03:30 PM to 04:30 PM (AEST)
In this visual world, not everyone loves getting in front of the camera. If this is you then join us to learn about different platforms you can use to create stunning videos without filming yourself. Learn about different video styles and what works best in different scenarios for your business.
This workshop is brought to you by Business Station and AusIndustry under the Digital Solutions Program.
ABOUT PRESENTER
Rhonwyn has been working with start ups since 2006 and loves everything about the passion and purpose of running a business.
With Bachelor degrees in Commerce and Behavioural Science, she understands the mechanics AND the daunting mental journey of starting, managing and growing a business. Rhonwyn brings humour and life into even the most mundane of business topics. Whether it's learning your first email program, making your business WHS compliant, or even growing your emotional intelligence in Leadership, Rhonwyn will broaden your knowledge base and teach you that the rules of business start with you.
About Digital Solutions - Australian Small Business Advisory Services
Digital Solutions is one of the most generously supported digital transformation programs for small business by the Commonwealth Government. This iteration of the program has been run by Business Station in QLD, WA and NT for three years and has had a significant positive impact on the small business community.
This event will give you the chance to learn about the details of the program, what's on offer and who can access the free or highly subsidised support, training and resources! Perhaps you will find them beneficial for yourselves, your network or your clients.
To better understand what's on offer, we will encourage each attendee to register themselves to the program before the event, or otherwise by attending this workshop, you will be registered.
#videotutorial #videoediting #socialmediacontent #websitecontent #digitalmarketing #smallbusinessaustralia #smallbusinesstips #startupadvice #introvertentrepreneur
Important – Participating businesses must be aware that this information will be provided to the Commonwealth Department of Industry, Science, Energy and Resources for program evaluation and reporting purposes; and businesses may be approached by a representative from the Department to complete a survey on the services provided.
Organiser of How to create video content without filming by Rhonwyn [WEB]
BUSINESS STATION
Business Station is a not-for-profit organisation providing small business services across Australia.
Business Station is run by an energetic bunch of professionals who are passionate about empowering Australian businesses. The core purpose of Business Station is to help small businesses thrive. We facilitate, encourage and promote economic development across WA, QLD and NT by enabling and supporting the establishment, growth and ultimate success of new and small businesses. To find out more about our amazing team of superhumans, visit one of our spaces or explore our programs.
Our visions is to see business owners be successful, individuals flourish and communities grow.
 Visit www.businessstation.com.au for more information.
Aspiring and current business owners are invited to follow Business Station on Facebook, Twitter and LinkedIn @BizStationInc