Description
Welcome to this month's Western Australian ICG coach and connect event:
How To Consistently Attract and Convert High Value Coaching Clients!!!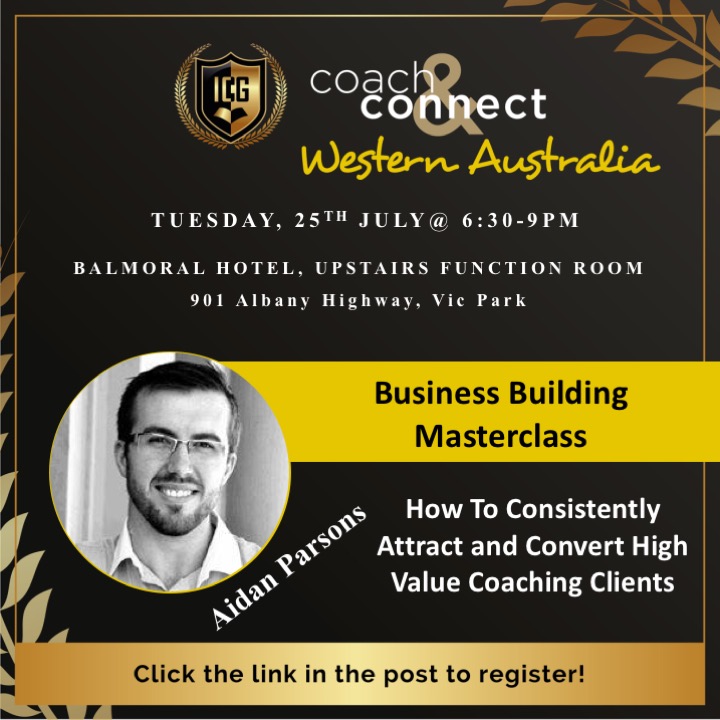 Aidan Parson's is one of Australias most sought after 'Pay On Result' Business Coaches who has helped over 500 different businesses achieve their financial and personal targets over the past 5 years. With a experience ranging from multinational executive coaching to helping start ups right from the idea hitting a white board Aidan has a lot to offer any room looking to grow their businesses.
As a student of TCI Aidan has learned from the best in the business and has over the past 3 years brought his coaching business up to and beyond seven figures year in year out. Tonight he is bringing to Perth the process and secrets he has behind the curtain that allow him to consistently have his phone ringing with leads and the process used to convert high value coaching agreements.
Join us in this month's Coach & Connect for a rare insight into Aidan's proven, battle tested, system how to convert high value clients consistently.
Here's all the details you need to join us for this opportunity…
Date: 25th July 2017
Time: 6:30 pm for a 7pm start
Where: Balmoral Hotel
Tickets: $20 at eventbrite or $25 on the door
See you in the room for what is sure to be a phenomenal evening that will boost your coaching results through the roof.