How you can build wealth & save thousands on tax through intelligent property investing. Want to know how? Live Webinar
About this event
How you can build wealth & save thousands on tax through intelligent property investing.
Are You Keen to ENTER the property market? Our Team at Ample Property Solutions can help you achieve the best outcomes possible. Our Webinars & Seminars have helped countless Australians realise their dream of owning an investment property, helping them to realise the security of their financial future and putting money back in their pockets through long term tax savings. It starts off by joining in on this webinar.
Who should attend this Webinar?
We've helped countless Australian's start their property investment journey
You want to invest in property but are nervous about making a mistake that costs you money & time
You are looking to invest in bricks & mortar to take advantage of equity growth
You want unbiased research & statistics on areas that are set for potential growth in the future
You want to learn how to build a a property portfolio that will provide capital growth & cash flow
You are a first-time investor & are confused by all the conflicting information on where & how to invest
You are a professional single person or couple paying too much tax & would like to know how to reduce your tax through investing in property
You are currently paying off your principal place of residence & have equity of over $100k or more in your home or cash
You are currently renting & have savings of over $100k & a household income of over $120k
Our Promise
You will walk away with expert knowledge
You will gain an insiders guide to investing in property successfully & strategically
You will Learn as to why to invest in property rather than investing in other investment vehicles
You will be able to apply the knowledge on your own and the information provided will have a positive impact on you and your family's financial future
You will have a laugh and not be bored. Your Time Will Not Be Wasted
What you'll learn at our seminar
Step by Step Blueprint on HOW to Start & Build a Successful Property Portfolio
Strategise and set a goal for wealth creation
Maximise your Leverages
Own an investment property for less than $50 a week
How you can save thousands of dollars on your tax bill
Source the best OPPORTUNITY in the current market
How important Micro & Macro Research is for your investment choice
Why using a property coach can fast track your success in property investing
Our Difference
We build solid long-term relationships and do what is in the best interest of our clients ALWAYS.
We Care for our clients, so we guide them through the whole maze and process of investing in property.
We hold their hand from start to finish.
We have helped over 100 people in the space of 2 short years
Joe Dirani has personally built a portfolio of 4 properties over 4 years – so he practices what he preaches and educates clients based on his experience
No high pressure sales tactics – If – at the end of the webinar you have some personal questions, you will have the opportunity to request an initial 1-on-1 meeting which is complementary and at no obligation.
High standard of client service
Wednesday 18th August 7pm Sharp
Register Now!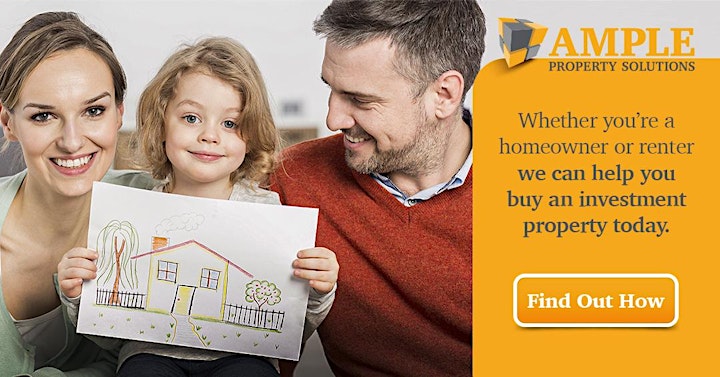 Organiser of How to Build Wealth & Save Thousands on Tax Through Property Investing
Joe Dirani - CEO of Ample Property Solutions
 A successful entrepreneur with a strong and diverse background in business. With his eyes set on bigger ambitions and goals, his main purpose is to positively impact over a million people's lives Australia wide and globally, wanting to be at least one of the reasons why people change and take control of their lives and future.
He's very passionate about helping and guiding people, showing them a better way of life.
At a young age Joe Dirani put his own interest aside to help his parents through a devastating financial loss in 2008 when the GFC hit Australia, which could have set his family back. Taking their million dollar loss, Joe transformed it into a multi-million dollar nest egg for their future.
Joe Dirani is not your average businessman… he's full of energy and life, creating a fun and long-term partnership with everyone he works with. As a Wealth Creation Specialist, Joe Dirani provides everyday Australians with education, coaching, mentoring and guidance to secure people's financial futures through investment in property, the right way and the most educated way.
Having already accomplished so much success at a young age Joe Dirani has bought, sold and run businesses such as Foodworks stores, Friendly Grocer's and the most recent being a coffee shop in the mid Blue Mountains. While running businesses Joe also built a passion for investing in multiple investment properties.
Joe Dirani's family and business ethics are paramount to his success; he values the support of his beautiful wife Nouha and the love their two daughters Aleena and Rukayah in keeping him grounded.