Description
Learn The Most Effective Ways To Generate Leads, Create A Predictable Business & The Fast Business Growth Secrets...So You Can Rapidly Grow Your Income, Impact & Influence…
At My Event, You Will Learn The 4 Pillars To Becoming A Micro Industry Celebrity:
Pillar 1 - Align Your Values, Passion and Vision To Your 'North Star' So You Never Lose Your Purpose.

Pillar 2 - Unlock The 'Market Perception' Formula So You Are The 'Reluctant Hero' To Your Audience.

Pillar 3 - Unleash Your 'Celebrity Mindset' So You Can Ethically Influence Your Audience To Improve Their Lives With 100% Integrity.

Pillar 4 - Create Your Personalised Strategy To Ensure You Create The 'Big Fish In A Small Pond' Effect So You Never Have To Compete With The Big Player Advertisers.
** PLUS ** I Will Teach You This Unstoppable Formula >>> A + M + R = Future Proofed Business (Audience + Money + Relationships) And WHY You Must Have This In Today's World (Or You'll Be Left Behind).
It's NOT Enough To Grow Your Social Media Following To Become An 'Influencer'... This Is The Way If You Want To Stoke Your Ego And Have The Daily Dopamine Hit With All The 'Likes',
BUT Not The Way If You Want To Build A LONG Term Brand.
Grow Your Income, Impact & Influence By Deploying These Simple, Yet Practical Strategies That I Teach At This Event...

Attendee Feedback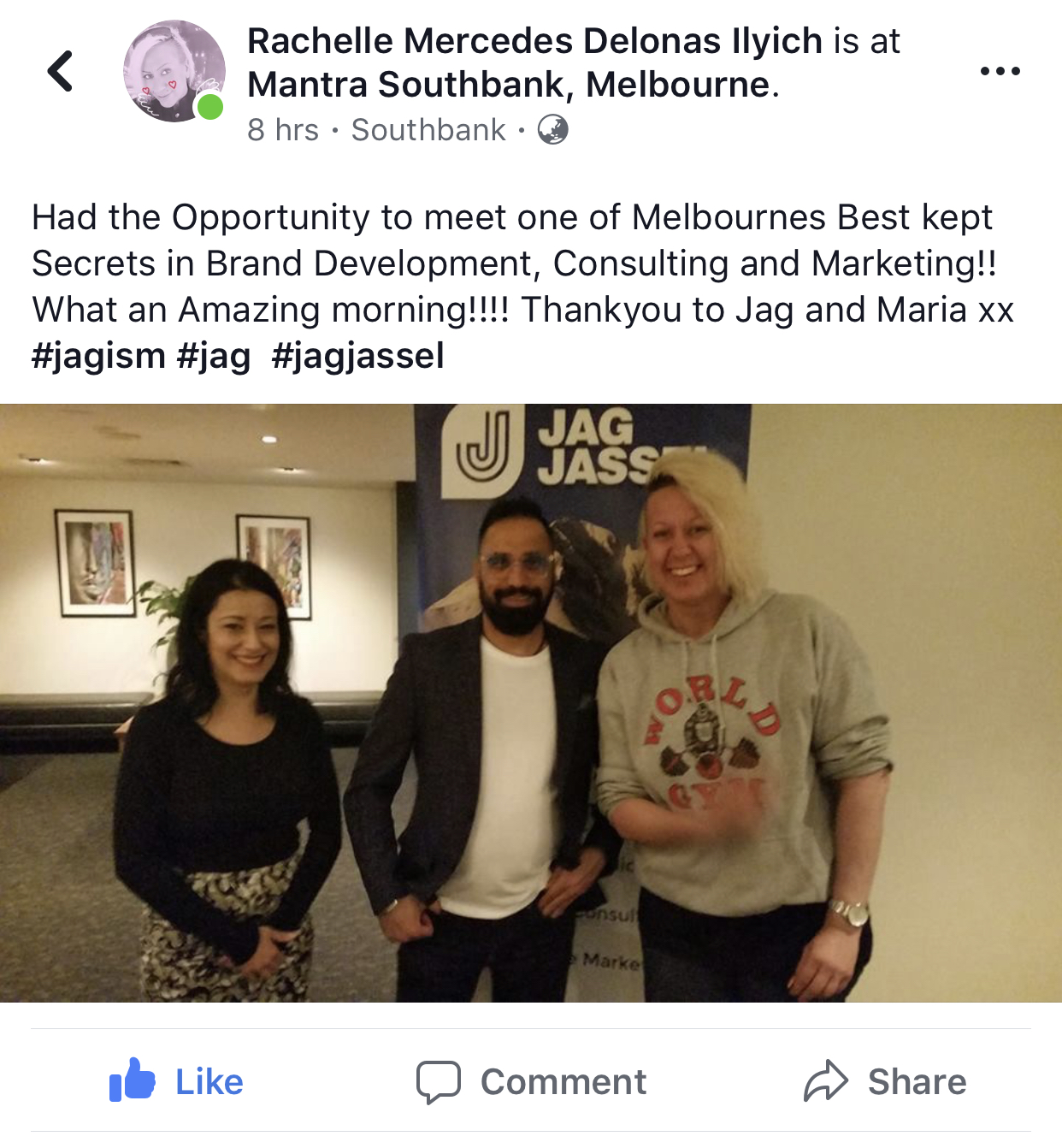 Hi, my name is Jag Jassel,


I struggled for years, and actually failed 13 times before figuring out how to position, market and sell myself as a business owner.
In fact, I actually got in my own way when it came to building my brand and getting more clients. I used to overthink everything, and not feel clear on what to do to move the needle.
At the end of the day, I had
SO MUCH COMPETITION
and I had to stand out and compete against their big marketing budgets.
I used to sit there frustrated saying,
"If only I could just get more clients & serve more people instead of being a best kept secret"
.
Because I knew that I could help people, provide value and change lives - ever felt like that?
ME TOO
my friend...All I wanted to do, was take the business I had started to the next level so I could create a better life for me and my family, while making my difference in the world.
Can you relate...?
I have started many startups in last 18 years and pretty much failed in every startup (13 to be precise) but then, but then
I hit it big and sold one of my companies for $3Million
(by doing what I am going to teach you at this event)
But it wasn't always this way
(& at the time I never even knew I was doing THESE 3 things)
.
I come from India and had to do all sort of jobs from working in a factory, driving cab, dishwasher and 7/11 to get through Uni. I always desired to make it big, I got my Masters degree and worked for big companies like IBM, Oracle, & NAB - making others money and had a few ideas (more than 10 at any one time).
So I started executing on these ideas,
and realised that I was dabbling in a lot of things leaving me falling short on all my expert ideas
.
I eventually figured out that If I just focused on
ONE THING
& went all in on that
ONE THING
, I could stay focused and actually learn how to become a
'Celebrity'
to my niche of people.
This was the
ONLY
way to penetrate the market to NEVER have to compete against the big player marketers.
I first realised this when I resigned from my job at Oracle, to execute on one of my ideas that they rejected.
I had positioned myself at the 'Go-To' guy without even knowing it, as people left their jobs to follow me and my vision and together we tackled the mammoth task of competing against the
'Big Players'
.
How did we become so successful and exit with $3 million in the bank??
We become
'Micro-Celebrities'
by implementing the
'Future Proof'
formula which is
A + M + R
(Audience + Money + Relationships) - interesting, right?
How could a small company
STAND
out and create this
SUCCESS
so fast…? There's a very specific way to do this and I will teach you it at the event.