How to be an effective content marketer

Friday, 21 March 2014 from 1:00 pm to 5:00 pm (AEDT)
Event Details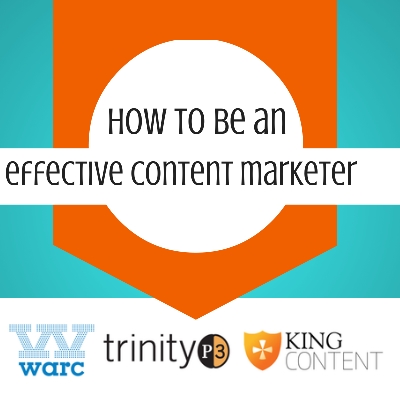 It's the phrase on every marketer's lips in 2014 - content marketing!
Lauded by online marketing experts and brands alike, this new approach to online marketing focuses on developing and delivering targeted, informative and engaging content to online audiences in the hopes of building relationships and ultimately driving profitable business outcomes.  
While the benefits of content marketing are widely proclaimed, practical knowledge of the ways in which online content can be effectively utilised to drive business success is less well known- as evidenced by recent research into Australian content marketing.
Understand how to be an effective content marketer
In this half day seminar presented by WARC, TrinityP3 and King Content, attendees will gain:
A practical understanding what content marketing is and how it works.

Insights into global content marketing trends and adoption.

Advice on getting organisational buy-in and integrating content marketing within your overall marketing objectives.

Instruction and advice on how to become an effective content marketer through strategy development, social media integration and agile data analysis.
Agenda highlights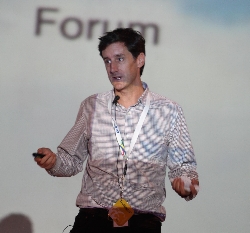 The Content Revolution 
Presenter: Ed Pank, Managing Director, Warc Asia Pacific
Ed Pank will present key themes and case studies from Warc's Content Revolution Trends Report. The presentation will cover key trends in content marketing with a focus on how brands are using digital content formats.
 Key themes include:
Why content marketing matters and what is fuelling the interest

How to drive content discovery

Social and real-time: how brands are responding to the news agenda

The rise of video: how brands are moving beyond 'viral' strategies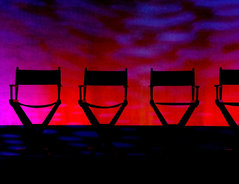 Marketer Panel: Overcoming the Challenges of Content Marketing
With the recent explosion of interest in content marketing, many marketers are rushing to embark on projects without adequately preparing for the very real challenges that content marketing poses.
From organisational buy-in and resourcing issues through to technology roadblocks, the average marketer faces a number of challenges when establishing an effective content marketing approach.
Featuring a number of brand marketers who have established successful content marketing processes, this panel will discuss the challenges associated with content marketing and share strategies to overcome them. 
Emcee: Ed Pank
Featured panellists:
Todd Wheatland, Head of Strategy, King Content 
Anton Buchner, Senior Consultant, TrinityP3
Luana Zugman, Senior Manager, Strategic Marketing – Legal, Tax & Accounting, Thomson Reuters
Skye Murray, Marketing Manager, Robert Half Recruitment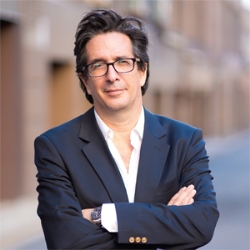 Managing Content Marketing for Successful Outcomes
Presenter: Darren Woolley, Founder and Managing Director, TrinityP3
While most marketers intend to embrace the benefits of content marketing, many are struggling with issues including strategy development and integration, process management, and structure. Much has been discussed regarding the need to think like a publisher, but in fact it requires a more fundamental approach to the development and implementation of a successful content marketing strategy.
In this presentation, Darren Woolley, founder and Managing Director of TrinityP3, will outline the issues and the requirements to set up a content marketing strategy for success.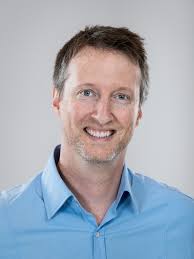 Content marketing as culture shift: Developing an effective organisational approach
Presenter: Todd Wheatland, Head of Strategy, King Content
The most effective and successful content marketing occurs when organisations embrace content marketing as a process, rather than a project.
In this keynote, Todd Wheatland, an award-winning content marketer and social media expert, will share his experience developing effective content marketing models for multi-national organisations and offer a best practices guide for developing an organisational approach to content marketing.
Key themes include:
The importance of organisational buy-in for content marketing

Resourcing for content marketing success

Defining your brand values and story

Activating employees to become content stars
All proceeds will be donated to the Charlie Teo Cure Brain Cancer Foundation.
When & Where

Establishment Ballroom
Level 2
252 George Street,
Sydney, NSW 2000
Australia

Friday, 21 March 2014 from 1:00 pm to 5:00 pm (AEDT)
Add to my calendar
Organiser
TrinityP3 is an independent strategic marketing management consultancy that assists marketers, advertisers and procurement with agency search & selection, agency engagement & alignment and agency monitoring & benchmarking to ensure maximum performance in efficiency and effectiveness of their advertising and marketing budgets.
We work across Asia-Pacific including Australia, China and SE Asia with offices in Sydney, Melbourne, Hong Kong, Singapore and Auckland, and work globally through our M1F network.
Warc.com is the most comprehensive marketing intelligence service, providing ideas and evidence for marketing people.
Warc combines its own content with that of respected global industry partners to bring you current thinking and trends, over 7,000 award-winning case studies and best practice to help you make smarter marketing strategy decisions.
Warc is relied upon as an independent and authoritative source by marketing professionals worldwide, with no other service providing as many detailed solutions to real marketing challenges.
http://www.kingcontent.com.au/
Launched in 2010, King Content is Australia's leading digital content marketing agency.
We are specialists in creating and distributing engaging, relevant and informative digital content that enables brands to start a conversation with their target audience.
Although content is at the heart of everything we do, we don't just create content. We develop and implement comprehensive digital content strategies that target and engage audiences across all online channels.
With offices in Sydney, Melbourne and Singapore and an ever-growing roster of blue-chip clients, which includes NRMA, AMEX, Optus, Commonwealth Bank and SEEK, King Content is undoubtedly the most experienced, dynamic and trusted content marketing partner in Australia.