About this Event
The U.S. Consulate General, Melbourne, in partnership with LaunchVic and MAP, University of Melbourne is thrilled to invite the startup community to a conversation with esteemed international experts, Sumant Mandal, Managing Director and Co-founder of Los Angeles based March Capital Partners, and Meredith Finn, Partner at March Capital Partners who will be in Melbourne, Australia on Tuesday 28th January, 2020.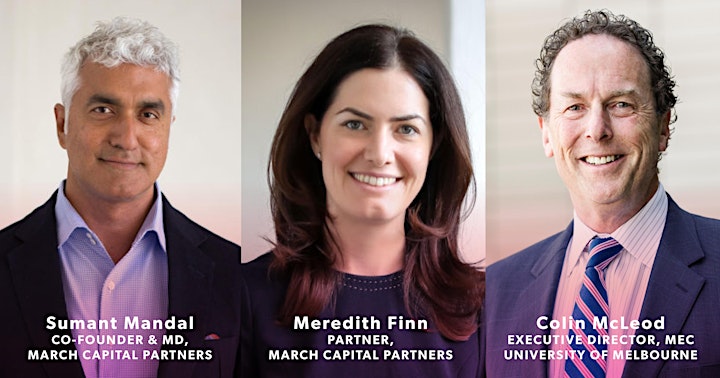 Sumant is also co-founder of two leading technology incubators in the San Francisco Bay Area; The Hive, focused on AI and Blockchain driven companies, and The Fabric, focused on cloud, IoT and network infrastructure companies. He has been part of incubating more than 25 companies, and leads investments in Cloud Computing, IoT, AI/ML, and Network Infrastructure as well as companies supporting the Indian market. He currently serves on the boards of numerous market-leading companies, including Astound, BillDesk, CarTrade, IoTium, SparkCognition, Decision Engines, and Xage Security. In his nearly two decades of venture capital, Sumant has generated multiple meaningful exits in companies he has either incubated or been the first institutional investor, including Velocloud Networks (acquired by VMWare), Perspica Systems (acquired by Cisco), The Rubicon Project (NYSE: RUBI), Kosei (acquired by Pinterest), Appcito (acquired by A10 Networks), and Deep Forest Media (acquired by Rakuten) just to name a few.
Meredith brings investing, finance and operating experience across enterprise and consumer technology companies to March Capital Partners. She currently serves on the Board of Directors at Descartes Labs, and was most recently a Vice President at Salesforce where she helped lead over 45 investments on behalf of Salesforce Ventures in companies such as Twilio, Stripe, Pendo, Cogito, Pymetrics, Ellevest, Fluxx, and Guild Education. Meredith currently serves on the Operating Board of Pursuit, a non-profit organization dedicated to retraining adults with the most need and potential to get their first jobs in technology. She is a passionate and active supporter of the female entrepreneur and investor communities. Meredith has served as a Co-Chair for the Rise of the Female Entrepreneur at The Montgomery Summit, launched Navigate - the first-ever women in enterprise technology summit in NY, and is an active Pod Leader for Parity Partners.
Joining Sumant and Meredith is Colin McLeod, Executive Director of the Melbourne Entrepreneurial Centre and a Professor in the Faculty of Business & Economics at the University of Melbourne. He was the co-founder and inaugural Director of the Master of Entrepreneurship program at the University, and also co-designed the VC Catalyst program sponsored by LaunchVic and delivered at the Wade Institute which educates potential investors about strategies for investing in venture capital. Colin is also active as an entrepreneur as a Director/Investor/Co-founder of five early stage companies in retail technology, medical technology, employee health and safety, aged care and wearable biotechnology, all of which started in Melbourne and have collectively raised over $US45 million in Venture Capital and expanded to the US, Asia and Europe. Colin was also a member of the Executive Committee that raised almost $200 million to construct the Olivia Newton-John Cancer & Wellness Centre at the Austin Hospital and is currently a member of the AFL Research Board.
Conversation will explore raising capital in the U.S. in addition to expanding and operating in global markets.
Kitchen Event Space, Victorian Innovation Hub
3.45pm: Guest arrival & Welcome, Panel Conversation
5.00pm: Networking and light cocktail reception
6.00pm: Event concludes