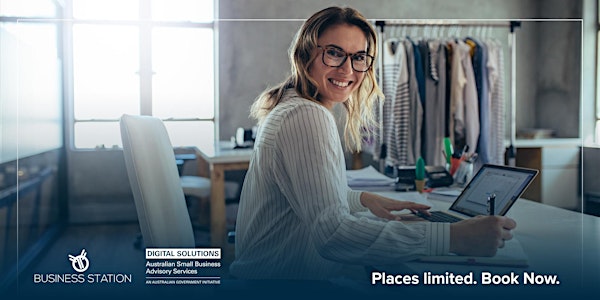 How to ask people to make content for your business by Victoria [WEB]
Sales Have Ended
Registrations are closed
Thank you for your registration to our ASBAS Digital Solutions Event.
Sales Have Ended
Registrations are closed
Thank you for your registration to our ASBAS Digital Solutions Event.
User Generated Content - or UGC - is social proof that your business is something that other people like. It's one your best marketing tools
About this event
PLEASE NOTE: To register for this event you must be a business (0-19 employees)  and provide your ABN. 
This session will be recorded and sent to everyone who has registered. Register now!
Level : Intermediate
Date/Time:
Tuesday, January 18, 2022
WA: 09:00 AM to 10:00 AM (AWST)
NT: 10:30 AM to 11:30 AM (ACST)
QLD: 11:00 AM to 12:00 PM (AEST)
User-generated content will showcase your business to more people, reach more audiences perhaps different ones to who you are targeting, incite trust in your business, build a fan base, attracts new customers, and increases your sales.
This workshop is brought to you by Business Station and AusIndustry under the Digital Solutions Program.
ABOUT PRESENTER
Victoria has been teaching small business owners how to use the power of social media to build their business for over 8 years. She previously owned and taught in her Yoga studio, ran a Fair Trade gift shop, book store, and owned and managed a Wellness Centre.
She has had multiple eCommerce stores and currently makes her own products and sells them on Amazon in the US and Australia. She is the author of 3 books on managing your stress.
Victoria's strength lies in taking overwhelm in finding social media and online marketing complicated and making it easy and manageable for any business to thrive.
With her extensive experience in business, eCommerce, and years teaching Digital Marketing, Victoria uses her Bachelor of Teaching and Cert IV in Small Business knowledge, to create workshops that make sense, are practical, are easy to follow, and put into place for your business.
About Digital Solutions - Australian Small Business Advisory Services
Digital Solutions is one of the most generously supported digital transformation programs for small business by the Commonwealth Government. This iteration of the program has been run by Business Station in QLD, WA and NT for three years and has had a significant positive impact on the small business community.
This event will give you the chance to learn about the details of the program, what's on offer and who can access the free or highly subsidised support, training and resources! Perhaps you will find them beneficial for yourselves, your network or your clients.
To better understand what's on offer, we will encourage each attendee to register themselves to the program before the event, or otherwise by attending this workshop, you will be registered.
#digitalmarketing #smallbusiness #smallbusinessmarketing #Smallbusinesstips #contentcreation #usergeneratedcontent #influencers
Important – Participating businesses must be aware that this information will be provided to the Commonwealth Department of Industry, Science, Energy and Resources for program evaluation and reporting purposes; and businesses may be approached by a representative from the Department to complete a survey on the services provided.