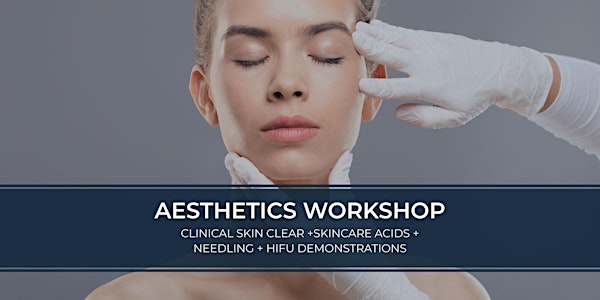 How to achieve great results using combination treatment modalities - MLB
Location
Novotel Melbourne on Collins
270 Collins Street
Melbourne, VIC 3000
Australia
A brief intro to the Skin Clear + Clinical Skincare Acid Peels + Micro-Needling + UTIMS HIFU with knowledge and hands-on application.
About this event
We're back to face-to-face training!
On Monday the 11th July, we'll be running a workshop with the morning starting with an introduction, training and hands-on trial of a great nourishing winter peel, followed by a brief run-through on how easy the Clinical Skin Clear is to increase revenue with even small lesions removal.
The afternoon session will be dedicated to Micro-Needling education covering the knowledge and purpose of micro channel wounds, treatment preparations and recovery methods/followup followed by hands-on training. This part if booked for will be provided with a certificate after completion.
Skin Lesion Removal for Aestheticians & Medical Practitioners
Grow your business with the unique ability to remove a wide range of skin lesions and superficial capillaries. Clinical Skin Clear combines Radio Frequency and High Frequency technologies to target the fluids in lesions and dry them out before your eyes. Join us at this advanced workshop for an in-depth training on the best treatment outcomes.
During this hands-on workshop, we will cover:
the fundamentals of the removal of minor skin irregularities
what kind of lesions can be treated & how to identify these lesions
step-by-step walk through of treatments on various skin lesions and superficial capillaries
live treatment demonstrations & hands-on practice
advanced tips for treatment optimisation & maximising customer delight
Don't miss this opportunity to learn about the most in-demand technologies and complete your essential training for Clinical Skin Clear.
Feel and experience the difference of the Clinical Skincare range!
Join us to learn more about the Clinical Skincare range and see how it can be used to meet your client's skin concerns using our 3 Stage product range with key Homecare and Professional products.
Made from only Natural Sources such as Plants, Fruits, Vitamins & Minerals and combined with the Knowledge of Modern Science these formulae create a true Naturaceutical range!
A wonderful opportunity to learn how this range can help your clients overcome their skin problems!
This workshop is a great day of training and learning for anyone looking to upgrade machines or introduce a new service to their aesthetic clinic.
The HIFU Experience
Have you thought about introducing HIFU to your aesthetic practice? Join us for this introductory session to learn about the world's safest HIFU system and how it compares to other systems on the market.
If you're interested in any of the following, this workshop is hands-down one of the best investments of your time:
face & body sculpting
skin tightening
cellulite reduction
deep dermal rejuvenation
reducing the appearance of fine lines & wrinkles
Some of the topics we'll cover include:
what is HIFU and how it works
what kind of treatment outcomes you can expect
how HIFU treatments can impact your Clinic's bottom line
tailoring your consultation according to the client's concerns
how to maximise treatment results & customer delight
technological advancements in the HIFU industry
an introduction of the world's safest HIFU system for face & body sculpting and skin lifting