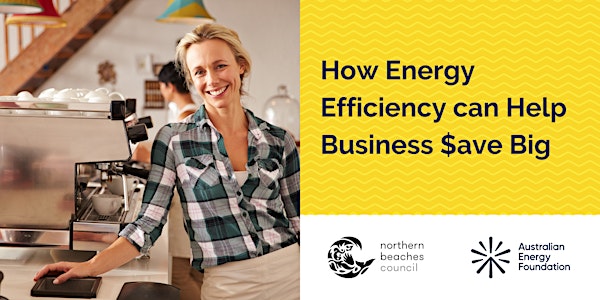 How Energy Efficiency can Help Businesses $ave Big - Northern Beaches
A free event on how business's can approach energy savings, run by Northern Beaches Council and the Australian Energy Foundation
About this event
COVID-19 and the rising cost of goods, fuel, and energy has meant businesses everywhere have had to look at operational costs in entirely new ways, this information night will help you learn how to reduce costs.
Energy use is one of the largest contributors to these costs, but the good news is that there are many easy ways businesses can address their energy efficiency and potentially save thousands!
Energy Efficiency can not only save your business money, but also give you a competitive edge, create more business and help the environment.
This free webinar will help you :
Identify the areas of the business using the most energy
Understand the saving potential and benefits of products, & upgrades
Learn what financing, grants, and rebates are available to businesses
Understand the best energy-efficient upgrades
The first 30 businesses who register for the event are eligible for a free Business Energy Consult valued at $280
In order to be eligible:
Businesses must either already be a visible Sustainability Business Network (SBN) member or sign up to be a visible SBN member on the interactive map - see QR code below
Businesses must be prepared to become a case study for Northern Beaches Council to demonstrate the benefits of taking energy efficiency measures.
Businesses must be registered and operating in the Northern Beaches with ABN and NB address.
Business Energy Consults will be delivered before September 2022
This free information session is brought to you by Northern Beaches Council and the Australian Energy Foundation. If you're unable to make the session, you can still learn more about energy efficiency, solar and batteries on the Northern Beaches Council Website.