The Lady Musgrave Trust presents a series of workshops for women over the age of 55 who find themselves at risk of homelessness.
About this event
Every older woman can take back control of their circumstances and have the opportunity to live a better and fulfilled life.
Older women experiencing homelessness do not know where to seek help. The COVID-19 pandemic has further exacerbated the situation, with an increased demand on volatile services. Many of these women are experiencing homelessness for the first time later in life and feel ashamed and intimidated when approaching services tailored for people who have experienced long-term homelessness. In between the last two-census period, the ABS reported a 31% increase in older women's homelessness.
In these workshops, you will:
- Learn about the range of housing options older women are considering
- Identify the different types of attitudes to money and financial security
- Increase their knowledge about specific over 50's housing and the process of application
- Acknowledge the challenges and opportunities for older women accessing housing
- Explore decision-making processes and learn and apply planning tools
- Developing an individual plans for action
These workshops are delivered by qualified housing solutions experts using teaching techniques and resources found in The Handy Guide for Older Women.
Limited places. Refreshments will be provided.
Date: Saturday 13 November 2021
Time: 9am-11am
Location: Kawana Island Meeting Place, 1/5 Grand Parade, Parrearra Qld
Visit our website for details of other locations, including online.
This event has been made possible due to the support of The Lady Bowen Trust.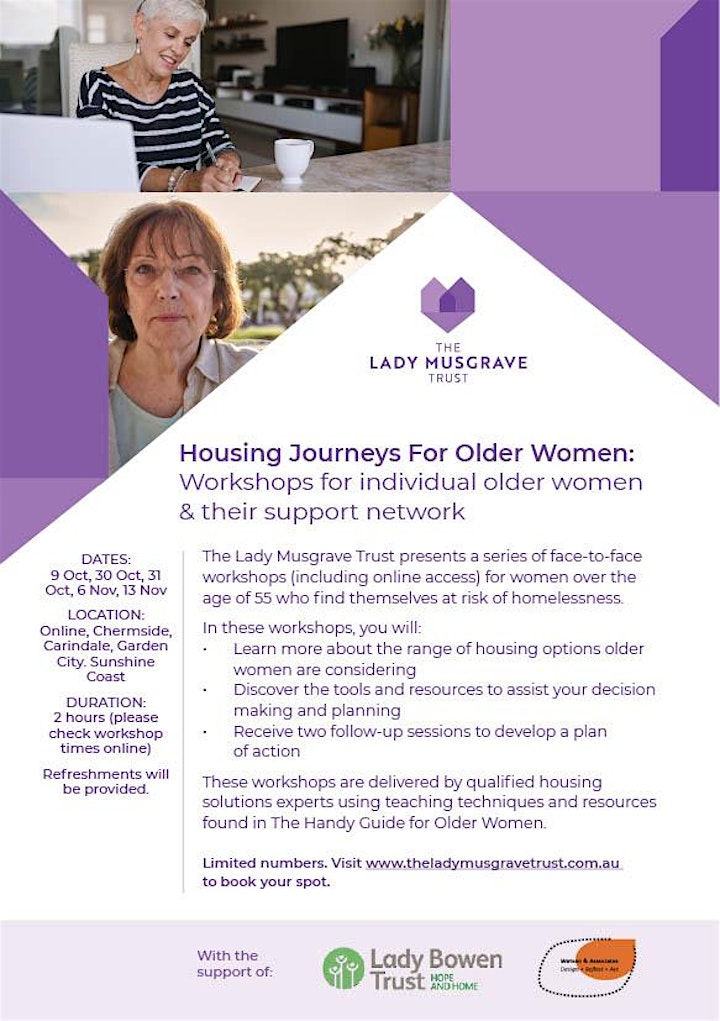 Organiser of Housing Journeys For Older Women: Sunshine Coast Workshop