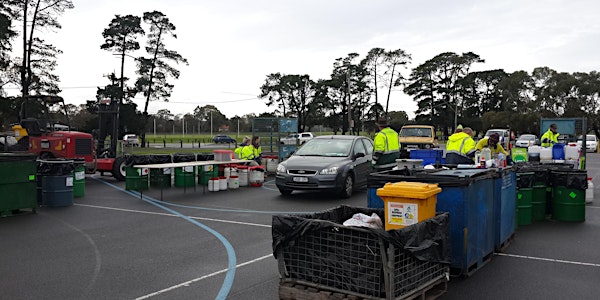 Household Chemical Collection Program Review - Stakeholder Consultation
Description
This year, the Household Chemical Collection (HCC) program (Sustainability Victoria's longest running program) celebrates 25 years. In reaching this milestone we would like to invite you to participate in a review of the program to help ensure it continues to be valued by Victorian households and stakeholders alike.
As part of the review, we will consider policy, regulatory and service changes happening in other areas of waste and resource recovery that may impact the program (for example, the upcoming e-waste ban). Through the review, we aim to engage local governments, state government authorities, environmental groups, product stewardship schemes and recyclers.
We encourage you to take this opportunity to contribute to the outcome of the review and to offer ideas and suggestions for improving the HCC Program. The feedback you provide at these events will help Sustainability Victoria to determine how to improve the service delivery model.
Several workshops will be held in both metropolitan and regional centres. A discussion paper will be provided prior to the workshops.
You are welcome to attend multiple workshops in any of the following locations.
Please select your preferred workshop/s when registering to attend above.
Bacchus Marsh
Tuesday 26 March, 2.30pm - 4.30pm
Darley Civic and Community Hub, North Wing Rooms 1 & 2, 182 Hallet's Way, Darley
Bendigo
Wednesday 27 March, 10.30am - 12.30pm
Greater Bendigo City Council, Depot Training Room, 64-90 Adam St, Golden Square
Box Hill
Monday 18 February, 2.00pm - 4.00pm
Box Hill Town Hall, 1022 Whitehorse Road, Box Hill
Camperdown
Tuesday 19 February, 10.30am - 12.30pm
Kilara Centre, 210-212 Manifold St, Camperdown
Melbourne
Friday 22 March, 10.30am - 12.30pm
Melbourne Metropolitan WRRG, Meeting Room 1, Level 4, Tower 4, World Trade Centre, 18-38 Siddeley St, Melbourne
Morwell
Tuesday 26 February, 10.30am - 12.30pm
Latrobe Regional Gallery, 138 Commercial Road, Morwell
Narre Warren
Wednesday 6 March 2.00pm - 4.00pm
Bunjil Place, 2 Patrick Northeast Drive, Narre Warren
Wangaratta
Tuesday 5 March, 10.30am - 12.30pm
Wangaratta Rural City Council Chamber, 62-68 Ovens St, Wangaratta

Light refreshments will be provided.