Join Stop Adani Albury/Wodonga , Canberra, Kooyong, ACF Chisholm, & international allies to knock out ARK from insuring Adani
About this event
Following the great #StopAdani Stop Ark rallies in all the Eastern capitals on Wednesday 17th March, StopAdani Kooyong, ACF Chisholm and StopAdani Albury/Wodonga had another powerful hour designed to knock out Ark, a syndicate manager at Lloyd's of London, now one of only TWO possible major insurers of the Carmichael coal mine and associated infrastructure. Ark remained silent.
Our group has been credited with knocking out two of the other 30 major insurance companies which have now publicly ruled out providing insurance for Adani, but Ark and its majority owner White Mountains have proven themselves stubborn - despite information that indicates Ark does not insure coal projects!
Recently, StopAdani Moreland had a magnificent victory, knocking out Arch after persistent and determined campaigning. Arch's media person said "now please take us off your naughty list". This leaves only Ark and Hamilton, which is the target of Brisbane groups and allies. So the pressure is firmly on us!
But we have more firepower! StopAdani Canberra has joined us, and we have international partners in the UK - Coal Action Network - and in the USA, pending via Sunrise. And we have a plan!
In this on-line event, we'll be emailing and phoning and jamming the calendars of Ark, and emailing and calendar-jamming White Mountains. This is the very first day that Ark people come back to the office after working from home. AT THE VERY SAME TIME, Coal Action Network will be rallying outside the office and at all Lloyd's offices across the UK!
Then at 6 AM (yes) the next day, 18th , we'll be phoning White Mountains staff when they get to work, and also emailing them again! We are working towards engaging climate groups in the USA to join us in street action at their offices too.
On Thursday 20th, we'll follow up with what we hope will be the knock-out finale using LinkedIn to sink Ark and level White Mountains.
We'll provide all you need except your phone and internet and other device. JOIN US! Come along and help make this, AT LAST, the final blow to push Ark out!
See you there on Zoom to #Stop Adani! We'll get reminders to you.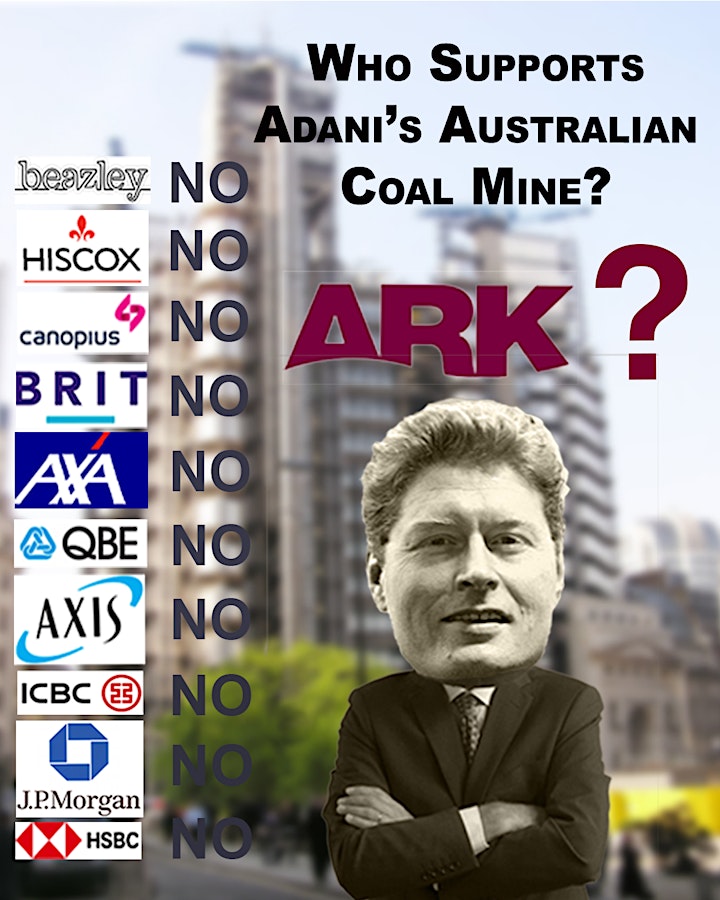 Organiser of Hour of Power to Sink Ark and Level White Mountains