Description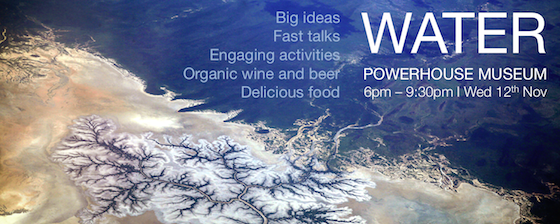 "Water security is one of the most tangible and fastest-growing social, political and economic challenges faced today. It is also a fast-unfolding environmental crisis. In every sector, the demand for water is expected to increase and analysis suggests that the world will face a 40% global shortfall between forecast demand and available supply by 2030" –World Economic Forum, 2014
So what's happening at HotHouse WATER?
Here's the big picture. We won't be able to cover absolutely everything here so watch this space as we refine and define another action-packed evening of speakers and audience participation!
The Challenges:
Increasing urban populations and urban density

Increased demand for food (60% of Australia's water is used for irrigation)

Climate impacts in a water constrained future - less water, unpredictable fluctuations in rainfall, salt water inundation of groundwater due to sea-level rise.

The energy dimension - fresh water requires a lot of energy to purify and distribute

Degradation of catchments through poor land use practices and mining - over-irrigation, long wall mining, CSG
The Solutions:
Alternative energy (displacing gas and coal and the associated impacts upon water catchments)

Better catchment and river management, in line with ecological science

Innovations in irrigation technology and practice

Water treatment, recycling and second-generation (low energy) desalination technologies

The social challenge of water recycling - engaging the yuk factor

Precinct and building-scale water infrastructure solutions

The interplay between centralised and decentralised water infrastructure

Design for maximised water efficiency

The role of smart technology for

managing water use and infrastructure

Building connections between water, place and healthy/happy communities through creative initiatives
Organiser of HotHouse WATER
HotHouse is a new quarterly event series from the Total Environment Centre and the Powerhouse Museum. It's about sustainability... but not in the way you think.
Sustainability is the defining creative design challenge of our time. We need solutions that are people-centred, systemic in scope and truly transformative. HotHouse celebrates the diverse mix of innovative Australians leading the field and creating a brighter, healthier and more liveable future for us all. 
HotHouse inspires and empowers you to create positive change. With a superb mix of speakers and creative programming, this is something a little bit different!