Limited to 100 visitors / hour. One ticket per visitor, including children. Visit facebook.com/HopeSchoolCountryFair for all information.
About this event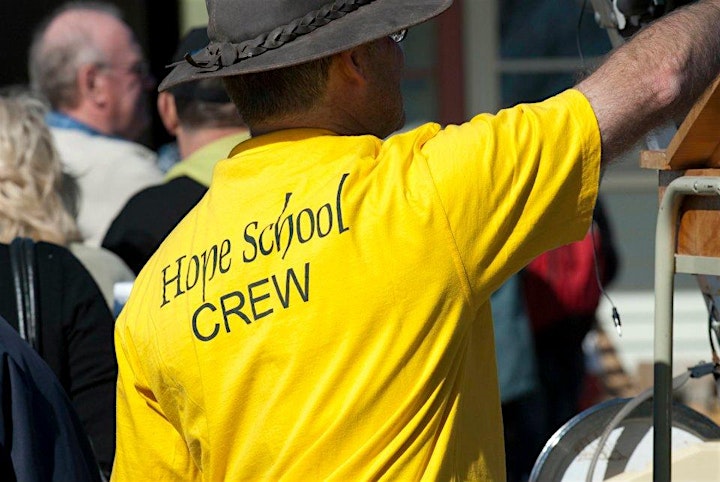 UPDATE: There's just a few tickets left, but there's plenty of opportunities to support us online.
*Raffle tickets can be sold over the phone (03 544 8427), photos and details here.
*Anything not sold at the Fair will be advertised on the Facebook page.
*Auctions are on Trade Me (search #hopeschool)
If you would like to make an online donation please click here.
Thank you for your interest in Hope School! Every year, as our main fundraiser, we hold a Country Fair & Silent Auction to raise funds for the running of our school.
Under level 2 Covid Restrictions we are adding some extra safety precautions: Entry is via TICKET ONLY, and your time to browse and purchase will be limited to 1 hour. Numbers of tickets sold will be limited to 100 visitors per time slot (includes children). Our stallholders / volunteer workers are not counted in this limit.
Any questions please call Hope School on 03 544 8427. Thank you for your support.
What to bring:
Your tickets - either printed or on your phone.
Mask, QR scanning app (or a pen!)
Cash. There will also be EFTPOS available in the school office. Online banking details will also be available, if you are able to use a phone banking App.
Reusable cup, plate and bag. Please take any waste home with you.
What will be available?
There will be: silent auction bids to view, plant sale, sausage sizzle & takeaway cafe, baking and preserves and socially distanced entertainment.
Our silent auction will be available to view, but bidding will be via Trade Me - search under #hopeschool, bids close on the evening of Saturday 25th September. If you don't have a Trade Me account and are at the Fair, we can put your best offer onto Trade Me on your behalf. Payment and collection will be in the week afterwards.
Any plants, preserves or other goods not sold on the day will available after the Fair. Details will be on our Facebook Page.
Rules under Alert Level 2:
Please arrive at your booked time, if there is a line to enter please keep 2 metres apart from the next bubble.
Entry is at the gate by the Hope School Pool on Paton Road. Exit via the Gate between Rooms 3 and 4 (further along Paton Road).
Please sign in using the NZ COVID Tracer app or manual record keeping. Hand sanitiser will be available.
It is strongly encouraged to wear a mask or face covering if you are aged 12 or over . Children under 12 are not required to wear face coverings, but can if they choose.
You must keep 2 metres apart from people you do not know, even if you have been fully vaccinated against COVID-19. We encourage you to wear a face covering if physical distancing is difficult.
Even if you have been vaccinated against COVID-19, you should still stay home if you are feeling unwell. Staying home will help protect you, your whānau, friends and community.
What are we fundraising for?
We are looking to establish a STEAM learning programme and this year the funds will be used to purchase STEAM learning resources and storage systems. STEAM learning is an educational approach that helps children to intentionally connect science, technology, engineering, arts and mathematics concepts through hands-on learning experiences.
We look forward to seeing you there!