Location
Hanrahan Theatre, Villanova College, Coorparoo
24 Sixth Ave
Coorparoo, QLD 4151
Australia
Refund policy
Contact the organizer to request a refund.
Eventbrite's fee is nonrefundable.
The 2022 National Tour with Father Greg Boyle SJ, Founder, HomeBoy Industries. What's Coming (General Admission)
About this event

What's Coming?
A Prophet saw the injustice among his people and asked why God took no action. Perhaps that action needs to start with us, here and now.
As part of the Hope Has an Address tour, What's Coming? is an extraordinary opportunity for all those involved in mission, ministry and beyond to celebrate the faith through modern and engaging discipleship and witness. With music, ritual, story and discussion, and a unique chance to engage in Q&A with Fr Greg Boyle SJ, What's Coming? will engage individuals in an understanding of spirituality, hope, church and mission for the modern world.
Everyone is welcome. Will you be a part of What's Coming?
What's Coming? is a reference to the words of the Prophet in Habakkuk 2:3 who speaks to God and tells the Prophet to take an active role – here and now – in the vision God has for the world.
General
Tuesday 25 October 2022: 7:00 PM
$35.00 per person.
"Believers are not alone in their faith. There are others who hope, too. The world goes on thanks to the vision of many people who created an opening, who built bridges, who dreamed and believed, even when they heard words of derision around them." Pope Francis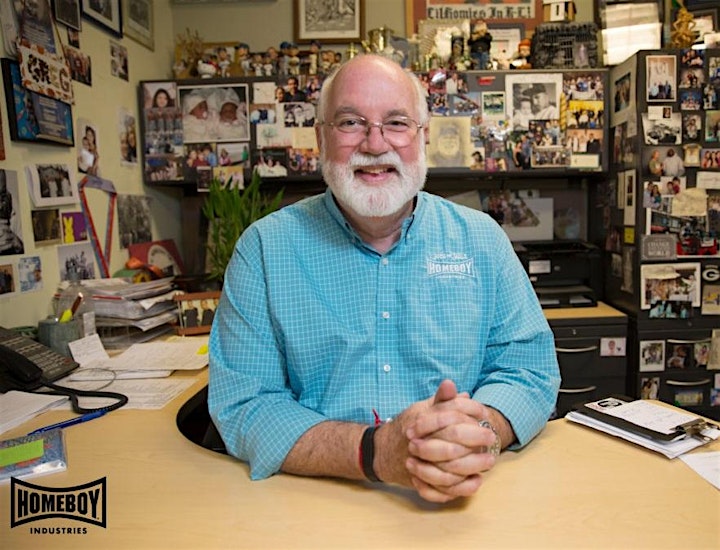 Father Greg Boyle SJ, is the founder of HomeBoy Industries in Los Angeles, the largest gang intervention, rehabilitation and re-entry program in the world. Today, HomeBoy Industries employs and trains former gang members in a range of social enterprises, as well as providing critical services to 15,000 men and women who walk through its doors every year seeking a better life.
"Hope is an essential thing," says Father Greg. "Gangs are the places kids go when they discover their life to be a misery".
Going beyond the escalating problems of gang-involved youth, Greg did what he knew Jesus would do... he treated them as human beings.
Celebrated for his incredible witness in today's world, Father Greg was named by former American President Barack Obama as a Champion of Change. Greg has also been awarded the Californian Peace Prize and was inducted into the California Hall of Fame.
"Our job isn't to fix or rescue or to save. It's to accompany, see people, listen to them".
- Father Greg Boyle SJ

Book now for this extraordinary event that will help you to animate your community and empower you to re-interpret the Catholic faith for the contemporary world.
Contact: Paul Skippen
M: 0412 850 883
E: info@gpbs.com.au
W: www.gpbs.com.au