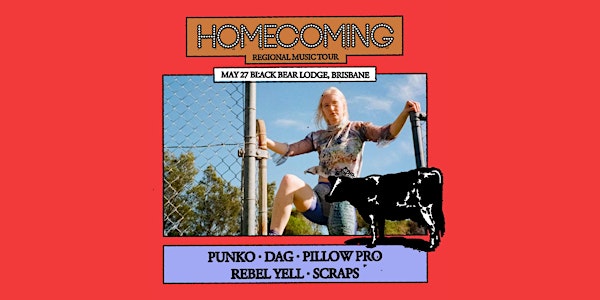 Homecoming presents: Dag, Pillow Pro, Scraps, Rebel Yell, Punko
Location
Black Bear Lodge
Level 1, 322 Brunswick St
Fortitude Valley
Brisbane, QLD 4006
Australia
Homecoming presents: Dag, Pillow Pro and Scraps live at Black Bear Lodge, Brisbane
About this event
Homecoming is proud to present Dag, Pillow Pro and Scraps live at Black Bear Lodge, Brisbane on Friday, May 27th.
Homecoming is an expansive national tour that will take artists back to their hometowns for shows across New South Wales, Victoria, Queensland and Western Australia.
Homecoming makes, promotes and exhibits music on Aboriginal land. We pay our respects to Elders past, present and future.
Homecoming strives to provide a safe environment for all attendees and crew. If you experience or witness anything that makes you or someone around you uncomfortable, please reach out to venue staff.