About this Event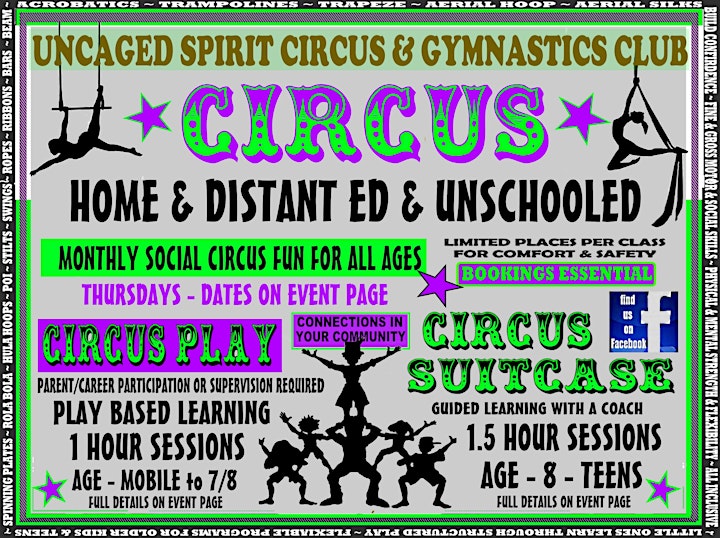 POSTPONED DUE TO COVID-19 PANDEMIC
~~ CIRCUS PLAY ~~
This is a free play session where you and your child can explore floor based circus activities - Props, Toys, Tumble Mats & more. Bond, play, learn & be active together through Circus activities.
Are your little people mobile to age 7 to 8 years old???
Want to spend some time with them being active, sharing experiences, having fun and making memories & building social, fine & gross motor skills, strength, courage and confidence???
CIRCUS PLAY is FOR YOU!!!
We will explore many different circus activities, props and apparatus, play games, dress up, make take home circus art and more!
Circus Play activities are focused on little & big person interaction and support.
Circus Play will get everyone moving, working together and achieving new skills.
-------------------------------------------------------------------------
~~ CIRCUS SUITCASE ~~
Open the Circus Suitcase each month to see what we will be exploring that session!
Foundation skills in Acrobatics of many kinds, Aerial Arts (Trapeze, Silks, Lyra), Prop Manipulation & Balance, Slackline, Unicycle, Juggling & MORE could be hiding in our suitcase for you to explore.
Learn all about Traditional & Contemporary Circus.
FOR- age 8 to Teens
Being active, sharing experiences with new friends, having fun, making memories & building social, fine & gross motor skills, strength, courage and confidence is all part of our Circus Suitcase sessions.
Participates can take part in all or just some of the activities we cover, we always encourage everyone try everything at a level and pace they are comfortable with.
Activities will be adjusted for those with extra needs of any kind.
Coach works with individuals at their own skill level and pace.
--------------------------------
THESE SESSIONS HAVE BEEN DEVELOPED WITH MUCH PLANNING, FORETHOUGHT & RESEARCH SO EVERYONE CAN TAKE PART & BENEFIT FROM THE BONDING, LAUGHTER, PHYSICAL MOVEMENT & MENTAL CHALLENGES IN A NON COMPETITIVE ENVIRONMENT.
****LIMITED NUMBERS PER SESSION FOR THE COMFORT & SAFETY OF ALL PARTICIPATES
Activities are fun & SAFE for all ages and abilities.
GET STUCK IN or you can participate sitting or with limited movement.
Wheelchair access to all areas of our club and bathroom facilities.
OFF STREET PARKING for the safety of all our guest and members.
We are a ALL inclusive Club. EVERYONE of all ages and backgrounds are welcome to come and experience Circus in a safe, supportive environment at Uncaged Spirit.
---------------------------------------------------
HOW TO FIND DATES, TIMES & TICKET OPTIONS
CLICK ON - SELECT A DATE
SELECT ANY DATE- ALL TICKET OPTIONS WILL APPEAR
SELECT YOUR TICKETS
PAY AT CHECK OUT
-------------------------------------------
FIND US ON FACEBOOK - @UNCAGED.SPIRIT
IG- uncaged_spirit
EMAIL- uncagedspirit@ymail.com