Helios Brewing Company welcomes you, homebrewers and attendees alike, to our second Helios Homebrew Hop'etition!
About this event
It's back! A competition designed to showcase some local homebrewer talent, with prizes for the winners!
The winner on the day will be decided by a panel of beer judges including Scott (Helios Owner, BJCP Judge), Cynthia (Scott's wife, BJCP Judge) and Sarah (Beertender @ Helios, Cicerone Certified Beer Server, Pinks Boots Mentorship Recipient).
PRIZES
Overall Winner: Bag of base malt (25kg), Helios t-shirt and a 4-pack of beer
People's Choice: Helios t-shirt and a 4-pack of beer
Lucky Door (ticket holders): Stubbie cooler and 4-pack of beer
The People's Choice (runner-up) will be decided by you - the attendees! Tickets to the event will cost $10 each, and will include a schooner of Helios beer, chance to win a lucky door prize, as well as allowing you to take part in sampling brews from our local homebrewers.
Each ticket holder will receive a token to vote for their favourite home-brewed beer. The homebrewer with the most votes at the end of the event will head home with a merchandise pack, as well as some Helios beers!
So grab your mates and come and support some home brewers brave enough to show the gods!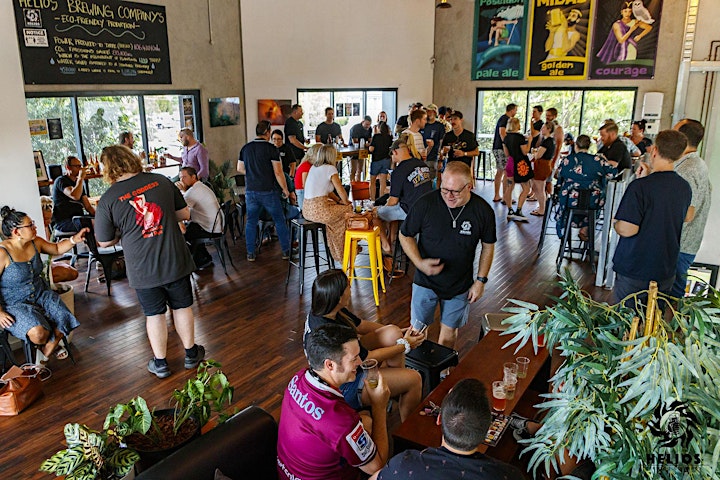 Organiser of Home Brew 'Hop'etition #2
Helios is the sun god of Greek myths. Each morning the rising sun marks Helios' crossing over into the mortal world, driving a chariot drawn by wild horses that only he can control. Helios Brewing Company harnesses the sun's power to sustainably create craft beer. Our brewing infrastructure has been custom-designed to maximise energy and water efficiency, minimize waste and carbon-footprint while capitalising upon Queensland's renewable natural resources.