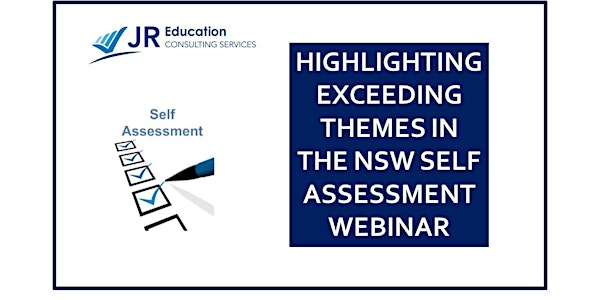 Highlighting Exceeding themes in NSW Self Assessment Information Webinar
How to highlight exceeding practice and evidence in the NSW self assessment document LAST DAY TO PURCHASE TICKETS !!!!!!
About this event
We've had countless requests to deliver this session online, and it's finally here! If you're keen to find out more about how to put your best foot forward in the NSW self assessment document, then you won't want to miss this session.
The ticket price includes a handy resource with examples of practice for future reference.
Tickets will sell out quickly for this event, so purchase your tickets now!
Please note: One ticket is required to be purchased for each webinar participant. A unique one time code per participant will be issued on purchase of tickets.
Completing this webinar will contribute 3 hours towards NSW Education Standards Authority (NESA) early childhood teacher accreditation.  
The NSW Department of Education is encouraging services to submit their self-assessment information as part of the Assessment and Rating Process. This presents a valuable opportunity to highlight your exceeding practices in preparation for the Assessment and Rating visit. NSW assessors use this information to determine how the Assessment and Rating visit will be conducted and the evidence that they will be looking for throughout the Assessment and Rating visit. However, many educators have indicated that they find it difficult to highlight their exceeding practices in their self-assessment information given that there are limits on how much is able to be written. In this three-hour session, you will learn about:
- How to address each element of the National Quality Standard clearly and succinctly.
- How to ensure that the three exceeding themes are highlighted effectively in relation to each standard of the National Quality Standard
- How to write your five pieces of evidence per element in a way that effectively addresses the three exceeding themes.
- Systems and processes to authentically engage in ongoing self-assessment at your service so that you never again have to scramble to put your QIP or self-assessment information together at the last minute.
- How your self-assessment information can be organised at your service so that you can confidently demonstrate practice during the Assessment and Rating visit.
- How self-assessment and quality improvement planning work hand in hand to effectively drive practice improvements.
This three-hour session will change your approach to self-assessment, make quality improvement planning work for all members of your service community, and put you in the best position to showcase your exceeding practice during an Assessment and Rating visit.
About the facilitator:
Jennifer Ribarovski has over thirty years' experience in the education and care sector. Her roles have included NSW State Operations Manager for the NSW Regulatory Authority, with her work largely focussed on the roll out and implementation of the NQF in NSW, and training Authorised Officers to assess and rate centres against the National Quality Standard. Following this role, she was contracted to work for the Australian Children's Education and Care Quality Authority (ACECQA) as a senior advisor. Her work included developing online training modules for authorised officers nationally, face to face training of authorised officers nationally and professional development of authorised officers in relation to assessing and rating services against the NQS. Jennifer also trained authorised officers across Australia in the assessment and rating process and worked with state and territory governments on national policy in the implementation of the National Quality Framework.
As Managing Director of JR Education Consulting Services, Jennifer provides support, guidance, professional development and conference presentations for the education and care sector across Australia and internationally.  She has delivered professional development sessions to over 10,000 educators across Australia and has a unique ability to translate educational theory into practice in accessible and supportive ways. Jennifer is also currently contracted to the University of Sydney to design and deliver units of study to both undergraduate and postgraduate students in early childhood education programs. Jennifer holds a Bachelor of Education (Early Childhood) and a Master of Educational Leadership and Management with Distinction. She is the co-author Professional Communication for Early Childhood Educators (2020) published by Oxford University Press.