NOOSA alive! in Association with Queensland Government and Cluster Arts Proudly present HIGH TEA with BOOFF
About this event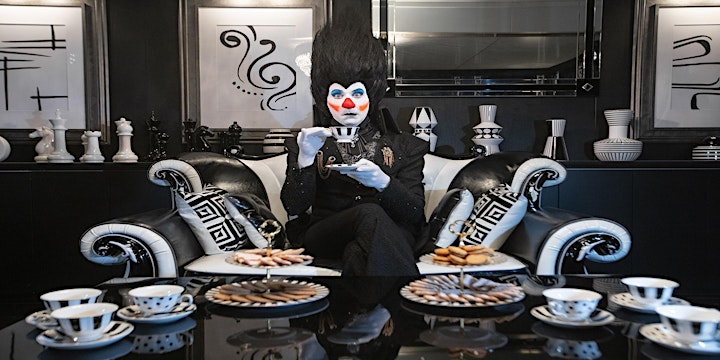 World Premiere Season
"Welcome to the wonderful other-worldly realm of BOOFF" - where you can share stories and biscuits and pour out your heart along with your tea.
From the beautiful mind of Clint Bolster - this unforgettable festival experience will be the talk of the town!
This immersive work of comic theatre is a truly unique experience - something between a visit with royalty and popping-in to see your strangest and most favourite aunt.
This show is an unforgettably dark and sweet slice of Tim Burton-esque brilliance.
Very limited capacity - be sure to book quickly as it is bound to sell out fast!
No age restrictions with Booff's performance/s, however there is very limited capacity of 10 people per performance.
Tea and biscuits are included in your ticket price.
Please allow time to park at Lions Park Noosa.


This project is supported by the Queensland Government through Arts Queensland.
Organiser of HIGH TEA with BOOFF
Welcome to NOOSA Alive!, a 10 day festival of theatre, literature, music, dance, film, visual arts, cuisine and barrier-breaking forums – in one of Australia's most enviable destinations: Noosa Heads, Queensland.
Noosa alive! festival presents a diverse program of events which in its twenty plus years has attracted some of the best Australian and international performers, writers, film-makers, musicians, artists, chefs, environmentalists and commentators.
Previously The Noosa Long Weekend, David and Kristin Williamson founded the festival in 2002 and cemented the NOOSA alive! festival in and around Noosa's outstanding natural environment, preserved by visionary town planning and Noosa's insightful local community.
Noosa's rain forested headlands, golden wave washed bays and pristine river are the backdrop for this unique event of cultural excellence. Dive in with us, NOOSA alive! is waiting to ignite your senses.