Description
#JazidaProductions is proud to present another edition of "High Brow at the LoBrow" – A Burlesque Variety Night featuring award winning interstate guests and local stars!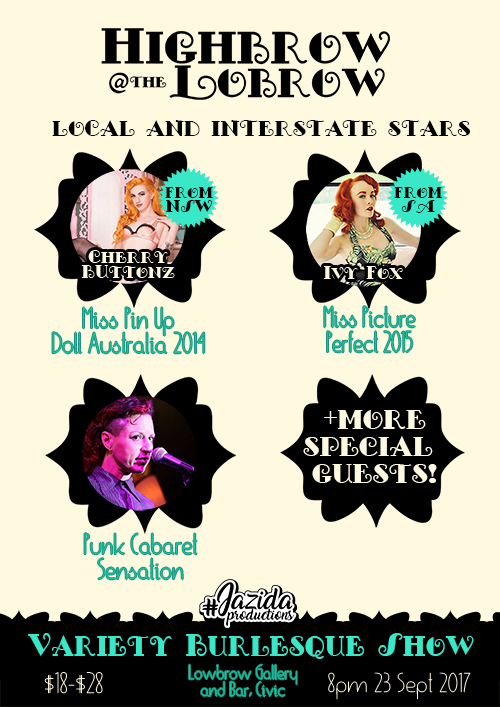 Ivy Fox
Ivy is a perfectly poised pinup, with a touch of cheek and a lot of sass! She loves styling herself as a 50's pinup, which she has been since 2012, and is comfortable in true vintage pieces or cute reproduction items. Ivy loves to support her local and interstate designers, as well as local businesses such as photographers and eateries. She is also an active member of her community, with various fundraising projects under her belt and is actively involved with the LGBTIQ community in South Australia. Ivy also enjoys burlesque, and works on new routines when she gets a spare day! She is truly at home on stage, whether it is for pinup, burlesque, promo work or fundraising. Ivy's stage accomplishments include Miss Perfect Pinup South Australia 2014, Miss Ballarat Beat 2014, Miss Pinup New Zealand Top 4 2014, and Miss Camperdown Cruise RU 2013. She enjoys seeing women and men grow with the confidence pinup gives them, encouraging and supporting more people to step into the world of pinup, or to find new confidence with burlesque classes.
Cherry Buttonz
Dancing her whole life in styles of Jazz, Hip Hop, Contemporary, Ballet and Burlesque. Cherry has her cert IV in Performances Studies for Ballet and Jazz and a BA in Dance.

Modelling since 2010 in the styles of Pinup, Fetish, Alternative, Nude and Glamor, she has won a series of awards, including 2nd Place Tattoo Expo Pinup Pageant 2014, 2nd place Pinup Throw Down 2014, 2nd place Sydney Heat Pinup Doll Australia 2014 and 1st place winner Miss Pinup Doll Australia 2014
InkBits
Our MC and cabaret songstress for the night!
InkBits has been dubbed Canberra's queen of Punk Cabaret and is a treat for all the senses! With a Bachelor of Dramatic Arts and a history of theatre and film, she brings an incredible blend of performance art, song and dance to the stage! She performs a range of covers with a twist, fling-and-sing burlesque acts as well as a collection of original songs. Her unique performance style has seen her travel across the Country to show the rest of Australia exactly what InkBits has to deliver!
Kate's Bush
Our stage will be set and cleared by a mysterious Kate Bush impersonator! Get ready, Heathcliff - Cathy's a-coming!



Plus more special artists to be announced! Stay tuned for more details! Check out the facebook event and JazidaProductions Instagram account for more information