Description
#JazidaProductions is proud to present another edition of "High Brow at the LoBrow" – A Burlesque Variety Night featuring award winning interstate guests and local stars!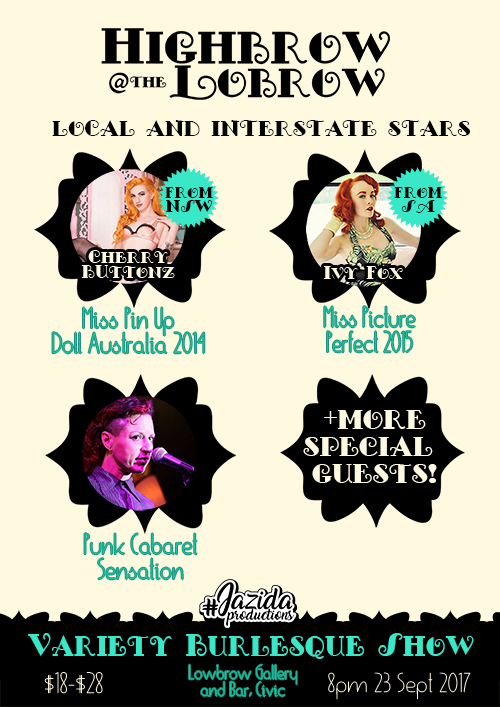 Ivy Fox
Ivy Fox is a poised pinup, with a touch of cheek and a lot of sass!
A multi award winning performer, this curvaceous broad loves to weave stories on stage, both fictional and also taken from her life beyond the velvet curtain. Her routine channelling her frustrations and hardships as a queer woman won her Runner Up at The Australian Burlesque Festival's Baby Bombshells 2016, and her poise on stage has earned her consecutive wins throughout the national pinup circuit since 2013. That same poise even landed her on international pinup stages in both New Zealand and America.
A regular face (and booty) on South Australian Burlesque stages, Ivy also performs regularly with Bazinga Burlesque and The Redhead Cabaret. She has just relocated to Melbourne, and looks forward to working with Victorian burlesque babes.
Ivy's ginger curls and brush of freckles may allude to a sweet young lady, but don't let her classic looks fool you – she is also a twerk teacher!
A classic mixture of 50's style and modern sass... and ass! "Her routine was choreographed to perfection... mesmerized the audience." Broadway World "Ivy has very solid technique, piercing gaze with a wickedly seductive smile. Her movement was jazz music made visible." Absinthe.com.au
Cherry Buttonz
Dancing her whole life in styles of Jazz, Hip Hop, Contemporary, Ballet and Burlesque. Cherry has her cert IV in Performances Studies for Ballet and Jazz and a BA in Dance.

Modelling since 2010 in the styles of Pinup, Fetish, Alternative, Nude and Glamor, she has won a series of awards, including 2nd Place Tattoo Expo Pinup Pageant 2014, 2nd place Pinup Throw Down 2014, 2nd place Sydney Heat Pinup Doll Australia 2014 and 1st place winner Miss Pinup Doll Australia 2014
InkBits
Our MC and cabaret songstress for the night!
InkBits has been dubbed Canberra's queen of Punk Cabaret and is a treat for all the senses! With a Bachelor of Dramatic Arts and a history of theatre and film, she brings an incredible blend of performance art, song and dance to the stage! She performs a range of covers with a twist, fling-and-sing burlesque acts as well as a collection of original songs. Her unique performance style has seen her travel across the Country to show the rest of Australia exactly what InkBits has to deliver!
Kate's Bush
Our stage will be set and cleared by a mysterious Kate Bush impersonator! Get ready, Heathcliff - Cathy's a-coming!



Plus more special artists to be announced! Stay tuned for more details! Check out the facebook event and JazidaProductions Instagram account for more information