Description
The Hi-Rez Oceania Championships 2016 celebrate the finals of both SMITE and Paladins competition in Oceania (Australia and New Zealand).
This will be a major esports broadcast event, featuring both the SMITE Oceania Championships and Paladins Invitational Final.
Tickets to be part of the live studio audience includes entry to the Hi-Rez Community Night party with food and drink provided.
The event takes place on November 26-27 at ESL Studios, Sydney.
Featuring the Top 4 SMITE teams in Semifinals and Grand Finals, and top 2 Paladins teams in Grand Finals, plus special guests from Hi-Rez Studios.
Get Your Tickets: Audience tickets are strictly limited and available here on Eventbrite:
Schedule
Saturday 26th: SMITE SemiFinals 1 and 2, Community Night Party
Sunday 27th: Morning: Paladins Invitational Final, Afternoon: SMITE Oceania Championship Final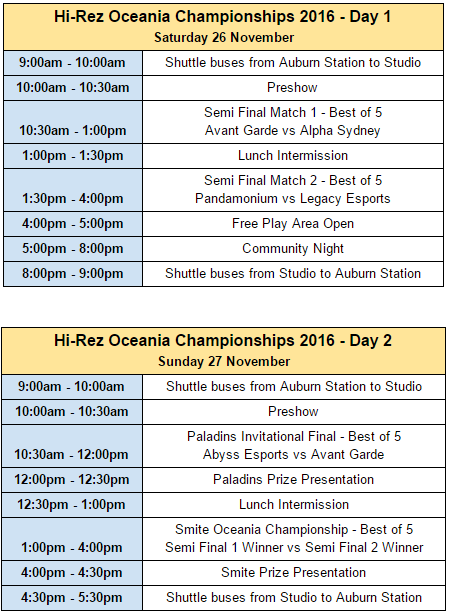 SMITE Oceania Championships: On the line is a $60,000 prize pool, part of an intensely competitive 2016 $100K season. All four teams are aiming for a coveted place in the SMITE World Championships.
Watch the weekly SMITE Oceania Pro League on Saturdays and Sundays from 6pm until October 30 on www.twitch.tv/cgtv_smite
Paladins Invitational Final: Two teams will battle for a place at the Paladins Invitational, also taking place at Hi-Rez Expo in January 2017, for a prize pool of $150,000.
Watch Paladins Invitational League Mondays weekly at 7pm AEDT on www.twitch.tv/PaladinsGame
The SMITE Oceania Pro League and Paladins Invitational Leagues are produced by Double Jump Communications for Hi-Rez Studios, in partnership with Cybergamer.
Tournament Information for SMITE and Paladins can be found at:
http://au.cybergamer.com/SMITE
Organiser of Hi-Rez Oceania Championships 2016
Republic of Gamers (ROG) is an ASUS sub-brand dedicated to creating the world's best gaming hardware and software. Formed in 2006, ROG offers a complete line of innovative products known for performance and quality, including motherboards, graphics cards, laptops, desktops, monitors, audio equipment, routers, and peripherals. ROG participates in and sponsors major international gaming events. ROG gear has been used to set hundreds of overclocking records and it continues to be the preferred choice of gamers and enthusiasts around the world. Learn more about the choice of champions at http://rog.asus.com.