Hey Hey It's Me! - No More Dieting - 2 Day Therapists Training Workshop

Saturday, 18 June 2016 at 9:00 am

-

Sunday, 19 June 2016 at 4:30 pm (AEST)
Event Details

"Hey Hey It's Me!"
The "No More Dieting"
Lifestyle and Weight Management
2 Full Days Hands-On
Therapists Training Workshop
Saturday and Sunday
18th & 19th of June, 2016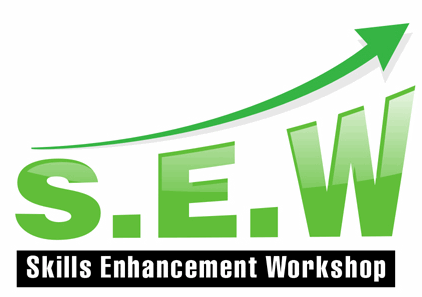 Cas and Heather are delivering the same
Strategies for  
Lifestyle and Weight Management
 to Work with your Clients that attracted the attention of Sheila Granger  

This Training for existing Psychotherapists, Hypnotherapists and Counsellors in the strategies and processes to work with your clients utilising the "Hey Hey It's Me!" principals and philosophies with Cas Willow and Heather Richards is designed to prepare therapists to work with their clients, using the steps and activities in the book and program to address a wide range of weight and lifestyle issues.
The Training will include various educational components, coupled with the unique CaS Therapy mind and body adaptation activities to assist with change. This will include examples, case studies and demonstrations designed to prepare therapists to become "Hey Hey It's Me!" Weight Management Specialists.  These therapists will be guided through the process of assisting people to get right to the core of their weight and lifestyle issues and be able to work with clients who have a weight management issue and focuses on a several session package.
As a registered therapist you will be able to benefit from online support and specific Hey Hey It's Me Group Supervision sessions conducted by Cas, who as a recognised, accredited and qualified clinical supervisor and is able to assist in continued learning and development of HHIM skills and techniques.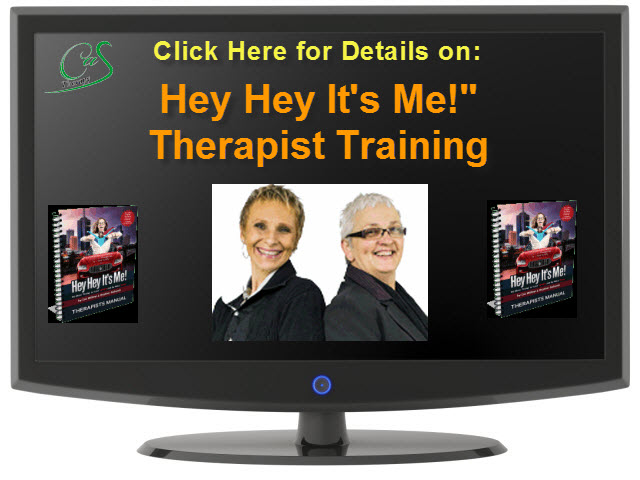 The Two Day Therapists Training includes:
Sequential evidence-based "Hey Hey It's Me!" training to work in line with any weight management program OR as a stand-alone program.

Guidelines, templates, and processes to follow with your client in session.

Metacognition linking strategies.

Education in Mood Adaption Theories

Education in the area of Food Chemistry

Choices and Readiness to Change Templates

Skills and knowledge in the Brain Hemisphere Balancing philosophy

Skills and knowledge in the Adaptive FOG (Fear, Obligation and Guilt) philosophy

Weight Management Profiling Templates

Stimuli and Response Working Template.

Client activities instructions for completion in between sessions

Certified as a recognised "Hey Hey It's Me!" Therapist.

On-going Marketing Suggestions.

On-going wholesale prices of the "Hey Hey It's Me!" products

Plus advanced notice and first option to Register for additional professional development training.
 PLUS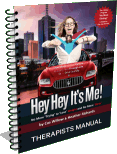 A Complete 300 Page FULL COLOUR Published Manual…
including the steps the clients need to take in between sessions to assist with changing habits, patterns & behaviours permanently.
 The Retail Price of the Manual alone is $500, the value is 30 years of accumulated education, knowledge and practice.
(New Manuals are not included in a "Refresher Ticket" price, you have the option to bring the manual from your previous training with you or purchase a new one at a special "cover the costs of publishing" price.) 
A Unique Opportunity?
This will be a full and informative workshop with Cas and Heather sharing much of the therapeutic knowledge they have compiled to develop their "revolutionary" book. 
In this workshop you are given the tools, the research and an insight into what has gone on behind the scenes to produce that little dynamic book, suitable to hand out to your clients, for their "Home Work" in between sessions.
Secure your place fast.
This information is unique 
IF you haven't been to a workshop at CaS Therapy, and you see clients with weight issues, then you really don't want to miss this one. 
Here is a unique opportunity to join with both Cas and Heather in Williamstown, Training with Cas and Heather themselves, the authors of "Hey Hey It's Me! in a small group learning the unique and amazing techniques.
As Group Numbers are small, you will receive the attention needed to make sure you understand these techniques. In these unique workshops, they will be sharing their techniques in Weight Management and you are guaranteed to receive amazing value and many extra bonus tools, tips and techniques to take away with you.
Places are STRICTLY LIMITED.
NB. Event counts towards PD or CPE points.
TESTIMONIALS ABOUT THE
HEY HEY IT'S ME BOOK
 Foreword by Gordon Emmerson, PhD
"If you are ready to become more knowledgeable about a balanced life and body, you may want to take some time and read this book carefully."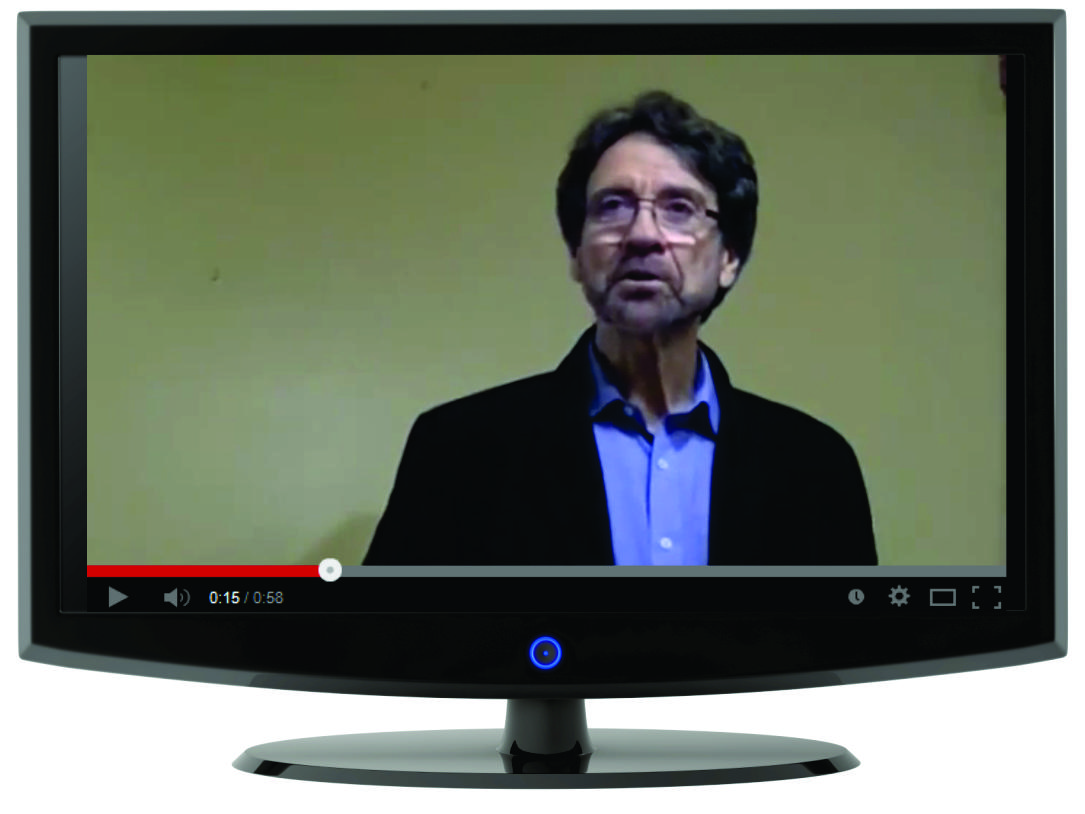 ****************************** 
Michael D. Yapko, Ph.D., Clinical Psychologist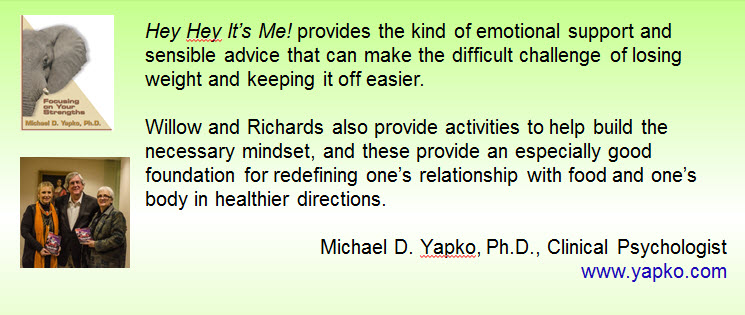 ******************************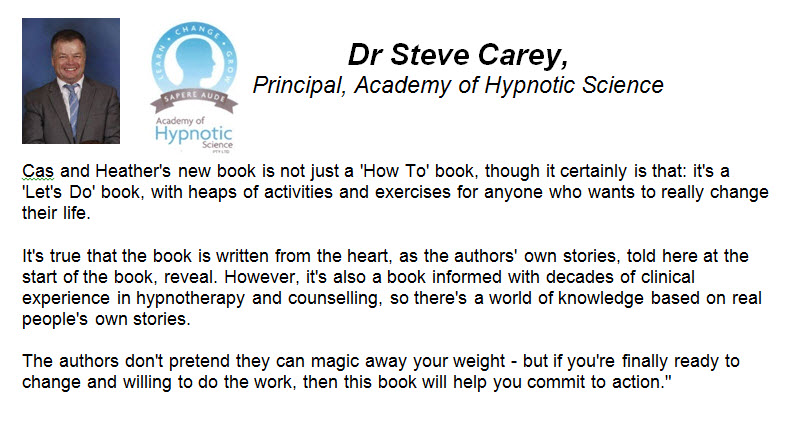 ****************************** 

****************************** 
Anna Vidali
 Psychotherapist & Clinical Hypnotherapist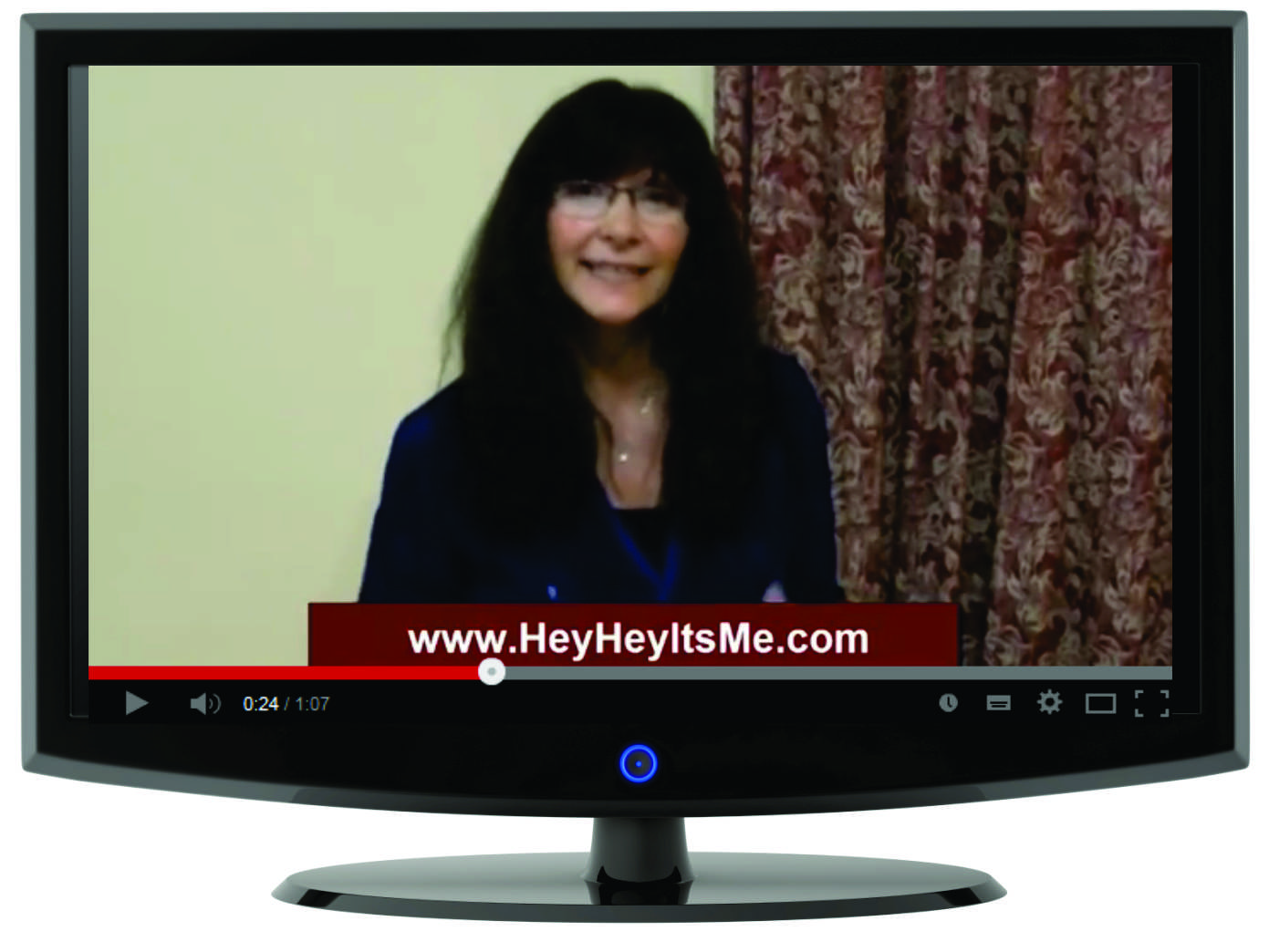 ****************************** 
A Little About Cas (If you don't know her already)
Cas Willow is an experienced lecturer of both counselling and hypnotherapy. She is a leading Professional Counsellor, a Qualified Clinical Supervisor, a Hypnotherapist, a Lecturer, a Published Author and Public Speaker who has been in the therapeutic field for nearly thirty years. She is also the co-founder of CaS Therapy, which is the combination of conscious and subconscious therapies (which luckily enough, also happens to be an acronym of her name)  designed to guide your clients through their own personal innovation, discovering their true qualities and calling upon the internal resources to assist in living a balanced life; according to the client's own true values and beliefs.
Cas has extensive experience working as a professional in the field of human behaviour and cognitive processing. Her experiences and education covers specific areas such as; teaching, counselling, community health work, alcohol and other drugs, working in the forensic field, supporting and empowering people with disabilities and being part of the local community. 
A Little About Heather
Heather is a Hypnotherapist, Ego State Therapist / Resource Therapist and also the co-founder of CaS Therapy and is known for her ability to connect and for her gentle nature which flows through and empowers her clients.
Heather and Cas together are a dynamic team as shown by the combination of their talents as they together penned "Hey Hey It's Me!" - They now team together again to share with you the next step, which is their program and philosophies which have been designed to help and assist any weight management program as well as stand-alone in it's own right.
Help us combat this Western World Obesity Issue and change the language of the diet industry, one person at a time. Because if we continue on the same road we are, then it is predicted that by the year 2025 - 80% of all adults will be obese. Sadly already the statistics are now showing more people in the obese weight range than the healthy weight range.
Hey Hey It's Me! changes the negative and unhelpful focus points and all of those thought processes that keep us in the "weight loss cycle", and transforms them into the thoughts, language and actions by flipping them to being positive.
Hey Hey It's Me! – The Book and Program that focuses on doing what is best rather than what is easiest.
There is still more...
also included:
You will also receive:
5 copies of the paperback version of "Hey Hey It's Me!" to either sell to or share with your clients                                                          

Recommended Retail Value

$199.75

Plus 1 copy of the Mp3 Audiobook version of "Hey Hey It's Me!"          RRV

$  25.00

You will receive a

FREE

listing on the "Hey Hey It's Me!" website as a Trained Therapist who has completed the training and follows the HHIM / No More Dieting Weight Management and Lifestyle principals and philosophies. (First to train, will be listed first on the site and remain in the order of that training on the site in your particular local area)                                          Annual Website Listing Value

$229.00

Becoming & being listed on the "Hey Hey It's Me!" website as a Stockist of the book (and will be upgraded if you choose to stock the audiobook as well.                                           

.

                                                                        Annual Website Listing Value

$ 97.00

Plus an opportunity to partner with Cas and Heather when the online "No More Dieting" program is release in the later part of 2016.    No Charge to you to Partner with Us, yet there is an opportunity to add value and make some additional income. 
PLUS AS AN EXTRA SPECIAL BONUS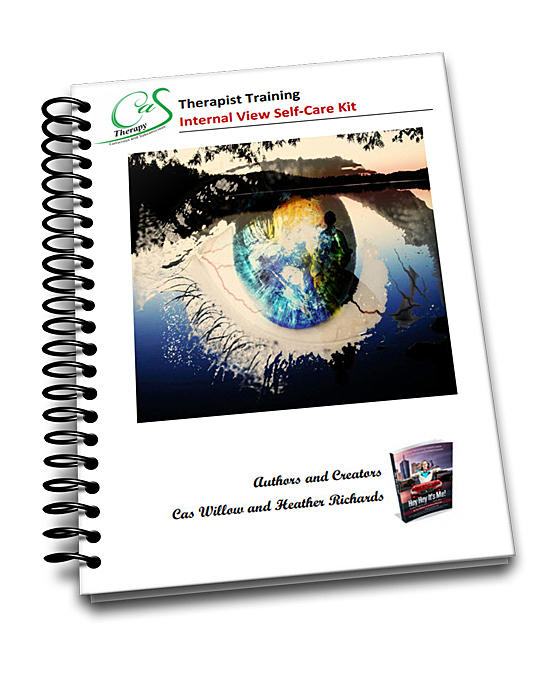 ALL Attendees, (including Refresher Ticket attendees) WILL receive a copy of the Brand New, Just Released "Internal View"which is a Therapists Self-Care Guide which is referenced and based on research.
This is another FULL COLOUR Published Manual…
which includes the steps to looking after YOU as a therapist.
Of course, the clients are important however, you need to look after you first.
Please Feel Free to Add Up the Offer Value Here:
ü  2 Days Training with 2 Facilitators present.                      $ ____.__
ü  300 Page Full Colour Manual                                            $ ____.__
ü  5 Copies of "Hey Hey It's Me!" the book                            $ ____.__
ü  1 Copies of "Hey Hey It's Me!" the audio book                  $ ____.__
ü  FREE listing on the "Hey Hey It's Me!" website                 $ ____.__
ü  FREE Stockist listing on the "Hey Hey It's Me!" website   $ ____.__
ü  On-Going Support for your HHIM related questions          $ ____.__
ü  Partner with Cas & Heather with the Online Program       $ ____.__
ü  Referrals, we receive lots of calls from all over the
place and we refer to HHIM trained therapists in their
local area.                                                                          $ ____.__
Total Perceived Value Calculated by Myself                 $ ____.__
Less Actual Price of Ticket                                           - $ ____.__
Am I Receiving Value for Money? Total I Am in Front $ ____.__   
Because you have come on this far on the journey with us already, we assume you are somewhat interested.
SO AS A SUPER EXTRA SPECIAL BONUS
ALL TICKETS SOLD BY END OF EARLY BIRD SALE TIME, WILL ALSO RECEIVE A FREE 30 MINUTE POWER CALL WITH CAS, TO USE AS EITHER AN INTRODUCTION TO SUPERVISION (CAS actually has not one, but two Government accredited qualifications in Supervision) OR A COACHING CALL.
YOU GET TO CHOOSE!
BUT HURRY, STRICTLY ONLY FOR EARLY BIRD PURCHASERS.
Refresher Ticket Attendees Please Note: Workshop entry fees includes attendance and digital products and bonuses only, any physical manuals, books or products will be available to you at a special "cover the cost of publishing price" available at our training days only. 
ALL Attendees Please Note: The workshop may be recorded by video, by booking, paying and attending you need to agree to this arrangement, naturally the video will mainly focus on Cas and Heather and their content, however, your voice or image may also appear and be used for training, education and promotional purposes as required by CaS Therapy. 

ANY QUESTIONS REGARDING TICKETS OR THE EVENT CAN BE DIRECTED TO CAS OR HEATHER DURING BUSINESS HOURS ON EITHER 
PHONE: 03 9397 0010
MOBILE 0428 655 270
OR VIA EMAIL - PLEASE PUT HHIM WORKSHOP AS THE SUBJECT LINE AND ADDRESS TO
THESTAFF@CASWILLOW.COM 
When & Where

Cas Therapy
#1 Esplanade
Williamstown, VIC 3016
Australia

Saturday, 18 June 2016 at 9:00 am

-

Sunday, 19 June 2016 at 4:30 pm (AEST)
Add to my calendar
Organiser
Come and join us for one-off events, continuing professional development, seminars and workshops on all aspects of building your hypnotherapy business.