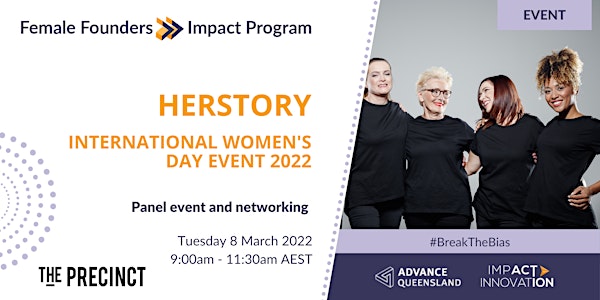 HerStory - an IWD Event presented by the Female Founders Impact Program
Location
Stair Stadium @ The Precinct
Level 2
315 Brunswick St
Fortitude Valley, QLD 4006
Australia
International Women's Day in 2022 will focus on #BreakTheBias & the Female Founders Impact program is proud to lend our support.
About this event
This event is now sold out. However, please feel free to join the waitlist and as tickets become available we'll send you an email to register.
Alternatively, you can watch the event online when we go live on Facebook here: https://fb.me/e/lOm5W0i6o
Join the Female Founders community on International Women's Day 2022 as we unpack this year's theme, #BreakTheBias.
Our panel of successful female founders will share stories and insights from their years of experience running successful businesses in Queensland, and answer questions posed by moderator Kellie Dyer and the audience about how they intend to #BreakTheBias in 2022.
Network with other female business owners and entrepreneurs from across Queensland, browse some of the incredible local products our female founders create, and strengthen your business connections at this popular annual event.
Guest Speakers:
Deborah Bauer - Founder of Urban Metal
Carly Wieland - Co-Founder of Lime Intelligence
Lea Diffey - A/Deputy Director-General, Innovation, Department or Tourism, Innovation and Sport
Displays:
This year we will some of our Female Founders showcasing their business and their products. You'll be able to sample their products and purchase them if you wish. See below a list of businesses that will be showcasing:
Molly Dunkle - Dunkle
Judy Scrase - Hello Honey
Katharina von Heusinger - The Golden Bone Bakery
Kym Cooper - East Forged
Saara Jamieson - Cool Beans Underwear
Agenda:
9:00am - 9:30am: Arrival and networking
9:30am - 10:30am: Panel discussion and audience Q&A
10:30am - 11:30am: Networking, browse display tables.
Guest Speakers:
Deborah Bauer - Urban Metal
Deb Bauer is the founder of Urban Metal, a Brisbane-based business that designs and supplies decorative metal screens. The screens are used for building facades, feature walls, privacy screens, outdoor areas and pergola screens, and are beautiful, unique and often custom designed.
As a designer with over 20 years' experience and a passion for art, architecture and creativity, in all its forms, Deb's mission for Urban Metal is to enhance experience through design, elevating spaces to bring people together. For Deb, it's all about connection.
Carly Wieland - Lime Intelligence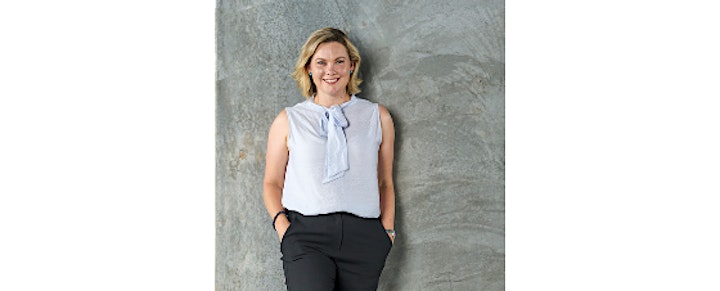 Carly Wieland is co-founder of Lime Intelligence, a full-service Business Intelligence as a Service (BIAAS) provider. Carly and her team demystify setting up a Business Intelligence (BI) solution for organisations who know they need to simplify and organize their data for reporting, but aren't sure how to get started. The end game is always about harnessing data for better decision-making.
Carly's thriving business is living proof that disaster can be turned into an opportunity, with a well-timed and strategic pivot. After COVID-19 threw a spanner in the works, Carly discovered a whole new market application that led to incredible business growth.
Lea Diffey - A/ Deputy Director-General, Innovation, for The Department of Tourism, Innovation and Sport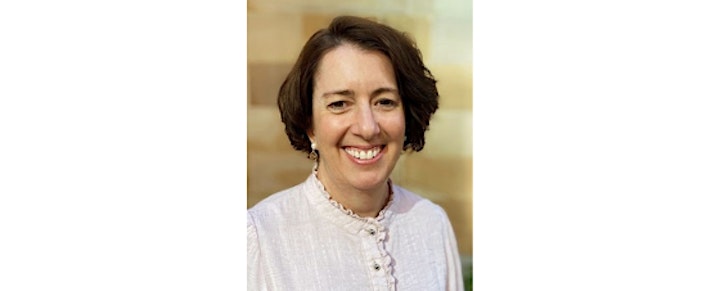 Lea Diffey is the acting Deputy Director-General, Innovation in the Queensland Government's Department of Tourism, Innovation and Sport. The Innovation portfolio is responsible for leading supporting innovative practice across government and leading the Advance Queensland initiative to foster innovation and entrepreneurialism, capitalise on our natural advantages, and help raise Queensland's profile as an attractive investment destination.
Prior to this Lea led the Science Development for the Queensland Government. She has a long history in sustainable land management, working across portfolios for agriculture, natural resource management, the Great Barrier Reef and environmental management. Lea aims to bring together science and innovation, with policy and outcomes for business.
Please remember the following to prepare for the event:
Registration is essential due to space restrictions. If you are intending to invite someone along to this event please ensure they also register.
Morning Tea and light refreshments will be provided.  Gluten-free and vegan options will be available.
Sometimes air-conditioning can be tricky to regulate, so bring a light jacket if you're likely to feel cold.
If you are running late or unable to attend, please call 07 3041 1128 or email femalefounders@impactinnovation.com to let us know, so we can allocate your ticket to someone else.
For those unable to attend, please sign up for our free newsletter to find out more about future events.