Description
As part of The Heroines Festival, and in association with Word Salad and the South Coast Writers' Centre, the Neo Perennial Press presents the launch of their first anthology of women's writing: Heroines. With a focus on speculative and mythological storytelling The Heroines anthology features short stories and poetry by women writers that place women in the realm of the fantastical, from reimagined folk and fairytale, to mythology made startlingly new.
The night will feature readings from the anthology by writers including Toni Brisland, Aislinn Batstone, Louise Pieper, Kerryn Coombs-Valeontis, Tamara Lazaroff, Catherine Moffat, and Kathyrn Lyster. It will be MC'd by Linda Godfrey, Program Manager of the Wollongong Writers Festival, and Dr. Sarah Nicholson, director of the Heroines Festival and editor of the anthology.
Aislinn Batstone is an Australian writer whose short stories have been highly commended in competitions and published in magazines and anthologies worldwide. She writes across genre boundaries with elements of romance, crime, speculative and contemporary fiction, but all her stories share her quirky humor and humanism. Aislinn spent her childhood in the Wide Bay-Burnett region of Queensland and later moved to Brisbane where she studied human sciences and philosophy at the University of Queensland. After completing her MPhil in Philosophy at St Andrews University in Scotland on a Commonwealth Scholarship, Aislinn turned to writing fiction. She has worked in various positions in tertiary education and project management while continuing to write, as well as raising a family with her husband. You can find Aislinn's stories on her website,www.aislinnbatstone.com, and connect with her on Twitter @AislinnBatstone. Now based in Sydney, Aislinn is working on a contemporary novel series set in Sydney's inner west in which a young couple comes to grips with modern parenting.
Toni Brisland was born and educated in Wollongong and taught English and History at Figtree High, Kiama High, and Merriwa Central before moving to Sydney to take up a teaching and counselling position at De La Salle Brothers Kingsgrove. After further study in management, accounting and law, Toni worked as a senior Human Resources Manager in the public sector and a Solicitor and HR Manager in the private sector. Toni commenced writing for children in 2010 and was a Director on the Board of the Children's Book Council of Australia. Her poetry has been published by Poetica Christie Press since 2012.
Kerryn Coombs-Valeontis is an Art and Ecotherapist working in mental health. She runs workshops on Ecotherapy and women's therapeutic writing. She writes poetry as a response to life, with nature as a healing force and a return to the feminine, recurrent themes in her exploration. She lives in Sydney, Australia, but goes back to New Zealand, where she grew up, often. You could say she is a late bloomer, but then again, we can only bloom when we are ready. She has a B. Ed. and Masters in Social Ecology.
Tamara Lazaroff is a writer of fiction, creative non-fiction and poetry. Her work has appeared in journals in Australia, New Zealand and the UK, including Meanjin, Southerly, Feminartsy, Headland and The Wrong Quarterly, and has been audio-produced by Radio National. In the last few years she has undertaken residencies at Can Serrat International Arts Centre (Spain), House Conspiracy (Brisbane) and Arteles Arts Centre (Finland), and attended Naropa University's Summer Writing Program (USA). 'The Menkas' is a part of her interlinked short story collection/manuscript In My Father's Village & Other Stories, which is set between the Former Yugoslav Republic of Macedonia and Australia, and deals with breaking free of memories, places, identities, and ways of thinking that limit or confine the spirit.
Kathryn Lyster is an MA Creative Writing student at The University of Sydney. Kathryn was born in South Africa and now lives in Sydney. Her first novel, The Inevitability of Stars, was published in 2013. She also writes short stories and poetry. She is currently writing a poem a day on her blog – www.kathrynlyster.com.
Catherine Moffat is a writer who lives on the NSW Central Coast. She's been published in literary magazines, on radio and in anthologies including The Mer-Creature and other stories, Things that are Found in Trees, Novascapes, The Lost Boy, Shibboleth, and the Hope Anthology. Catherine was the inaugural winner of the Hope Prize. She has won the Katharine Susannah Prichard Speculative Fiction competition, The Body in the Library prize, and the Wyong Short Story Competition. She's been shortlisted or commended for other prizes including the Margaret River Short Story competition, the Scarlett Stiletto, the Newcastle Short Story prize, and the Elizabeth Jolley Short Story competition.
Louise Pieper is a reader and a writer, a librarian, and a lexophile. She's been told she's too smart for her own good, wears too much black, has too many books and reads too much, but she doesn't believe any of those things is possible. She does believe books can change the world, one reader at a time. She lives halfway up a hill in Canberra and half the time in imaginary worlds. She writes about fictional women - brave and strong, fantastical and historical, who are definitely not made of sugar and spice. Her short story, A Widow's Worth, will appear later this year in CSFG Publishing's A Hand of Knaves anthology. Find out more at www.louisepieper.com.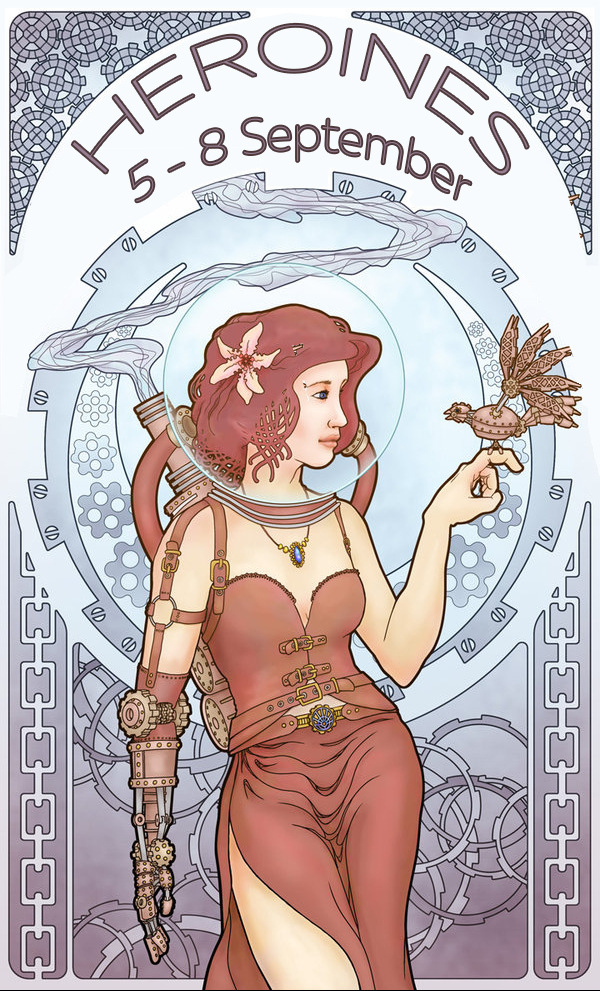 The Heroines Festival celebrates the talents of women writers who reclaim, restore, and reimagine women's stories. The program's aim is to bring together women writers who have the dived into our historical record and brought back the lost stories of women's lives; and, at the same time, women writers who are creatively imagining the future of women in fictive worlds. In collaboration with Wollongong Writers' Festival, the South Coast Writers' Centre, and Culture Bank Wollongong, The Neo Perennial Press brings The Heroines Festival to readers and writers from the greater Wollongong area, and beyond, for the first time. The main festival will run on Saturday 8th September and will include readings, and panels featuring a range of women storytellers presenting stories about women.