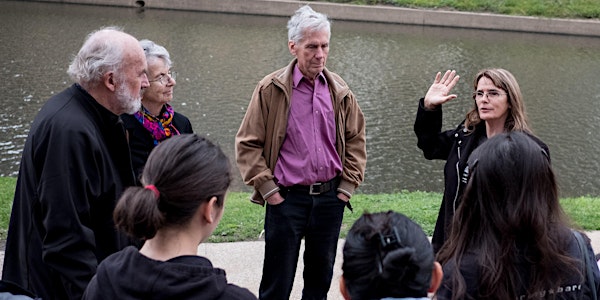 Heritage Festival - Walk on Country, Parramatta River
Location
George St, Gatehouse
Parramatta Park
Parramatta, NSW 2150
Australia
Join a Dharug custodian, a catchment management expert and a heritage guide to discover how the Parramatta River and its surrounding lands.
About this event
Join a Dharug custodian, a catchment management expert and a heritage guide to discover how scientific understanding has affected the management of the river and its surrounding lands in the past, the present and into the future.
Aboriginal scientific knowledge influenced the rhythms of life in Burramatta, as it did around the country, ensuring sustainable use of resources. Colonial settlement impacted strongly on the river, and later, easy access to transport meant the establishment of factories along the river, causing massive water and soil contamination issues. Now the science of catchment management is helping to clean up the river.
This tour will consider Dharug methods of caring for waters and country, the pressures put on the river and environs by development and how catchment managers and individuals can contribute to healing the river into the future, using both traditional and modern scientific methods.
This is a Covid-safe event, and numbers will be strictly enforced. Unfortunately this means that anyone who is not registered will be turned away on the day, and not be able to participate. Please bring a copy of your ticket (a copy on your phone is fine as we just need to sight it), and we will mark you off the list as you arrive. Please do not attend if you have any cold/flu symptoms, or if you have attended any Covid hot-spots in the past 14 days as listed by NSW Health and/or have been asked to self-isolate by NSW Health.
Please also be aware that that the event may be scheduled to be held, or will be held, during a time at which one or more Government directions or regulations may be in force regarding the number of persons attending an event (or the holding of the event itself). If that is the case, then the number of persons permitted to participate may be affected, resulting in Visitor Services being required to or deciding to:
a. cancel or postpone the program or activity;
b. reduce the number of persons who may attend the program or activity;
c. change the venue or location of the program or activity;
In which case You may receive a refund in accordance with our Terms and Conditions of the COVID-19 Refunds and Exchanges. You agree to comply with all Government directions, orders and regulations relevant to attending live events, which may be in place at the time of the event.
If for any reason the activity is cancelled at the last minute due to circumstances outside of our control, you will be notified before or on the day via the preferred contact method you listed upon registration.
If you can no longer make this event, it would be appreciated if you could kindly let us know by reply email.